[bsa_pro_ad_space id=4]
07-02-2015 – 01-01-1970
Webauction obolos 1
Nomos introducing obolos webauction 1
Nomos AG presents its first webauction, obolos 1. The auction primarily contains a fine selection of Celtic, Greek and Roman coins, but there are also nice groups of Byzantine and Medieval issues. The sale includes large parcels of coins from six private collections, as well as selected individual pieces from other consignors.
Celtic Britain, Catuvellauni. Tasciovanos, c. 25 BC-AD 10. Stater (18mm, 5.46 g). ABC 2580. BMC 1634-6. VA 1780-9. Rare. Nearly extremely fine. From the Cologny Collection. Starting bid: 2.400 CHF.
From two collections come an extensive selection of Celtic coins from Britain, Gaul and the Rhineland. There are also further selections of Greek silver fractions from the RRG Collection and that of a European specialist (other coins from those collections have already appeared in Nomos Auction 9).
Postumus. Antoninianus (21mm, 3.35 g 2), AGK (corr.) 13. Cunetio 2429. Elmer 398. RIC 300. Rare. Good very fine. Starting bid: 1.000 CHF.
The specialized Gallic Empire Collection was selected for quality and rarity and includes quite a few rare and unusual pieces from the reign of Postumus. Finally, there is a small but attractive collection of Italian Medieval silver coins that includes two great rarities:
Charlemagne. Denarius (18mm, 1.25 g 11), Gariel V, 1-2 var. MEC I, 731. M./G. 226 var. Prou 891-892 var. Very rare. Extremely fine. Starting bid: 3.500 CHF.
a beautifully toned and very rare denier, probably minted in Milan, of Charlemagne as King of the Franks …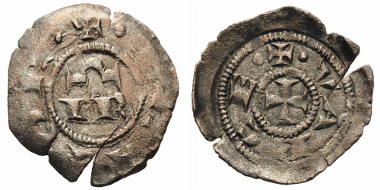 Italy, Piedmont (?). Varce (Vercelli?). 1220-1250, Imperiale (16mm, 0.57 g 3). Biaggi 2744. Extremely rare. Good very fine. Starting bid: 1.000 CHF.
… and an extremely rare Imperiale from the obscure mint of Varce (Vercelli?), one of only a very few known examples.

The webauction appears in full on the Nomos website, but of course is also linked from Sixbid. The auction will close on Sunday, 8 February 2015 at 18:00/6 PM CET, beginning with lot 1 and continuing, every 20 seconds, for all 557 lots. To bid you must register on the Nomos website and be approved, as you would do for any other webauction.