[bsa_pro_ad_space id=4]
Nomos 20: "A Truly Excellent Sale, with Great Prices and a Fine Atmosphere"
Well, by 15:45 on 10 July our auction room at the Saffran was about as full as it was going to be – with careful spacing and even some people wearing masks there were about 20 bidders in the room; but we had to get extra telephones to handle all the 'phone bidders and it turned out that there were a massive number of collectors on line. There were two desks in front of the room: one for Ms. Orsi, the representative of the City of Zürich, there to keep an eye on things in case of any possible problem (there weren't any); and the other for me, the auctioneer watching the audience and the internet bidders, and for Dimitris, who took care of our bids and some 'phone bidders. Elegantly dressed all in black, he looked like a cross between Will Smith in Ghost Busters and one of the Corleones! We were all wondering how the sale would go but as soon as the first lot, a gold stater of Verica estimated at 750 CHF immediately sold for 1200, the atmosphere became quite cheerful, and stayed that way for the entire sale! By the way, the total hammer price for the sale was CHF 1,952,397.00 (the total of the estimates was only 1,136,820.00).
So here are some results…
Lot 3: A quarter-stater of the Seno-Carnutes: estimated at 2000 it sold for 3700 CHF.
Lot 15: A very rare quarter-stater of the Vindelici, which was estimated at CHF 1500 – it sold for 2000.
Lot 17: This is a unique sembella or 1/4 obol form Populonia. It was estimated at 1250 and went up to 1900 CHF.
Lot 20 is a diobol of Tarentum estimated at 500 CHF – it sold for 1200!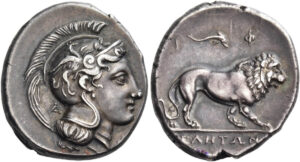 This is lot 44, a nomos from Velia with a pedigree going back to the Garrucci collection of 1910: estimated at 5250 it soared up to 9000 CHF!
Lot 83: a fine little 1/8 stater from one of the Thraco-Macedonia tribes. It is not at all uncommon, but it is in wonderful condition; that's the reason why it went from an estimate of CHF 250 to 2000!
This is lot 90, the superb tetradrachm of Amphipolis with a wonderful obverse, originally bought in Brussels in 1998. There is good evidence that indicates that this coin, which almost certainly was from a find made in 1965, was used as the prototype for a number of dangerous replicas! In any case, its serious estimate of CHF 175,000 was handily exceeded by its hammer price of 230,000!
Another hefty price was paid for lot 96, a dramatic little obol from Neapolis in Macedonia: Estimated at 1250 CHF, it sold for 5000 CHF!
Lot 106: One always says that there are serious collectors for rare varieties of common coins – and as a class tetradrachms struck in the name of Alexander III are certainly common as a class. Anyway, we estimated a lifetime Alexander struck in Lampsakos for what we thought was a fair 950 CHF… but it went for CHF 2600! And then a passionate collector called to complain that this was only the second example he had seen in 20 years – and he missed that one too!!!
Sometimes coins do very well because they are just remarkably fine: Lot 127, a lovely drachm of Demetrios Poliorketes is just such a coin. Estimated at 1250 CHF it sold for 4200! I think it is certainly worth it!!
Lot 143: Now the tetrobols of Histiaia struck from the later 3rd through the early 2nd quarter of the 2nd century are really common; they were produced to pay the daily living expenses of the mercenaries working for the Macedonian kings Philip V and Perseus. So why did Lot 143 have the rather strong estimate of CHF 500, and the even stronger hammer price of 1200? Because of the astonishing presence of a Macedonian shield on the reverse!
When a coin is a specialist rarity the surprises can be enormous: lot 155, a Corinthian stater of the mid 4th century BC, had areas of striking flatness but did have quite an amazing symbol on the reverse: a bee. Estimated at what we thought was a fair 275, because of its general condition…it went for 4600!!

Lot 167: We illustrated this drachm from Sinope before because it was so impressive looking, and also because it had the very strong estimate of 9000…well it sold for 16,000 CHF!
There were a number of attractive electrum coins from Kyzikos in the sale; here are two examples: Lot 172 (est. CHF 450) is a hemihekte with a boar with a tunny in his mouth that soared up to a deserved 1400. Lot 183 is a harpy (a hekte, est. CHF 600): she made 1700.
Ptolemaic coins did very strongly: lot 288 is one of the rare pieces with a portrait of Ptolemy V, which was struck either in Alexandria or somewhere in Palestine. Estimated at CHF 3500 it moved rapidly up to 8500!
Roman coins did very well too. Here are some examples: Lot 303: This lovely aureus of the young Nero from the Magnaguti collection went to 44,000 CHF, more than doubling its estimate of 20,000.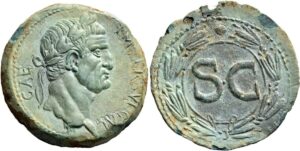 Estimated at CHF 450 this lovely As of Galba from Antioch, attracted enormous interest and finally sold for 10,000, an absolute world record!!!
Nowadays provenance means more and more. Lot 317, an aureus of Nerva, was once in the collection of the British Museum and, before that, in the collection of the Duc de Blacas. It doubled its estimate of CHF 10,000 to sell at 20,000.
Estimated at CHF 200, lot 366, an antoninianus of Philip II struck in Antioch, was of such outstanding quality that it zoomed up to 2800!!
Discussed in a previous Newsletter, lot 390, a medalet of Constantinopolis struck under Constantius II (est. CHF 350), garnered a lot of interest and sold for 1300 after a battle on the auction floor.
A very rare Jewish wine amphora stamp (lot 396), apparently from the area of Magnesia ad Sipylum, soared far above its estimate of CHF 7500 to sell for 20,000.
Overall, Byzantine coins of really good quality and rarity did very well, indeed. Lot 455, an Aspron trachy of Theodore I of Nicaea, was estimated at 450 and sold for CHF 3800!
Finally, the small group of attractive early modern coins we had, mostly from Nuremberg, did very well too. Our last lot, 476, a very rare medallion of 4 ducats struck in Regensburg in 1653, ended the sale with a price of CHF 19,000 – much more than its estimate of 7500!
You can browse through all lots and their results on the Nomos website.
A complete list of the prices realized is also available.