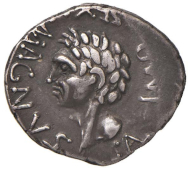 [bsa_pro_ad_space id=4]
05-11-2018 – 06-11-2018
Auction 58
Italy in the Centre of Nomisma's Auction in San Marino
On 6 and 7 November 2018 Nomisma Spa Numismatic Auction 58 will be held in auction room on November 6th and 7th at Palace Hotel in Serravalle, San Marino. Live auction will be available for registered users too.
Auction 58 offers 2,205 lots with a wide choice of coins and medals from Antiquity to today. Especially remarkable is a selection Republican denarii of civil wars era. Also on offer will be a large choice of World coins, a selection of coins and medals from the Napoleonic age, and as usual many and relevant coins and medals from Italian mints, Vatican, and the House of Savoy.
These are some of the highlights:
Lot 195.
Lot 195: Sextus Pompeius. Denarius (44 b.C. mint in southern Spain). Head of Gnaeus Pompeius Magnus on obverse, Pietas on reverse. Cr. 477/2 AG (g 4,00). Extremely rare. Off strike flan, very rare issue, of anomalous style throughout the period. Starting price: 7,000 euros.
Lot 210.
Lot 210: Q. Labienus Parthicus. Denarius, mint moving with Labienus in Asia Minor 40, AR 3.86 g. Obverse: head of Labienus and Q LABIENVS – PARTHICVS IMP. Reverse: Parthian horse with quiver and arrows. A coin of two cultures, with the obverse devoted to the Romans, the reverse to the Parthians. Very fine. Starting price: 12,000 euros.
Lot 724.
Lot 724: Medal 1798. Appointment of Silvain Bailly as mayor of Paris on July 15, 1789, immediately after the storming of the Bastille. Obverse: Bust to the right: J. SILVAIN BAILLY NÉ A PARIS LE XV SEPT. MDCCXXXVI; ex: OFFERT A LA VILLE PAR B. DUVIVIER – Reverse: MÉRITE RECONNU, inscription in nine lines MEMBRE DES TROIS ACADEMIES FRANÇOISE, DES B. LETTRES ET DES SCIENCES, PRESIDENT DELL'ASSEMBLÉE NATIONALE LE 17 JUIN, ELU D'UN VOEU UNANIME MAIRE DE PARIS LE 15 JUILLET 1789. Hennin 37. Platinum (63,00 g. – diameter 42 mm) Extremely rare, the only example known in platinum. Mint State. Starting price: 20,000 euros.
Lot 1129.
Lot 1129: Palermo. Victor Amadeus II (king of Sicily, 1713-1718) 3 Tarì 1713. MIR 896/a (variant with SICI on obverse, AG (g 7,74), extremely rare. Mint state. Starting price: 20,000 euros.
Lot 1989.
Lot 1989: Victor Emanuel III (1900-1946). 20 Lire 1910. Nomisma 1077 AU extremely rare, only 6 examples known, uncirculated. Starting price: 120,000 euros.
You can browse through the complete auction catalogue.
And this is the website of Nomisma.