[bsa_pro_ad_space id=4]
04-01-2011 – 05-01-2011
New York Sale XXV-XXVI
Russian Rarities Steal the Show in New York
The market for Russian coins and medals proved to be as robust and vibrant as ever at this year's New York Sale XXV-XXVI. A combination of high quality rarities and enthusiastic buyers ensured high prices were achieved for key pieces with the sale totaling just over US$ 6,000,000 at US$ 6,008,774 (including buyer's premium at 17%), up over US$ 1,000,000 on last years combined sales. Of the 801 bidders that registered to take part in the auction 221 bidders registered participated online across two live bidding platforms and a total of 6.5% of the 1378 lots were sold online to bidders all over the world.
The diversity of the lots on offer attracted buyers from every continent with bidders flying in from Asia, Russia and Europe. Viewing was also well attended with some people simply wanting the chance to see some of the amazingly rare coins for sale. Bidding on both days of the sale seemed focused with buyers going high in order to secure the most desirable pieces. As in past years the bidding on the Russian sections was fast and furious with 10 or 20 people trying to bid for lots that were far exceeding estimates. Buyers were intent and selective in their bidding driving prices up in order to secure certain key rarities with exceptional provenance.
Lot 172. Vespasian, Sestertius. Rv. IVDAEA CAPTA. RIC 167. Almost extremely fine. Estimate: US$ 2,500; Price Realized: US$ 117,000
The sale commenced with Ancient, leading into Indian and Islamic, coinage which achieved predictably high prices for the top lots offered. The rarity and artistic beauty of the catalogue cover piece, lot 96, an Electrum Stater of Phocaea, contributed to the lot achieving US$ 81,900, well over its estimated US $40,000. Lot 172 in the auction proved to be most sought after item with two buyers in the room (one on the phone) forcing the price up from the estimated US$ 2,500 to a sensational US$ 117,000. The piece eventually sold on the phone to a private collector, who was obviously extremely keen to secure the piece.
The Al-Sayyed Collection of Indian and Islamic Coins attracted a lot of pre-sale attention and was widely viewed, especially the central piece, lot 380, the Shah Alam II, AH 1173-1221; 1759-1806 A.D. 10 Rupees, which sold at auction for US$ 187,200. Other highlights from the collection and from the Indian and Islamic section as a whole included lot 307, an interesting Diodotos I and II stater from the Kingdom of Baktria, which sold for US$ 18,720 (estimate: US$ 12,000) and lot 470, a Mughal Jahangir gold Mohur, which sold for US$ 37,440 (estimate: US$ 28,000).
The first day of the auction concluded with a selection of world coins and medals. Strong prices were achieved in the Hungarian section with prominent pieces including lot 613, a Maria of Anjou 1385 Goldgulden and lot 622, a Wladislaus I 1441 Goldgulden, both lots carried a pre-sale estimate of US$ 1,500 and sold for US$ 2,808 and US$ 3,510 respectively. Lot 672, a Romanian Christoph Báthori 1577 gold Ducat, estimate US$ 3,000, also attracted a lot of interest realising US$ 17,550.
Lot 1003. Sophia as Regent for Ivan V and Peter I. Ducat. Fr. 58. About uncirculated. Estimate: US$ 7,500; Price Realized: US$ 61,425.
The Russian coins that opened the second day of the auction was a most spectacular selection comprising material of the highest quality and rarity, fresh to the market. Lot 1003 was the first of many of the Russian lots to achieve a result befitting its brilliant pedigree. The gold ducat of Sophia as Regent for Ivan V and Peter was originally sold in the legendary Hess Hermitage Duplicate auction of 1932, as part of the wider Bolshevik dispersal of nationalised antiques from several palaces of the Russian Tsars and numerous private mansions, through European auction houses. During the 1930s Hess held two separate auctions on behalf of the Communist Soviet government to dispose of duplicate coins held by state museums to raise funding for Soviet land projects. Many coins were sold through these sales that were not duplicates and, although it is not know if this particular item was one of them, the lot achieved an amazing US$61,425 against its estimate of US$7,500.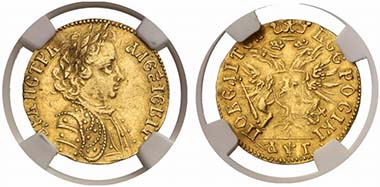 Lot 1005. Peter I, Ducat. Fr. 87. Good extremely fine. Estimate: US$ 75,000; Price Realized: US$ 269,100.
Lot 1005, a Peter I gold Ducat was also a standout piece, achieving a staggering US$269,100 against a pre-sale estimate of US$75,000. This particular variety is amongst the rarest of the Petrine Ducat series and it is uncommon to find one in such good condition, having been brilliantly preserved. They are the rarest of coins because they were widely used and so few were retained, this explains why so many specimens are so obviously worn. Lot 1043, a Catherine I 2 Roubles, also attained an exceptional result selling for US$152,100 against a pre-sale estimate of US$50,000. Catherine I only reigned for 2 years and so there are very few examples of coins that depict her, this particular specimen was one of the highest quality.
Lot 1048, a Peter II gold Ducat, was without doubt one of the absolute highlights of the sale. The provenance of the coin was astonishing and this was reflected in the realized price of US$ 234,000 against an estimate of US$ 75,000. An attempt was made to sell the coin twice at auctions of lots from the collection of the Grand Duke George Mikhailovich, once in 1939 and once in 1950 when Baldwin's had its first involvement with the coin. The Hess sale in 1939 was scheduled for October 25th in Switzerland but was cancelled in the wake of the German invasion of Poland on 1st September 1939. The coin was successfully sold in the 3rd July 1950 auction, held by Christie's London, which was catalogued for Christie's by Albert Baldwin, father of the current Chairman, Edward Baldwin. At the time interest in Russian coinage in Europe was minimal and, despite the pedigree of the coins, the entire auction achieved a total of £10,929 with this particular coin selling for £11. Lot 1053, another highlight, has also passed through the hands of Baldwin's staff before this event. The 1730 Anna gold Ducat was first catalogued by Edward Baldwin for Christie's, London for their sale of Important Russian Coins and Medals held in 1979. This was the first sale of Russian coins that was catalogued by Edward working as a consultant to Christie's and it sold for £2,000. It is quite incredible to see this coin being sold 30 years later for US$210,600 in The New York Sale.
A large number of Russian Orders and medals completed the evening's proceedings. A selection of medals from the Mooromsky collection produced impressive results; notable amongst them were lots 2010, an Order of St. Vladimir, 2nd Class, Civil Division, sold for US$ 38,025 against an estimate of US$ 20,000, and 2034, an Order of St. Stanislaus complete 1st Class set. Civil Division Cross with full length ribbon and case of issue which sold for US$ 25,740 against an estimate of US$ 15,000. Complementing this collection were a number of orders from other properties including lot 2001, a beautiful example of an Order of the White Eagle Neck badge which achieved US$ 46,800 against its US$ 30,000 estimate.
The final section of the 2-day sale consisted of a section of Orders of the Soviet Republics and Orders and Badges of the USSR. Both produced some good results but highlights of the section were lot 2104, a Documented Group of Lieutenant Colonel Lutkevich P.O., estimate US$ 85,000, which sold for US$ 117,000 and lot 2174, a Moldova Autonomous Republic Peoples' Commissariat of Justice badge, estimate: US$ 15,000, sold for US$ 25,740.
Seth Freeman of Baldwin's commented after the auction, 'We are absolutely delighted at the outstanding success of our 2-day sale here in New York. The results speak for themselves and the high prices achieved further cements Baldwin's standing at the forefront of the global numismatic
In order to find all prices realized of the sales, click here.