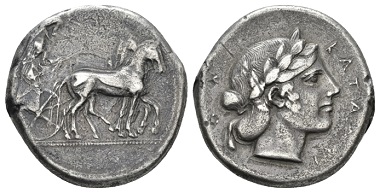 [bsa_pro_ad_space id=4]
24-09-2016 – 01-01-1970
Live Auction 25
Coins from the Clain-Stefanelli Collection at Naville
Naville Numismatics presents its Live Auction 25. The auction will close on Sunday 25 September 2016, 16.00 UK time, at which time the live session will begin. The auction features a selection of 602 lots of Greek, Roman, Byzantine and Medieval and Modern coins, all chosen with contribution from NAC's experts.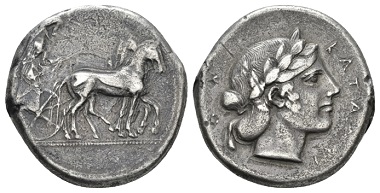 Lot 67: Sicily, Catana Tetradrachm, circa 450. Good Very Fine. Starting bid: £ 600.
The sale begins with a selection of coins, including bronzes and fractions, from Magna Graecia and Sicily, all from the E.E. Clain-Stefanelli collection sold in association with Stack's Bowers Galleries. This section of the sale includes coins from rare mints such as Ausculum, Adranum and Lipara. There is also an attractive series of coins from Tarentum, Heraclea, Metapontum, Thurium, Rhegium and Syracuse. Highlights include a remarkable Dinomos of Thurium (ex NAC sale 46, 2008, 801) and a Catana Tetradrachm (ex Auctiones sale 1990, 130).
Lot 105: Macedonia, Olinthus Tetradrachm, circa 420-417. About Extremely Fine. Starting bid: £ 1000.
From the section of Continental Greece, it is worth noting a selection of coinage from the E.E. Clain-Stefanelli collection including some interesting mints such as Aegina, Athens, Corinth and Cyzicus. The highlight of this part is a noteworthy Olinthus tetradrachm (ex NAC sale R, 2007, 1105).
Lot 261: Cappadocia, Caesarea Severus Alexander, 222-235. Medallion circa 207. Extremely rare and apparently unpublished. Good Very Fine. Starting bid: £ 150.
The Roman Provincial part of the sale includes a variety of bronzes from Spain, Gaul, Macedonia, Thrace, and Corinth featuring specimens from Lanz's 2001 sale no.105 of coins from the BCD collection and an interesting selection of Alexandrine types. The highlight of this part of the sale is an apparently unique and unpublished medallion of Severus Alexander struck in Cappadocia from the mint of Caesarea.
Lot 386: C. Numonius Vaala. Denarius circa 41. Very rare. Very Fine. From the E.E. Clain-Stefanelli Collection. Starting bid: £ 400.
The Roman selection boasts an interesting series of Roman Republican victoriati and a striking array of denarii, again from the E.E. Clain-Stefanelli collection. Among all, it is important to report a rare denarius of the anonymous series with apex, a rare and attractive specimen of L. Hostilius Saserna and a very interesting and rare denarius of C. Numonius Vaala.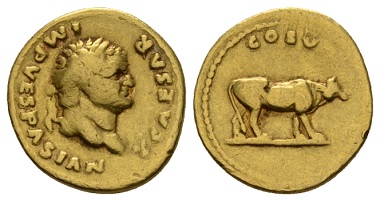 Lot 427: Titus Caesar, 69-79, Aureus, circa 76. Very Fine. Starting bid: £ 1000.
The Imperial selection of the sale features an attractive series of Augustus including some rarities. One also finds a great selection of denarii including coins of Nero, Otho, Vitellius, Nerva and Commodus. Among the bronzes we have to mention a rare Nero sestertius from the E.E. Clain-Stefanelli collection showing the emperor wearing the oak wreath, an attractive Trajan specimen depicting the bridge over the river Danubius on its reverse and a L. Verus sestertius also from the E.E. Clain-Stefanelli collection. Moreover, this section includes attractive aurei of Titus and M. Aurelius.
Lot 601: Spain, Barcelona, Carlos I El Emperador, 1516-1556. Ducado – Escudo 1536-1537. For the Expedition in Tunisia. Good Very Fine. Starting bid: £ 500.
In addition the auction presents an interesting selection of Medieval and Modern World coins, such as the French Ecu of Jean II le Bon, the Spanish Ducado of Carlos I and the 2 Escudos of Carlos IV, as well as an Italian series including a Soldino of Ludovico II of Gonzaga, a Piastra of Ferdinando IV of Borbone and some specimens of the House of Savoy.
Naville Numismatics Ltd's partnership with NAC guarantees highly professional numismatic service and certifies an unlimited warranty of authenticity for the lots it sells.
If you have not already done so, please register as a member on the firms website.
To browse through the complete online auction catalogue click here.
Lots can be viewed in Naville Numismatics' office in London, by prior appointment only.
Please find all NN LIVE AUCTION 25 HIGHLIGHTS online.