[bsa_pro_ad_space id=4]
30-04-2016 – 01-01-1970
Naville Numismatics' Live Auction 22
Naville Numismatics' Live Auction 22
Naville Numismatics (NN) is holding its Live Auction 22. The auction will close on Sunday 01 May 2016, 16.00 UK time, at which time the live session will begin. The auction features a selection of 735 lots of Greek, Roman, Byzantine and Medieval coins, all chosen with contribution from NAC's experts.
The sale begins with a selection of coins, including bronzes and fractions, from Magna Graecia and Sicily, all from the E.E. Clain-Stefanelli collection in association with Stack's Bowers.
Lot 13: Lucania, Velia Didrachm circa 340-334. Williams 290. SNG Ashmolean 1222 (these dies). Historia Numorum Italy 1287. Attractive old cabinet tone. Minor scuff on obv., Good Very Fine. Starting bid: £ 450.
Highlights of this part of the sale include an attractive Velia Didrachm, Ex New York sale XXX, 2013, 12, and a three-eighths Shekel struck in Bruttium during the Carthaginian occupation. Furthermore, there is an interesting series of Syracuses, including a notable Dichalkon, as well as bronzes and fractions from Cuma, Tarentum, Abacaenum, Aitna, Himera, and Selinus.
Lot 80: The Ptolemies, Ptolemy I Soter as Satrap, Memphis Tetradrachm circa 325. Price 3971. Rare. Lovely old cabinet tone and of the finest style. Two small metal flaws, otherwise, Good Very Fine. Starting Bid: £ 400.
Of the selection of form continental Greece it is worth noting a Tetradrachm of Alexander III, minted between 336-323 and struck in Memphis, as well as a rare and exceptionally preserved Obol "Wappenmünzen" type, a nice selection of fractions from Bactria, a lovely stater of Corinth and an extremely rare Obol of Aureus I, struck between 309-265 for Lakedaimon.
Lot 354: Egypt, Antoninus Pius, 138-161, Drachm 144-145 (year 8). Geissen 1502. Dattari-Savio PL. 156, 2974. Rare. Good Very Fine. From the E.E. Clain-Stefanelli collection. Starting Bid: £ 300.
The Roman Provincial section includes a variety of bronzes from Spain, Gaul, Macedonia, Thrace, and Corinth featuring specimens from Lanz's 2001 sale n. 105 of coins from the BCD collection. A coin of especial note is a zodiac drachm of a mythological type for Antoninus Pius minted in Alexandria.
The Roman part of the sale boasts an interesting sreis of Roman Republican victoriati, denarii and a selection of bronzes from the I. Vecchi 1996 sale n. 3 and from the JD collection, ex NAC 78. Furthermore, there is also an interesting array of denarii, again from the E.E. Clain-Stefanelli collection.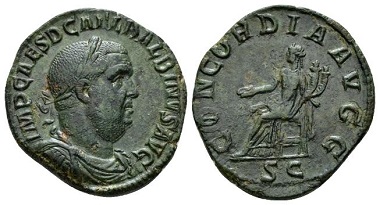 Roman Empire, Balbinus, 22nd April – 29th July 238, Sestertius April-June 238. C 4. RIC 22. Bold portrait of lovely style. Attractive green patina. About Extremely Fine. Starting Bid: £ 1,300.
The Imperial selection of the sale includes an attractive series of Augustus including some rarities and an impressive duponius (ex NAC sale 84, 1746). There is also a great selection of denarii including Otho, the Social war, and Nerva. Other coins of mention are a nice Medallion of Antinous minted in Smyrne and an extremely rare drachm of Titian for Alexandria which is only the third specimen known of its type (both from the E.E. Clain-Stefanelli collection), and a lovely sestertius of Balbinus.
Naville Numismatics Ltd's partnership with NAC guarantees highly professional numismatic service and certifies an unlimited warranty of authenticity for the lots it sells.
You may find all offered coins here.
Lots can be viewed in our office in London, by prior appointment only.
During the Live session you can see current lots and bid in real time, making it an easy and fast way to participate in the auction.