[bsa_pro_ad_space id=4]
22-02-2014 – 01-01-1970
Live Auction 5
Rare ancient coins in silver, bronze, and gold
Live Auction 5 of Naville Numismatics Ltd. will take place on internet, start closing on Sunday 23rd February 2014 at 18.00 (UK time), when the Live session will begin.
Absentee bids before the start of the Live session can be left now and up to on Sunday 23rd February 2014 at 18.00 (UK time), exclusively through our Website.
The auction features a selection of 220 lots of Greek, Roman and Byzantine coins, selected with the contribution of NAC's experts. The sale begins with a series of coins from Magna Graecia and Sicily featuring rare bronzes with NAC provenances and ex ADM Collection, including Arpi, Copia ex NAC Sale 13, 1998, 131, Adranum, Alontium, Enna, Herbita ex NAC B, 1992, 1139, Thermae Himerenses, Kronia and Tauromenion.
16: Bruttium. Croton Nomos, circa 480-450. SNG Ashmolean 1470. Good very fine.
The highlights of this part of the sale are a Croton Nomos and a Leontini tetradrachm.
51: Attica, Athens. Tetradrachm, circa 459-449. Good very fine.
For continental Greece it is worth noting a small selection of 3 tetradrachms of Athens and a gold stater of Mithridates VI, as well as a selection of duplicates from the BCD Collection of Lokris-Phokis.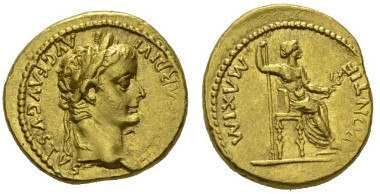 115: Tiberius. Aureus, Lugdunum, circa 14-37. RIC 27. Good extremely fine.
The Roman part of the sale includes an aureus of Tiberius in excellent condition, …
118: Erotic spintriae and tesserae, time of Tiberius, tessera, circa early first century AD. Buttrey, NC 1973, B6v./II. Good extremely fine.
… a rare tessera with a delightful portrait of Augustus, ex NAC 64 2012, 1092 …
185: Divo Nigriniano, son of Carinus Antoninianus. Aes, circa 284-285. RIC 472. Extremely fine.
… and a very rare antoninianus of Nigrinianus with an enchanting portrait. The auction also boasts an interesting series of roman republican denarii and a group of roman republican bronzes from the Italo Vecchi Sale 3, 1996.
The above selection is in line with our goal of providing valuable grading coins at a reasonable price, operating exclusively through electronic channels.
Naville Numismatics Ltd's partnership with NAC guarantees highly professional numismatic service and certifies an unlimited warranty of authenticity for the lots it sells.
If you have not already done so, please register as a member on Naville's website.
Lots can be viewed in our office in London, by prior appointment only.
During the Live session, you can see current lots and bid in real time. It is easy and fast.
Should you have any questions, please call Naville Numismatics at +442078395956 or send an email.
Follow Naville on Twitter!
You can find all the highlights of the auction here.