[bsa_pro_ad_space id=4]
21-02-2015 – 01-01-1970
Live Auction 13
Ancient quality coins at reasonable prices
Naville Numismatics announces the Live Auction 13, which will start closing on Sunday 22nd February 2015, at 18.00 UK time, when the Live session will begin.
The auction features a selection of 326 lots of Greek, Roman, Byzantine and Modern coins, selected with the contribution of NAC's experts.
Lot 18: Sicily, Messana Tetradrachm circa 460-426 – Ex CNG 46, 1998, 88 and NAC 78, 2014, 1375 sales. From a private Australian collection. Lightly toned. Very slightly double-struck, otherwise Good Very Fine / Very Fine. Starting bid: £ 700.
The sale begins with a series of coins from Magna Graecia and Sicily, including an interesting tetradrachm of Messana, ex CNG sale 46, 1998, 88 and ex NAC sale 78, 2014, 1375 and two notable specimens of Gela, including an extremely rare didrachm and a lovely tetradrachm.
Lot 51: Caria Tetradrachm circa 300-190 – Ex NAC sale 78, 2014, 1510. Lightly toned and Good Very Fine. Starting bid: £ 700.
For continental Greece it is worth noting a Caria tetradrachm, ex NAC sale 78, 2014, 1510, a small selection of Judean coins, including a rare zuz overstruck on a denarius of Domitian, a tetradrachm of Myrina, a small series of tetradrachms of Athens and a tetradrachm of Tyre.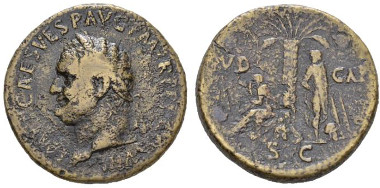 Lot 170: Titus, 79-81. Sestertius 80-81. Very rare. Brown tone and Good Fine. Starting bid: £ 250.
The Roman part of the sale boasts an interesting series of Roman Republican denarii and a selection of bronzes from the I. Vecchi Sale 3, 1996 and from the NAC sale 78. The Imperial part of the sale includes two interesting aureii of Vespasian and Domitian, a rare sestertius of Titus of Judea Capta and two interesting sestertii of Balbinus and Herennius Etruscus from NAC sale 78.
Lot 299: Aelia Eudocia, wife of Theodosius II Soliuds Constantinople circa 423-429. Rare. Minor marks on obv.; otherwise About Extremely Fine. Starting bid: £ 2.000.
The highlight of this part of the sale is a rare solidus of Aelia Eudocia, wife of Theodosius II.
Lots can be viewed in the London office, by prior appointment only.
During the Live session, you can see current lots and bid in real time. It is easy and fast. Should you have any questions, please call Naville Numismatics at +442078395956 or send an email.
You can find all highlights of Live Auction 13 on the website of the auction house.
You can also browse through the complete auction catalogue.
And you can follow Naville Numismatics on Twitter too.