[bsa_pro_ad_space id=4]
17-01-2015 – 01-01-1970
Live Auction 12
Ancient quality coins at reasonable prices
Naville Numismatics announces the Live Auction 12, which will start closing on Sunday 18th January 2015, at 18.00 UK time, when the Live session will begin.
Apulia. Venusia Teruncius, 275-225. Haeberlin pl. 73, 3. Historia Numorum Italy 708. Very fine. Privately purchased from Bank Leu in August 1991. Ex NAC sale 78, 2014, 1915. Starting bid: £700.
The sale begins with a series of coins from Magna Graecia and Sicily, including a Venusia teruncius, ex NAC sale 78, 2014, 1915, a Tarentum nomos, a Thurium distater, ex Gorny & Mosch sale 146, 2006, 40 and a rare Hexas of Enna ex NAC sale O, 2004, 1295 from the A.D.M. and Virzì collections.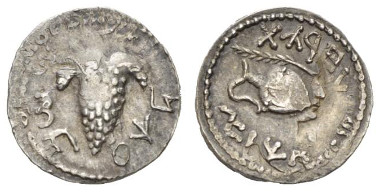 Judaea, Bar Kochba Revolt, 132-135. Denarius or Zuz, 134-135. Mildenberg 157. Hendin 1433. Good Very Fine. Overstruck on a drachm of Trajan. Starting bid: £200.
For continental Greece it is worth noting a small selection of Judaean coins, including a rare zuz overstruck on a drachm of Trajan, a tetradrachm of Myrina, a tetradrachm of Athens (new style) and a tetradrachm of Tyre.
Roman Republic. L. Flaminius Chilo. Denarius 43. C 26. Crawford 485/1. Extremely Fine / Good Extremely Fine. Ex NAC sale 78, 2014, 739. Starting bid: £3,000.
The Roman part of the sale boasts an interesting series of Roman Republican denarii and a selection of bonzes from the I. Vecchi Sale 3, 1996 and from the NAC sale 78.
Roman Empire. Trajan. Aureus, 108-110. BMC 312. RIC 123 var. (not cuirassed). Very Fine. Starting bid: £1,000.
The Imperial part of the auction includes a very interesting small selection of Augustus coins, including a rare tesserae, ex NAC sale 78, 2014, 2097, a cistophorich tetradrachm and a small selection of aurei, including Tiberius, Titus, Trajan. Very interesting is a unique medallion of Antinous, ex Triton sale VII, 2004, 720, from the BCD collection.
The above selection is in line with Naville's goal of providing quality coins at a reasonable price, operating exclusively through electronic channels.
Naville Numismatics Ltd's partnership with NAC guarantees highly professional numismatic service and certifies an unlimited warranty of authenticity for the lots it sells.
If you have not already done so, please register as a member on Naville Numismatics' website.
Lots can be viewed in the London office, by prior appointment only.
During the Live session, you can see current lots and bid in real time. It is easy and fast. Should you have any questions, please call Naville Numismatics at +442078395956 or send an email.
You can find all highlights of Live Auction 12 on the website of the auction house.
You can also browse through the complete auction catalogue.
And you can follow Naville Numismatics on Twitter too.