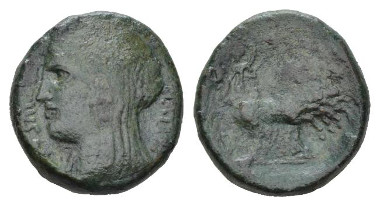 [bsa_pro_ad_space id=4]
13-09-2014 – 01-01-1970
Live Auction 9
Ancient quality coins at reasonable prices
Naville Numismatics Ltd. announces the Live Auction 9 which will take place on the internet and will start closing on Sunday 14th September 2014, at 18.00 UK time, when the Live session will begin.
Absentee bids before the start of the Live session can be left now and up until Sunday 14th September 2014, at 18.00 UK time, exclusively through our website.
The auction features a selection of 438 lots of Greek, Roman, Byzantine and Italian coins, selected with the contribution of NAC's experts.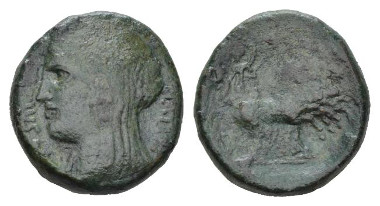 13: Sicily, Enna As. Circa 36 BC, 28.5mm, 19.58g. Campana 17 (this coin cited). Calciati 12. SNG Cop. 235. Ex NAC sale O, 2004, 1296. From the A.D.M collection. Very rare. Green patina. Fine. Estimate: £150.
The sale begins with a series of coins from Magna Graecia and Sicily, featuring rare bronzes including an Enna as, Ex NAC sale O, 2004, 1296, from the A.D.M collection, an Entella hemilitra, Ex NAC sale 29, 2005, 77, from the A.D.M. Collection, and an Himera as Thermae Himerenses bronze, Ex NAC sale P, 2005, 1199, from the ADM collection.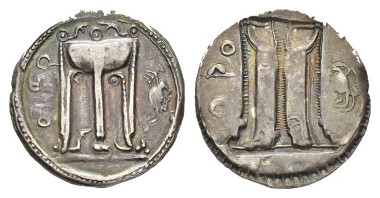 4: Calabria, Croton Nomos. Circa 530-500, 27.5mm, 7.95g. SNG ANS 246 (these dies). Historia Numorum Italy 2078. Ex NAC sale 59, April 2011, 1562. Lovely old cabinet tone and about extremely fine. Estimate: £900.
The highlights of this part of the sale are an interesting nomos of Croton, ex NAC sale 59, 1562 and a Syracuse tetradrachm, Ex NAC sale 59, 1571.
For continental Greece it is worth noting a small selection of tetradrachms of Athens, a tetradrachm of Abdera, and a choice of tetradrachms of the Seleucid Empire.
179: P. Cornelius Lentulus Spinther. Denarius circa 74, 18mm, 3.78g. Babelon Cornelia 58. Sydenham 791. Crawford 397/1. Ex NAC sale 73, 2013, 124. From the "Student and his mentor" collection. Rare. Delicate old cabinet tone and about extremely fine. Estimate: £1,500.
The Roman part of the sale boasts an interesting series of Roman Republican denarii, including a very rare denarius of the Saw series, Ex NAC sale 73, 2013, 38, a rare Cornelius Lentulus Spinther denarius, Ex NAC sale 73, 2014, 124, and an unpublished sestertius of C. Considius Paetus. A selection of bonzes from the Italo Vecchi Sale 3, 1996, is also included in this part of the sale.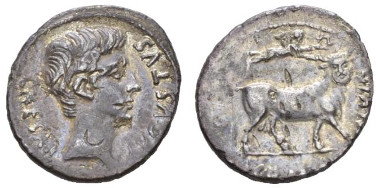 195: Octavian as Augustus, Denarius circa 19-18 BC, 19.5mm., 3.68g. C 432. RIC 319. Very rare. Toned. Countermarks; otherwise good very fine. £500.
The Imperial part of the auction includes a very rare denarius of Octavian, a nice denarius of Vitellius and an important sestertius of Hadrian, from the Ryan collection. The highlight of this part of the sale is a rare follis of Alexander, ex H.J. Berk sale 165, 483. For the late Roman period the auction includes some rarities, as a rare tremissis of Justa Gratia Honoria, sister of Valentinian III.
The sale includes also, for the first time, a small selection of Medieval and Modern Italian coins.
The above selection is in line with our goal of providing quality coins at a reasonable price, operating exclusively through electronic channels.
Naville Numismatics Ltd's partnership with NAC guarantees highly professional numismatic service and certifies an unlimited warranty of authenticity for the lots it sells.
If you have not already done so, please register as a member on Naville Numismatics' website.
Lots can be viewed in the London office, by prior appointment only.
During the Live session, you can see current lots and bid in real time. It is easy and fast.
Should you have any questions, please call Naville Numismatics at +442078395956 or send an email.
You can find all highlights of Live Auction 9 on the website of the auction house.
You can also browse through the complete auction catalogue.
And you can follow Naville Numismatics on Twitter too.