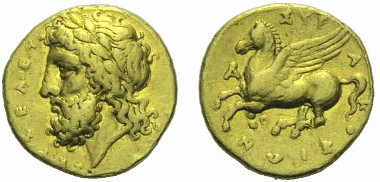 [bsa_pro_ad_space id=4]
05-07-2014 – 01-01-1970
Live Auction 8
Ancient quality coins at reasonable prices
Naville Numismatics Ltd. announces the Live Auction 8 which will take place on the internet and will start closing on Sunday 6th July 2014, at 18.00 UK time, when the Live session will begin.
Absentee bids before the start of the Live session can be left now and up until Sunday 6th July 2014, at 18.00 UK time, exclusively through Naville's website.
The auction features a selection of 247 lots of Greek, Roman and Byzantine coins, selected with the contribution of NAC's experts.
The sale begins with a series of coins from Magna Graecia and Sicily, featuring rare bronzes including Capua ex NAC sale 8 and from the A.D.M collection , Caelia and Entella.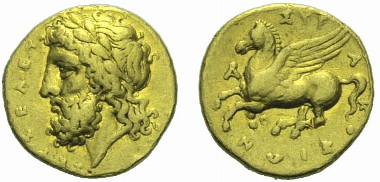 23: Sicily, Syracuse Hemidrachm 344-336. SNG ANS 493. Good very fine. Starting bid: GBP 1,300.
The highlights of this part of the sale are an interesting Nomos of Croton a Messana tetradrachm and a Syracuse gold hemidrachm, Ex Spink Taisei sale 51, 1994 and ex NAC sale 64, 2012, 2128. For continental Greece it is worth noting a small selection of tetradrachms of Athens, a tetradrachm of Acanthus, ex NAC sale R, 2007, 1103 and a choice of Tetradrachms of the Seleucid Empire.
115: Marcus Arrius Secundus. Denarius, circa 41. Crawford 511/2b. Countermark and graffito on obverse, otherwise very fine. Starting bid: GBP 2,000.
The Roman part of the sale boasts an interesting series of Roman Republican denarii, including a unique denarius of Papiria, an extremely rare denarius of Marcus Arrius Secundus, ex NAC sale 72, 2013, 1367 and a group of Roman Republican bronzes from the Italo Vecchi Sale 3, 1996.
The Imperial part of the auction includes a nice dupondius of Antonia ex Sotheby's 1892, 385, …
130: Galba. Denarius, Tarraco, circa April-late 68. RIC 2. Good very fine. Starting bid: GBP 1,000.
… a rare denarius of Galba ex NAC sale 64, 2012, 2534, and a remarkable denarius of Vespasian with a reverse portrait of Domitian.
153: Antoninus Pius. Aureus, circa 159-160. RIC 302 note. Calicó 1600 (these dies). About extremely fine / good very fine. Starting bid: GBP 4,000.
The highlight of this part of the sale is an important aureus of Antoninus Pius ex NAC sale 67, 2012, 338 from the Huntington collection.
The above selection is in line with our goal of providing quality coins at a reasonable price, operating exclusively through electronic channels.
Naville Numismatics Ltd's partnership with NAC guarantees highly professional numismatic service and certifies an unlimited warranty of authenticity for the lots it sells.
If you have not already done so, please register as a member on Naville Numismatics' website.
Lots can be viewed in the London office, by prior appointment only.
During the Live session, you can see current lots and bid in real time. It is easy and fast.
Should you have any questions, please call Naville Numismatics at +442078395956 or send an email.
You can find all highlights of Live Auction 8 on the website of the auction house.
You can also browse through the complete auction catalogue.