[bsa_pro_ad_space id=4]
10-03-2018 – 01-01-1970
Live Auction 38
Naville Numismatics' Live Auction 38
Naville Numismatics' Live Auction 38 features a selection of 904 lots of Greek, Roman, Byzantine coins, all chosen with contribution from NAC's experts. The auction will close on Sunday 11 March 2018, 16.00 UK time, at which time the live session will begin.
Lot 162: Ptolemäer. Cleopatra VII Thea Neotera. Diobol-80 Drachmae circa 51-30. Alexandria. VF – / F +. Starting Bid: 120 GBP.
The sale begins with a selection of coins, including bronzes and fractions, from Magna Graecia and Sicily, most of them from the E.E. Clain-Stefanelli Collection sold in association with Stacks Bowers Galleries. This section of the sale includes coins from rare mints such as Populonia, Hyria, Catane, Enna and Tauromenium and also offers an attractive series of coins from Tarentum, Metapontum, Thurium, Agrigentum, Syracuse, Athens and Corinth, even beyond a selection of Hellenistic portraits of Seleucid, Parthic and Ptolemaic kings. Highlights include a rare diobol of Cleopatra VII. The Roman selection boasts an interesting series of Roman Republican bronzes and a striking array of denarii, again most of them from the E.E. Clain-Stefanelli Collection. This includes a magnificient denarius of C. Marius C.f. Capito, a beautiful denarius of Naevius Balbus.
Lot 575: C. Iulius Caesar. Denarius mint moving with Caesar 49-48. Sydenham 1006. XF. Starting Bid: 200 GBP.
Do not miss the wonderful denarius of Caesar with the elephant, a rare denarius of Marcus Antonius and Octavian, and an interesting rare of Octavian. In this part, there is also an interesting selection of Republican portraits such as Pompeius, Caesar, Marcus Antonius and Octavian.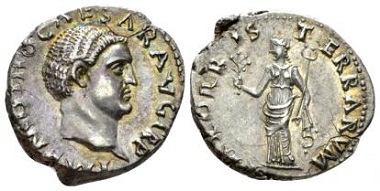 Lot 639: Roman Imperial. Otho, 15 January – mid April 69. Denarius circa 69, Rome. RIC 4. Ex Leu sale 7, 1973, 353. XF. Starting Bid: 800 GBP.
The Imperial selection of the sale features an attractive series of Augustus as well as an attractive aureus with Caius and Lucius, a beautiful sestertius of Nero, a rare and important denarius of Otho (Ex Leu sale 7, 1973, 353) and a wonderful sestertius of Domitian. even beyond a selection of quadrantes, tesserae, solidi, siliquae, denarii, tetradrachms, sestertii, dupondii and asses which included Claudius, Nero, Vespasian, Domitian, Trajan, Hadrian, Antoninus Pius, Faustina I, Lucius Verus, Lucilla, Marcus Aurelius, Commodus, Crispina, Septimius Severus, Elagabalus, Gordian III, Philip I, Philip II, Julian II, Valentinian I and Valens.
Lot 684: Roman Imperial. Diva Faustina. Aureus after 141.XF. Ex Roma Numismatics sale XIV, 747. Starting Bid: 2,000 GBP.
They are also remarkable as an aureus of Hadrian with Roma seated on reverse and an aureus of Faustina II with Ceres on reverse. In addition the auction presents an interesting selection of Medieval and Modern World coins, as well as an interesting series of Papal coins.
Lot 388: Egypt. Alexandria. Hadrian, 117-138 Drachm circa 134-135 (year 19), AE 33mm. VF +. From the Dattari Collection. Starting Bid: 400 GBP.
The Roman Provincial part of the sale includes a selection from the Dattari Collection. It is composed of Alexandrine coins from Octavian to Galerius with various types of obols, diobols, hemidrachms, and drachms featuring rare portrayals of ancient divinities. Highlights include coins of Augustus, Claudius, Domitian, Trajan, Hadrian, Antoninus Pius and Lucius Verus, remarkable specimens both for the state of preservation and rarity.
Naville Numismatics Ltd's partnership with NAC guarantees highly professional numismatic service and certifies an unlimited warranty of authenticity for the lots it sells.
Lots can be viewed in our office in London, by prior appointment only. During the Live session you can see current lots and bid in real time, making it an easy and fast way to participate in the auction.
Should you have any questions, please send an email.
If you have not already done so, please register as a member on Naville's website.
To browse through the complete auction click here.