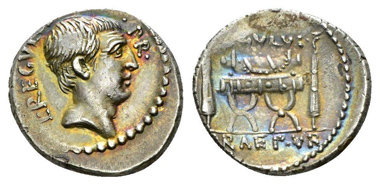 [bsa_pro_ad_space id=4]
13-05-2017 – 01-01-1970
Live Auction 31
Naville Numismatics' Live Auction 31
The auction features a selection of 573 lots of Greek, Roman, Byzantine coins, all chosen with contribution from NAC's experts. The auction will close on Sunday 14 April 2017, 16.00 UK time, at which time the live session will begin.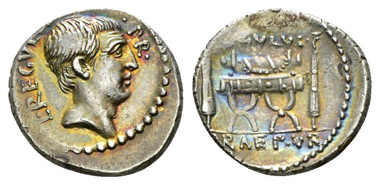 Lot 369: L. Livineius Regulus. Denarius, circa 42. From the E. E. Clain-Stefanelli Collection. Extremely fine. Starting Bid: 130 GBP.
The sale begins with a selection of coins, including bronzes and fractions, from Magna Graecia and Sicily, most of them from the E.E. Clain-Stefanelli Collection sold in association with Stacks Bowers Galleries. This section of the sale includes coins from rare mints such as Carthago Nova, Hyria, Cephaloedium, Selinus, Lipara and Olympia and also offers an attractive series of coins from Tarentum, Heraclea, Metapontum, Thurium, Velia, Croton, Locri, Syracuse, Athens and Corinth.
Lot 69: Attica, Athens. Tetradrachm, after 449. Extremely fine: Starting Bid: 350 GBP.
Highlights include a beautiful nomos of Locri from a collection fromed in the '30s, an interesting bronze of Segesta (Ex NAC sale 29, 2005, 100 and from the A.D.M. collection), a wonderful tetradrachm of Athens, a remarkable stater of Teos and a brilliant tetradrachm of Antiochus VIII.
Lot 365: Iulius Caesar and P. Sepullius Macer. Denarius, circa 44 BC. Good very fine. Starting Bid: 450 GBP.
The Roman selection boasts an interesting series of Roman Republican bronzes and a striking array of denarii, again most of them from the E.E. Clain-Stefanelli Collection.
This includes a beautiful quadrigatus, a wonderful denarius of C. Mamilius Limetanus, a beautiful denarius of Iulius Caesar and P. Sepullius Macer, an interesting Aureus of Iulius Caesar and a rare bronze of Cleopatra and an interesting selection of Republican portraits such as Julius Caesar, Vibius Varus, M. Antonius and Octavian.
Lot 407: Britannicus, son of Claudius. Sestertius, circa 50-54, Thracian mint. Good fine / Fine. Starting Bid: 1,600 GBP.
The Imperial selection of the sale features an attractive series of Augustus as well as an attractive aureus with Caius and Lucius, an extremely rare sestertius of Britannicus, a beautiful sestertius of Nero a remarkable sestertius of Antoninus Pius and selection of denarii, sestertii, dupondii and asses which included Claudius, Nero, Vespasian, Trajan, Hadrian, and Marcus Aurelius. It is also remarkable an aureus of Hadrian with, on reverse, the personification of the Egypt.
The Roman Provincial part of the sale includes a selection from the Dattari Collection.
It is composed of Alexandrine coins from Octavian to Galerius with various types of obols, diobols, hemidrachms, and drachms featuring rare portrayals of ancient divinities.
Highlights include coins of Augustus, Claudius, Domitian, Trajan, Hadrian, Antoninus Pius and Lucius Verus, remarkable specimens both for the state of preservation and rarity.
Giovanni Dattari, collector of Alexandrinian coins
Giovanni Dattari was born in Livorno on 19th April 1858 and moved to Egypt with his family after the death of his father in 1875.
He is known to have been a keen and competent amateur-merchant of Egyptian antiquities and Greek and Roman coinage. His study in the family villa in Cairo was a common meeting place for archaeologists, Egyptologists and numismatists.
Dattari started his coin collection in 1891 and by 1894 it was comprised of 395 pieces in base silver and 2207 in bronze.
By 1903 the collection had grown to 6835 Alexandrian, 91 archaic Greek, 230 of Alexander the Great, 910 Ptolemaic, 19320 Roman coins and 630 lead and silver pieces and in the following years this number of coins more than doubled.
His corpus consists of 327 pages (of which four are missing); it begins with a bronze of Augustus and ends with an astonishing quantity of extremely rare issues of Domitianus. Dattari listed all the coins in his collection and reproduced them by pencil tracing over casts.
Giovanni Dattari died in 1923, leaving his wife Eudosia Zifà and his two children, Maria and Marco Aurelio.
Dattari had already donated a substantial number of Alexandrian coins to the Museo Nazionale in Rome in 1920 and after his death the idea of donating his entire collection to the museum was prompted by his daughter Maria who wanted the collection to be made available to the public in a gallery dedicated to her father's memory.
Naville Numismatics Ltd's partnership with NAC guarantees highly professional numismatic service and certifies an unlimited warranty of authenticity for the lots it sells.
You may find all offered coins here.
You will find all highlights of the auction gathered on this webpage.
Absentee bidders can bid electronically through Naville Numismatics website from the day the sale is published online up to the start of the live Session.