[bsa_pro_ad_space id=4]
12-12-2015 – 01-01-1970
Live Auction 19
Ancient and Medieval coins at Naville's Live Auction 19
Naville Numismatics (NN) presents its Live Auction 19. The auction will close on Sunday 13 December 2015, 18.00 UK time, at which time the live session will begin.
The auction features a selection of 625 lots of Greek, Roman, Byzantine and Medieval coins, all chosen with contribution from NAC's experts.
Lot 22: Sicily, Messana As Zankle under the Samians, SNG Copenhagen 388. SNG ANS 302. Gielow 33 (these dies). Rare. Extremely Fine. .Ex Gemini sale VI, 2010, 28 and NAC sale 64, 2012, 693. Starting bid: £3,500.
The sale begins with a series of coins from Magna Graecia and Sicily, including an interesting Leontini tetradrachm (ex NAC sale R, 2007, 1072 and NAC sale 78, 1374) and an exceptional drachm of Messana as Zankle (ex NAC sale 64, 2012, 693). Of the selection from continental Greece it is worth noting a tetradrachm of Olinthus (ex NAC sale R, 2007, 1105). Another highlight includes a Tetradrachm of Perseus (ex NAC sale 78, 2014, 1413). This part of the sale also includes nice specimens of Lysimachus, Athens, Myrina, and a small series of hecte from Phocaea and Mytilene.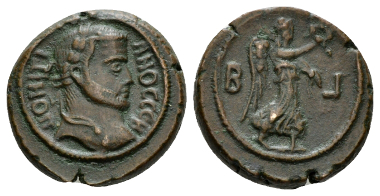 Lot 358: Egypt, Alexandria Domitius Domitianus Usurper, 297-298 , B. Geissen 3368 var. Dattari 6183 var. Very Rare. Good Very Fine. Starting bid: £ 500.
The Roman Provincial section includes a variety of bronzes form Spain, Gaul, Macedonia, Thrace, and Corinth featuring specimens from Lanz's 2001 sale n. 105 of coins from the BCD collection. Other notable highlights include a very rare medallion for Divus Augustus minted in Leptis Magna (Syrtica), as well as an interesting series of Alexandria tetradrachms. Another coin of especial note is a very rare tetradrachm of Domitius Domitianus.
The Roman part of the sale boasts an interesting series of Roman Republican denarii and a selection of bronzes from the I. Vecchi 1996 sale n. 3.
Lot 491: Hadrian, 117-138 Aureus 119-122., C 1071. RIC 65. Calicó 1312. Very rare. Reddish tone and About Extremely Fine / Good Very Fine. Ex NAC sale 78, 2014, 2225. Starting bid: £2500.
The Imperial selection of the sale includes: a very interesting series of Augustus (including an attractive aureus), a hard to come by aureus of Hadrian (ex NAC sale 78, 2014, 2225), a very rare medallion of Commodus with a bold representation of Jupiter on his throne, an extremely rare antoninianus of Pacatianus; and a selection of quality bronzes including an attractive Hadrian sestertius (ex NAC sale 78, 2014, 2245), Lucilla As (ex NAC sale B, 1992, 1992), and Marc Aurelius sestertius (ex NAC sale R, 2007, 1456).
Lot 517: Commodus, 177-192 Medallion 184-185, C 473 var. (laureate and draped). Gnecchi 74 and pl. 83, 2 var. (laureate and draped). NAC sale 33, 2006, 513 (same dies). Brown patina and extremely fine. Extremely rare. Several areas of corrosion; otherwise Good Very Fine. Starting bid: £800.
The Italian medieval part of the sale includes a nice selection of Venetian Zecchini and a rare Spanish coin struck in Barcelona by Charles I (V) of Spain.
You may find all offered coins here.
Lots can be viewed in the office in London, by prior appointment only.
Absentee bidders can bid electronically through Naville Numismatics website from the day the sale is published online up to the start of the live Session.