[bsa_pro_ad_space id=4]
11-07-2015 – 01-01-1970
Live Auction 16
Ancient quality coins at reasonable prices
Naville Numismatics announces the Live Auction 16, which will start closing on Sunday 12th July 2015, at 18.00 UK time, when the Live session will begin.
The auction features a selection of 632 lots of Greek, Roman, Byzantine and Medieval coins, selected with the contribution of NAC's experts.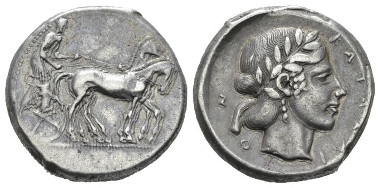 15: Sicily, Catana Tetradrachm circa 445. Rizzo pl. X, 7 (this obverse die) and pl. X, 6 (this reverse die). De Nanteuil 267 (these dies). Dewing 582 (these dies). AMB 325 (these dies). A pleasant Good Very Fine. Ex NAC sale 54, 2010, 30. Starting bid: £2,500.
The sale begins with a series of coins from Magna Graecia and Sicily, including an interesting tetradrachm of Catana, Ex NAC sale 54, 2010, 30 and a nice tetradrachm of Syracuse Ex NAC sale 59, 2011, 1573. For continental Greece it is worth noting an apparently unrecorded tetradrachm of Abdera, ex NAC sale 78, 2014, 1416 and a very rare tetradrachm of Athen. This part of the sale includes nice specimens of Lysimachus, Athens, Myrina and a small series of hecte from Phocaea and Mytilene.
334: Lesbos, Mytilene, Septimius Severus, 193-211. Medallion 193-211, Mionnet 163. Extremely rare. Good Very fine. Starting bid: £500.
The Roman Provincial part includes a selection of bronzes from Spain, Gaul, Macedonia, Thrace and Corinth and Alexandria. The highlight of this part of the sale is an extremely rare Medallion of Septimius Severus minted in Mytilene.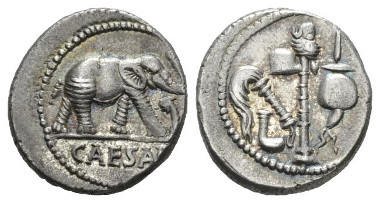 440: Julius Caesar. Denarius mint moving with Caesar 49-48, Babelon Julia 9. C 9. Sydenham 1006. Sear Imperators 9. RBW 1557. Crawford 443/1. Extremely Fine. Starting bid: £200.
The Roman part of the sale boasts an interesting series of Roman Republican denarii and a selection of bronzes from the I. Vecchi Sale 3, 1996 and from the NAC sale 78.
The highlights of this part are two attractive denarii of Julius Caesar.
526: Antinous, Medallion, Smyrna (Ionia) after 134. BMC 340. Blum, Antinoos, 6. Rare. Good Very Fine. Starting bid: £1,000.
The Imperial part of the sale includes two interesting aureii of Tiberius and Domitian, a very interesting series of Augustus, an attractive denarius of Galba, an As of Antoninus Pius with Mars descending through air to Rhea Silvia and an attractive and rare medallion of Antinous struck in Smyrna (Ionia).
Lots can be viewed in the London office, by prior appointment only.
You may find all offered coins on the website of the auction house.
Should you have any questions, please call Naville Numismatics at +442078395956 or send an email.