[bsa_pro_ad_space id=4]
06-06-2015 – 01-01-1970
Live Auction 15
Ancient quality coins at reasonable prices
Naville Numismatics announces the Live Auction 15, which will start closing on Sunday 7th June 2015, at 18.00 UK time, when the Live session will begin.
The auction features a selection of 577 lots of Greek, Roman, Byzantine and Medieval coins, selected with the contribution of NAC's experts.
23: Sicily, Syracuse. Hemilitra circa 400. Calciati II -. Boehringer, Essays Thompson -. Cf. 36. Rare. About Extremely Fine. Signed by Euainetos. Starting bid: £350.
The sale begins with a series of coins from Magna Graecia and Sicily, including an interesting tetradrachm of Leontini, a very interesting Nomos of Poseidonia overstruck on a specimen of Caulonia, a rare bronze from Syracuse signed by Euainetos. For continental Greece it is worth noting a Caunus Tetradrachm, ex NAC sale 78, 2014, 1501, and an extremely rare tetradrachm of Antiochus I Soter ex NAC sale 77, 2014, 78. This part of the sale includes nice specimens of Lysimachus, Athens, Myrina and a small series of hecte from Phocaea and Mytilene.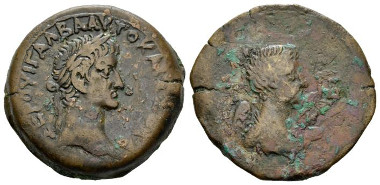 298: Egypt, Alexandria. Galba, 68-69. Drachm 68-69 (year 2). Geissen 243. Dattari 322. Milne 352. RPC 5346. Very Rare. Starting bid: £350.
The Roman Provincial part includes a selection of bronzes from Spain, Gaul, Macedonia, Thrace and Moesia with many rarities and an important selection of Alexandrian tetradrachms and drachms, the highlights of this part of the sale are a very rare and well preserved Galba drachm minted at Alexandria and an extremely rare bronze of Eurycles struck at Sparta.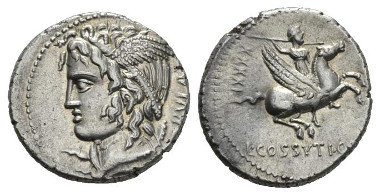 376: C. Cossutius C.f. Sabula. Denarius 74. Babelon Cossutia 1. Sydenham 790. Crawford 395/1. Scarce. Good Extremely Fine. Ex Sternberg sale XIV, 1984, 203 and NAC sale 73, 2013, 123. Starting bid: £900.
The Roman part of the sale boasts an interesting series of Roman Republican denarii and a selection of bronzes from the I. Vecchi Sale 3, 1996 and from the NAC sale 78, the highlight of this part is a lovely Cossutia denarius, Ex Sternberg sale XIV, 1984, 203 and ex NAC sale 73, 2013, 123.
423: Domitian, 81-96. Cistophoric Tetradrachm. Uncertain mint (Ephesus or, Rome) 82. RIC 222. RPC 864 C. 23 (100 Fr.). Rare. Lightly toned. Good Very Fine / About Extremely Fine. Starting bid: £280.
The Imperial part of the sale includes two interesting aureii of Trajan and Claudius. A very interesting series of Augustus, an attractive As of Vitellius without SC, Titus As of the IVDAEA CAPTA issue, As of Trajan with Trajan's column on reverse and rare and well preserved cistophoric tetradrachm of Domitian with the Temple of Jupiter Optimus Maximus on reverse.
Lots can be viewed in the London office, by prior appointment only.
During the Live session, you can see current lots and bid in real time. It is easy and fast. Should you have any questions, please call Naville Numismatics at +442078395956 or send an email.
You can find all highlights of Live Auction 15 on the website of the auction house.
You can also browse through the complete auction catalogue.
And you can follow Naville Numismatics on Twitter too.