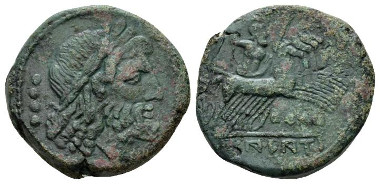 [bsa_pro_ad_space id=4]
31-10-2015 – 01-01-1970
Live Auction 18
Well-preserved Ancient Coins at Naville's Live Auction 18
Naville Numismatics presents its Live Auction 18, which will starting to close on Sunday 1st November 2015, 18.00 UK time, at which time the live session will begin.
The auction features a selection of 587 lots of Greek, Roman, Byzantine and Medieval coins, all chosen with contribution from NAC's experts.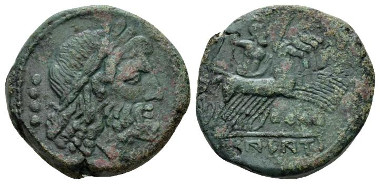 Campania, Calatia. Quadrans 216-211, Sambon 1058. Giard, op. cit., p. 258, 1. Historia Numorum 470 var. (pellets missing). Excessively rare. Extremely Fine. Starting Bid: £200.
The sale begins with a series of coins from Magna Graecia and Sicily, including an interesting and very rare quartuncia of Cosa (ex Triton sale V, 2002, 3), probably one of the best specimens of this issue, and an extremely rare quadrans of Calatia (ex NAC sale 9, 1996, 4, NAC sale 21, 2001, 5 and from the ADM collection).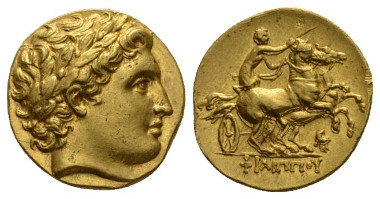 Kingdom of Macedon, Philip II, 359 – 336 Pella Stater 336-328. Good Extremely Fine. From the Barry Feirstein Collection. Starting Bid: £2,800.
From the selection of continental Greece it is worth noting an exceptional gold stater of Philip II minted in Pella, with a previously unrecorded symbol (ex NAC sale 39, 2007, 24 from the Barry Feirstein collection). This part of the sale also includes nice specimens of Lysimachus, Athens, Myrina, and a small series of hecte from Phocaea and Mytilene.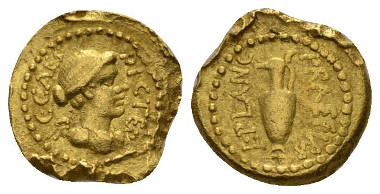 Julius Caesar and M. Munatius Plancus. Quinarius end 46-early 45, Bahrfeldt 22. Babelon Julia 20 and Munatia 3. C 32. Sydenham 1020. Sear Imperators 61. Woytek Arma et Nummi p. 558. RBW 1665. Crawford 475/2. Very rare. Good Very Fine. Starting Bid: £1,500.
The Roman part of the sale boasts an interesting series of Roman Republican denarii and a selection of bronzes from the I. Vecchi 1996 sale n. 3, and from NAC auction 78. Coins of especial note include a very rare gold quinarius of Julius Caesar and an attractive denarius of J. Caesar, lifetime time issue with P. Sepullius Macer.
The Roman Provincial section includes a selection of bronzes form Spain, Gaul, Macedonia, Thrace, and Corinth featuring specimens from Lanz's 2001 sale n. 105 of coins from the BCD collection, as well as an interesting series of Alexandria tetradrachms. An exceptional highlight is a rare bronze of M. Antony and Fulvia, minted in Tripolis (Phoenicia).
Antoninus Pius, 138-161 Medallion 139. Gnecchi – cf 36 and Pl. 46, 8. Very Rare. Very Fine/About Very Fine. Starting Bid: £450.
The Imperial section of the sale includes: a very interesting series of Augustus, an attractive aureus of Claudius (ex NAC sale 78, 2014, 2120), a rare medallion of A. Pius (ex Auctiones Kunst ind Münzen Lugano sale 5, 1993, 409), an attractive Caracalla sestertius (ex NAC sale 78, 2014, 1045) and a selection of quality bronzes including an Agrippina sestertius (ex Lanz sale 121, 2004, 334), a Claudius sestertius (ex Peus sale 376, 2003, 853), a Faustina II sestertius (ex NAC sale 78, 2014, 2291), and a Maximus sestertius (ex NAC sale 78, 2014, 2368).
The Italian medieval part of the sale includes a nice selection of Venetian Zecchini.
Lots can be viewed in Naville's office in London, by prior appointment only.
You may find all offered coins on the website of the auction house.