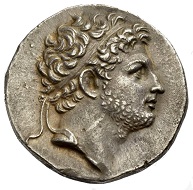 [bsa_pro_ad_space id=4]
14-02-2018 – 15-02-2018
Auction 46: Coins and medals, numismatic literature
M&M auction 46 attracts with numismatic rarities and an expert's library
Münzen & Medaillen GmbH auction 46 will take place in Weil am Rhein, Germany, on 15-16 February 2018. On the first day ancient Greek, Celtic and Roman coins will be auctioned, as well as medieval and modern coins, and on the second day there will be an auction of numismatic literature.
Lot 102: Macedonian Kings. Perseus, 179-168 BC. Tetradrachm. Estimate: 1,400 euros.
The auction begins with 350 ancient Greek coins, featuring first a particularly opulent series of coins of the Macedonian rulers.
Lot 282: Seleucid Empire. Alexander I. Balas, 152-145 BC. Tetradrachm, Sidon, 147-146 BC. Estimate: 850 euros.
The coins from Seleucid rulers featuring striking Hellenistic portraits are undoubtedly another highlight of the auction's opening. The majority of these coins have provenances which can be traced to the auctions and stock lists of the Münzen & Medaillen AG Basel, as well as other old auctions and collections.
An old collection of more than 300 Jewish bronze coins from the time of Alexander Jannaeus, Herod I. and the Great Revolt will be offered for sale as one lot. Most of the coins are accompanied by coin envelopes with handwritten descriptions dating from the late 19th and early 20th centuries. The collection was formerly in the possession of Markus Weder (1953-2016). There is also a selection of coins from Bactria and another of Egyptian coins of the Ptolemies, many of which are remarkable for their outstanding Hellenistic portraits. These are followed by circa 80 Greek provincial coins, including several with detailed depictions of buildings or images of gods such as Herakles, Hygeia and Asklepios, the Great God (the Samothracian Theos megas), and the River God Nile, who is shown lying on the river bank next to a crocodile.
Lot 530: Southern Germany. Vindelici. Gold stater "rainbow cup". Estimate: 1,500 euros.
Also in the sale is a fine collection of 160 Celtic coins, many in gold and silver, including examples from Britain, Spain, France, Southern Germany and those of the Eastern Celts, whose abstractions of human heads and riders on horseback often appear to be the forerunners of modern abstract art.
Among the Roman coins are a number of very rare emperors, many of whom only minted coins for an extremely brief period. Otho, Vitellius, Balbinus, Pupienus, Laelianus, Marius and Carausius are all present in the collection.
Lot 967: Roman Empire. Gallienus, 253-268. Aureus, 254-256 Rome. Co-governance with Valerianus I. Estimate: 2,000 euros.
There is also a series of coins of Gallienus, which includes a large number of different reverse- and bust types (many from the East), and also a rare aureus, which is well struck and well preserved, although there are some scratches in the fields. There are a number of consecration issues for deceased members of the imperial family- Antoninus Pius with a depiction of a statue on a column erected in his honour, Marcus Aurelius showing an eagle on a globe, Lucius Verus and Septimius Severus with a funeral pyre. Also present are a number of the consecration issues minted for Commodus, Vespasian, Trajan, Titus and Alexander Severus under Trajan Decius.
Lot 1278: Byzantium. Romanos III. Argyros, 1028-1034. Histamenon. Large flan. Estimate: 1,000 euros.
The ancient section of the auction finishes with a series of East Roman and Byzantine gold coins.
The medieval and modern part of the auction includes a small group of Bavarian coins, ranging from struck pennies from Ingolstadt to a gold 20 mark 1873 coin of Ludwig II. Among the coins of the Habsburg ruler Maximilian I. is a Schauguldiner from 1505 from the Hall mint, as well as an extremely rare, undated Zwitter-Schauguldiner from Klagenfurt. The modern rarities include a Czechoslovakian double ducat 1951 in brilliant uncirculated condition, one out of of only 200 items struck.
Lot 1471: Ottoman Egypt. Abdul Mejid, 1839-1861. Medallion 1855 (unsigned). 64 mm; 102 grams. Estimate: 5,000 euros.
Another rare and interesting piece is an Egyptian medallion from 1855 commemorating the laying of the foundation stone for the Saidjeh fortress in the Nile, which depicts a plan of the fortress. This part of the auction ends with a series of ten works by the medailleur Fritz Nuss and his son Karl Ulrich Nuss.
On the second day, 16th February 2018, the numismatic library of Prof. Dr. Hans-Jörg Kellner will be auctioned, supplemented by other consignments. Prof. Dr. Kellner is known to numismatists through his studies of the coins of Nuremberg and Passau, as well as from his publication of the Celtic coins excavated at Manching. He was head of the Prehistoric Department of the Staatssammlung in Munich and published extensively on the subject of Roman and Medieval coin finds in Bavaria. He was also the initiator and first researcher of the series of coin find studies, "Die Fundmünzen der römischen Zeit in Deutschland" (FMRD). The books are available for viewing upon request in the offices of Münzen & Medaillen GmbH. They will be auctioned in Gasthaus Krone, Weil/Rhine, 500 m further down the street.
Printed catalogues can be obtained for a charge of 10 euros from Münzen & Medaillen GmbH, Hauptstraße 175a, 79576 Weil am Rhein, Tel. +49 (0)7621 48560.
Further information and useful links concerning auction 46 can be found here.
Customers are invited to register in advance for Internet live Bidding here.