[bsa_pro_ad_space id=4]
26-11-2013 – 01-01-1970
Auction 39
Roman history of war in coinage
Münzen and Medaillen GmbH, based in Weil am Rhein, will hold their 39th auction in Hotel Steigenberger Graf Zeppelin in Stuttgart on 27th November 2013. The auction covers a great variety of numismatic themes, from ancient Greek and Roman coins to 20th century banknotes and art medallions.
22: Syracuse. Hieron II, 275-215 BCE. Dekadrachm, gold, 275-263 BCE. Extremely fine. Estimated: 4,200 euros.
As usual, the sale will start with a selection of ancient Greek coins, spanning a geographical range from Sicily to Egypt. Highlights include the gold Decadrachmon of Hieron II of Syracuse with its fine Hellenistic depiction of the ruler as charioteer, and the Stater from Opuntian Lokris with its masterly head of Demeter and reverse of the hero Ajax the Locrian in warlike stance (Lots 22 and 63). Then, with the coinage of the Paionian king Patraos, we introduce a theme which runs throughout the ancient section of the sale: the horseman who knocks down his defeated enemy and runs him through with his spear. After a selection of Persian and other Eastern coins and a range of Numidian-Mauretanian coins of Juba I and II, this iconography returns later in the sale under the Romans.
The Roman section of the sale is practically a history of war in coinage. We begin with the issues struck by the opposing parties in the civil wars which fell between the murder of Julius Caesar and the accession of Octavian – Augustus – here are coins of Brutus (with Cassius and Lentulus Spinther), Marcus Antonius, a fine portrait of the young Octavian and a Denarius of Octavian's ally Scarpus, minted in Cyrenaica in the turbulent year 31 B.C. (Lots 196-199).
A Sestertius from Vitellius combines a masterly imperial portrait with a lively image of Mars Victor (Lot 202). The martial imagery continues on a Dupondius of Domitian, struck to commemorate Roman campaigns in Gaul and Germania, on which the Roman army standard, the Vexillum, is depicted above crossed enemy shields and Carnyces or war trumpets (Lot 204). Trajan commemorates his campaigns against the Dacians with an image of a captive in local dress sitting unhappily under a trophy (Lot 206) – an image which had first been used in the late Republic and had been made standard by Julius Caesar and later Vespasian to celebrate their victories in Gaul and Judaea.
We see the image of Rome vs. Barbarian returning in full force in the later Empire from Constantine I onwards. Although in this period coins were mass-produced in many corners of a vast and often instable empire, closer inspection reveals that individual die-cutters reproduced the standard images in their own engaging styles: these are here represented by a selection of FEL TEMP REPARATIO and other bronze issues bearing masterly examples of the widely reproduced image of a Roman soldier vanquishing a falling horseman (such as Lot 261 from Constantius II), as well as a parade of images of Roman brutality and tiny barbarian captives who, despite the small scale, are depicted in a number of lively and original ways. A small collection of such images is on offer (Lot 262).
250: Constantinus I the Great, 307-337. Nummus, Sirmium. 324-325. RIC 475,48. Extremely fine. Estimate: 75 euros.
On a wonderfully preserved Nummus of Constantine the Great, minted in Sirmium, Victoria treads cheerfully on a poor unassuming captive to proclaim the news, SARMATIA DEVICTA, "Sarmatia has been defeated" (Lot 250).
The local inhabitants of the Roman Empire had their own way with the official coinage – our auction also contains a selection of 'barbarous imitations' – which need not have been entirely unofficial productions – but which show the stylistic influence of local mints and untrained die-cutters. The imperial portraits are reproduced in an inexact, frequently naive style, while the legends range from the mildly disorderly to the fully corrupt. Some of these coins derive from the Thomas Ollive Mabbott Collection, auctioned by Hans Schulman in New York in 1969-1970.
Sometimes the minting process produced amusing and unexpected results, as can be seen in our selection of double strikes – we have a fine group of double-headed and double-figured coins in the present auction (e.g. Lots No. 70 and 229).
The auction also includes a selection of Argentei of the Tetrarchs and other late Roman Siliquae. The antique section closes with a range of interesting multiple lots, mostly of Eastern origin – Sassanian bronzes, Parthian Tetradrachms and more. There is much here for the collector with an eye for quirky and unusual ancient coins.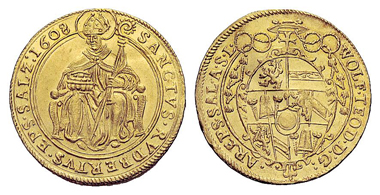 764: SALZBURG, ARCHDIOCESE. WOLF DIETRICH VON RAITENAU, 1587-1612. Double ducat 1608. Fr. 555. Extremely fine-FDC. Estimate: 3,000 euros.
The modern section continues the Oriental theme with a selection of Arabic coins. These are followed by German coins. Of particular interest in this auction is the series of German coins from 1871 to the late 20th century. Many of these are in perfect condition and include commemorative 5 Marks and coins from the DDR. There is a varied selection of non-European coins, including South American issues from El Salvador, Guatemala, Nicaragua and Peru.
A further section of the sale includes medallions of great artistic merit. The series of bronze medallions of European churches by the engraver Jacques Wiener are particularly remarkable in their attention to architectural detail. Thomason's series, "The Kings and Queens of England", a history in the form of 36 white metal medals in a book-like leather case (Lot 792) is another rarity. A series of artists' and commemorative medals is crowned …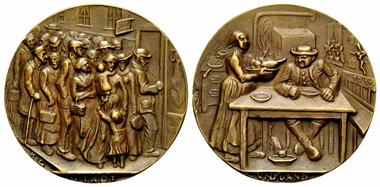 1125: GOETZ, KARL, * 1875 Augsburg, + 1950 Munich. Bronze medallion 1919 marking the provisions supply in town and country. Kienast 219. Extremely fine. Estimate: 100 euros.
… by a selection of medallions (Lots 1079-1186) by Carl Goetz (1875-1950). Goetz lived through a particularly turbulent and difficult period in German history and turned his artistic talent to satirical purpose, producing sardonic images of contemporary figures and political events: Kaiser Wilhelm II, the English press baron Alfred Northcliffe, Admiral Tirpitz, President Woodrow Wilson, Clemenceau and Lloyd George are all represented, and some images – especially those dealing with French-German relations – are definitely not for the faint-hearted. The sale continues with works by modern medallists (all illustrated in the catalogue). These are followed by a series of banknotes, mostly from Germany and Holland, including inflation issues and Notgeld. Auction 39 closes with a selection of literature relating to themes in ancient and modern numismatics.
The catalogue can be obtained for a charge of 10 Euros from Münzen und Medaillen GmbH, Hauptstrasse 175a, D-79576 Weil am Rhein, Germany. The lots can be viewed on the Internet at Sixbid.