[bsa_pro_ad_space id=4]
02-06-2015 – 01-01-1970
42nd Auction
Important Collection of Paper Money at Münzen und Medaillen GmbH
Münzen & Medaillen GmbH, based in Weil am Rhein, Germany, will hold their 42nd Auction in Stuttgart, Germany, on 3rd June 2015. There will be an interesting selection of ancient, medieval and more recent coins on offer.
117: Euthydemos I., 230-200 BC. Tetradrachm. Mitchiner 51, Type 85c, Bop. 156, série 5B. Av. EF. Rv. VF. Estimate: 280 euro.
There is an interesting group of Bactrian coins in the sale. That rulers of Greek descent ruled over kingdoms in parts of India is hardly recorded by literary sources. Their territory was a large region in Central Asia formed from the Eastern provinces of the earlier Seleucid Empire, itself stemming from the conquests of Alexander the Great. This had been taken from the Seleucids in ca. 250 B.C. by Diodotus, who declared his independence. The kings who follow him are termed "Bactrian" or "Indo-Greek". Only the first four kings who ruled over Bactria are mentioned in literary sources, and most of the others are only known from their coins. Numismatics thus plays a vital role in trying to piece together the fragmentary history of the region.
123: Demetrios I., BC. Tetradrachm. Mitchiner 57, Type 103d, Bop. 164, série 1C. Rare. VF. Estimate: 1,200 euro.
Although the depictions of the rulers on the coins stand in a very classical tradition of portraiture, certain elements give the series a more 'Eastern' feel: Demetrios I. is portrayed wearing an elephant scalp (Alexander was often depicted wearing a lion scalp), and also minted coins with elephant heads.
The Bactrian tetradrachms are renowned for their lifelike portraits. Antimachos is depicted wearing a Kausia, a Macedonian beret which came to symbolise kingship (Lot 132 ff.); underneath he also wears the traditional diadem, a strip of cloth tied round the head which was also a Macedonian and Greek symbol of kingship (as depicted on the portraits of Heliokles, Apollodotos II., Antialkidas and others: see Lot 179, Lot 201 and Lot 189). Other kings wear much more practical 'Indian' helmets (e.g. Archebios, Lot. 194, and Eukratides I., Lot. 158).
487: Ravensburg, Royal Mint. Brakteat, about 1275. CC 215, Fd. Elchenreute 61a, Berger 2551, Cahn 208. EF-BU. Estimate: 100 euro.
Among the German coins of the Middle Ages in this auction is a series of bracteates minted by the towns in the area of Lake Constance. The coins are in an extremely fine condition. There are also a number of very rare coins from other mints. From the Modern Era there is a series of Thalers with especial focus on Brunswick-Lüneburg, as well as coins of the German Kaiserreich. Among the foreign coins there is a small collection of coins from Malta.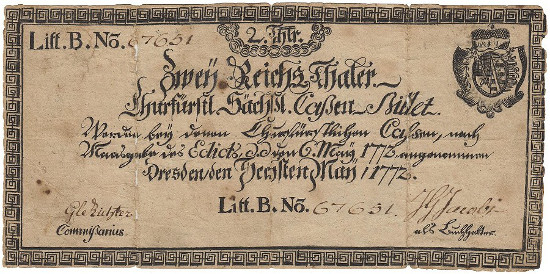 748: Saxony. 2 Reichstaler 6. 5. 1772, Litt. B, No. 67651. Watermark. Pick S 607, Pi-Ri. A 375. Nearly fine. IV -. Estimate: 1,600 euro.
A particular highlight of this auction is a collection of early paper money. The collector wanted to document the origin and development of paper money.
The collection begins with an Egyptian papyrus of the Ptolemaic period, which contains a receipt for a payment of copper coins. The next stage is Ming-Dynasty China: a 1000-Cash note made of mulberry bark paper. Such notes are the first true banknotes as we know them today. Marco Polo even mentioned them in the accounts of his travels. There follow notes from Sweden, where it was easier to carry a piece of paper around as it was to lug several kilograms' worth of plate copper, emergency banknotes from besieged cities such as Mainz, Kolberg, Leiden und Lyon, private Japanese banknotes, and, among others, a long series of French "Billets de confiance" – not Assignates, but rather banknotes which were issued by towns, parishes and so forth. Playing card money is also featured: these are banknotes made from re-used playing-cards, since these were produced on suitably strong cardboard. The individual states in the USA issued banknotes in the 18th century during their war with the motherland Great Britain. A letter of credit from 1763 illustrates how one could transport one's assets whilst travelling.
The collection ends in 1815; on one hand, this was the time of the Congress of Vienna, when Europe was arranging itself in a new political order after the Napoleonic Wars; on the other hand, this was an era in which new technical procedures were being developed, with the result that banknotes of the late 19th century vary considerably in comparison to the earlier notes in terms of their production and appearance, just as coins of the 19th century exhibit a different style to that of earlier coins and are minted in different ways.
At the end of the auction around 260 lots of numismatic literature will be up for sale, including a library of works relating to Byzantine numismatics.
The catalogue can be viewed at Sixbid, the coins and medals here and the paper money here.
Printed copies may be obtained from Münzen & Medaillen GmbH, Hauptstraße 175a, D-79576 Weil am Rhein for a charge of 15 Euros.