[bsa_pro_ad_space id=4]
10-03-2017 – 01-01-1970
17th International Auction
Outstanding ancient coins at Mowbray's
Mowbray Collectables is new to CoinsWeekly but the largest New Zealand based stamp and coin auction house has been in business over 50 years, with more than 50% of sales overseas. Its 17th International auction catalogue is its largest ever with New Zealand and Pacific coin and banknote rarities, world gold coins, rare British Celtic coins, ancient European coins and British and New Zealand medals.
Director of Mowbray's numismatic business, David Galt, is a long-time collector and also President of the Royal Numismatic Society of New Zealand since 2006.
The 17th Numismatic Auction on 11 March 2017 has a total catalogue value of $NZ 518,435. ($NZ1.00= €0.68 or $US 0.72). Mowbray's best material is offered in two room based auctions each year in Wellington, New Zealand with 15% buyer premium and no tax for overseas buyers. Reserves are transparent – all are set at 70% of estimate. All lots are viewable on line at www.mowbraycollectables.com
Lot 287: Great Britain. Celtic. Dumnocoveros Tigirseno. Stater. gVF. Estimate: 7,000 NZD.
The outstanding feature of the auction is the ancient coin sections, ranging from affordable silver and copper, including in bulk, to gold rarities. British Celtic coins, are an exceptional opportunity, including the Dumnocoveros Tigirseno (gVF, Est $7,000, provenance to nineteenth century), Iceni (VF, Est $8,000) and Cunobelinus gold staters.
Lot 216: Greek, Macedon. Alexander the Great. Stater. gEF. Estimate: 5,400 NZD.
Ancient gold and silver coins date back to the 6th century BC, with coins of Mysia, Alexander the Great, Byzantium, Carthage, Persia, Roman leaders such as Julius Caesar, Augustus, Tiberius, Nero, Hadrian and others. Highest estimate is $NZ 15,000 for the outstanding Egyptian Pentadrachm of Ptolemy II (284-246 BC) in EF. The Ptolemy II Octadrachm (gVF) is a close second at $NZ12,000.
A new feature is over 100 New Zealand Proof and UNC coins with wholesale opportunities as well as interest to collectors. Several Proofs feature the sought-after number 1 certificate for the issue, such as the 2009 Icons $10 gold coin and 2014 Aotearoa North Island and South Island map set of two $1 coins. Other rare New Zealand items are the 2007 Scouting $10 with just 90 surviving, the 2004 Pukaki gold $10, and the 2003 Lord of the Rings three-coin gold $10 set. New Zealand gold extends to 38 lots.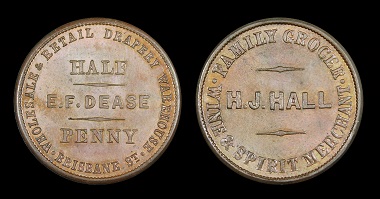 Lot 518: New Zealand. Henry Hall / E F Dease Halfpenny Mule. UNC. Estimate: 1,000 NZD.
Two 1935 Waitangi Crowns featuring New Zealand's founding document, the Treaty of Waitangi, are joined by a good selection of New Zealand errors in both banknotes and coins, 1935 Threepences, two rare UNC 1956 strapless threepences and high grade nineteenth century Tradesmen's tokens. As well as an 1879 pattern penny, issued by Joseph Moore (EF Est $5,000), Mowbray's offer two rare high grade Henry Hall halfpennies, muled with the Australian E F Dease (Est $1,000) and NZ Lipman Levy (Est $800) halfpennies, and gEF tokens from T S Forsaith who was briefly New Zealand Premier (Penny and Halfpenny, $900), and a first-class A S Wilson Penny (EF, Est $1,000).
World gold includes US – quarter, half, full and double eagles – and even the $1 and $3 coins. Hammered British gold classics such as the Edward III Noble (aEF Est $5,000) and Edward IV Rose Noble (gVF Est $4,000) are joined by French gold extending from John II (1360) to the Salut D'or of Henry VI 1422-1453 (EF, Est $3,000), Napoleon Bonaparte and twentieth century issues. Spanish Doubloon types will appeal those who appreciate legendary material while the Australian "Prince Leonard of Hutt" and American Samoan coins add fun and rarity to the catalogue. Modern world gold as well as other British hammered, guinea, sovereign and modern gold provide extensive numismatic and bullion opportunities.
Lot 603: Great Britain. James Cook Medal, 1779. AU. Estimate: 2,700 NZD.
There is no doubt about the cutest medal – it must be the corgi in the 1972 Royal Silver Wedding 6 gold medal set. Great leaders and deeds can be found in the Commemorative medals – Captain James Cook in the 1779 dated Royal Society, L Pingo, silver commemorative medal (AU, Est $2,700) and Oliver Cromwell after his rehabilitation in the eighteenth century.
Military Medals and include the British 1944 DFC, Military Cross of World War I, the Punjab Medal of 1849 to John Walsh, and the Colonial Auxiliary Forces group of three to NZ Hon Lieutenant Sydney Spencer George. Especially significant to New Zealand is the Indian Mutiny Medal of 1857/8 to Patrick Gammie, surgeon with the 80th Staffordshire regiment that came to New Zealand in 1840 with first Governor William Hobson, in the early 1960s.
Banknotes end the catalogue with mainly scarcer, earlier World banknotes and excitement in New Zealand numbering errors, an unusual 1974 Fiji $5 error group with duplicated and mismatched serials and bank notes from almost all New Zealand's active 1930's private trading bank issuers.
All lots are viewable on line at the company's website.