[bsa_pro_ad_space id=4]
29-11-2010 – 01-01-1970
Auction 47
Top Ten sales results from Morton & Eden
Auctioneer James Morton said he was extremely pleased with the results in this last sale of the year, which realised a total of £880,578, a figure which was mid-estimate of expectation. He said: "Once again there was strong interest in high quality Russian Orders, Medals and Decorations, highlighted by the £180,000 achieved against an estimate of £30,000-40,000 for the cover lot, a privately-made Russian First Class Order of St Anne.
"There were solid prices for British material, but rather less interest in gallantry medals and it was disappointing that the Iraq Military Cross awarded to Private Ryan Copping failed to find a buyer. However, we hope it will be sold privately soon.
"Another highlight was the dispersal of a small collection of Chinese Orders of the Double Dragon Type 2, which while not of the greatest rarity, were keenly contested by bidders in the room, by commission bidders and on the Internet and five telephones. Amid great excitement, the collection realised a total of more than £72,000, to the delight of the U.S. collector who had spent a lifetime acquiring and studying them."
Also of note was the £2,620 obtained for a Military General Service Medal (1793-1814) awarded to a Maltese recipient and the £5,760 (hammer) paid for another, awarded to a Prussian man, born in Coblenz, who enlisted in the UK and served with the 5 Battalion 60th Foot.
Please view the top ten prices below:
Lot 213
*Russia, Order of St Anne, First Class, a privately-made sash badge in gold, diamonds and enamels, St Petersburg, dated 1856, marked on suspension ring; of 'bulbous' form with central painted enamel portrait of the Saint surrounded by sixteen diamonds, spandrels and riband carrier also set with diamonds and angles of reverse embellished with scroll engraving, height 59.5mm (including suspension ring), width 53.8mm, carrier 38mm, very slight enamel loss at top edge of cross on reverse, of excellent quality, good extremely fine. Estimate: £30,000-40,000 SOLD FOR £180,000 Purchased by European private collector.
Lot 274
*Armenia, a rare Pair of Awards attributed to Nikolai Pyotrevich Nazaryan, comprising: i) Order of the Red Banner of Labour of Armenia, type 1, in silver and enamels, maker's mark CC, 88 zolotniki fine, impressed no. 83 on reverse and also with original separate backplate similarly marked and numbered (but 84 zolotniki fine), well-worn overall, screwplate lacking and with losses to enamel, generally fine; ii) Star of Armenia, badge in silver and enamels, the central medallion (originally rivetted or wired) damaged and crudely re-fixed with solder, hammer-and-sickle missing and small diameter screwpost with worn threads, fair (2)
Offered with original named Order Book for the Order of the Red Banner of Labour, dated 17th February 1940, giving the date of award no. 83 as 1st January 1939, with a photograph of the recipient in later life, well-worn; and a Former Red Partisan's Identity Booklet, 1930's, this with a replacement period photograph with blind-embossed N.K.V.D. stamp, also heavily worn. Estimate: £60,000-80,000 SOLD FOR £84,900 Purchased by US dealer bidding for a client.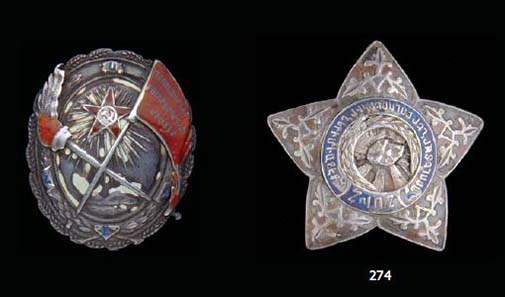 Lot 223
*Russia, Order of St Stanislaus, Civil Division, Non-Christian First Class sash badge, by Albert Keibel, St. Petersburg, pre-1898, in gold and enamels, 60.1mm (including suspension ring) x 55.4mm, extremely fine, with sash. Estimate: £15,000-20,000 SOLD FOR £72,000 Purchased by agent for private collector
Lot 212
*Russia, Order of St Anne, First Class, sash badge, in gold and enamels, by Kämmerer and Keibel, St Petersburg, dated 184- (probably 1848 or 1849) on suspension ring, without maker's mark but with Imperial Warrant beneath enamel on top arm of reverse, 54mm (including suspension ring) x 48.5mm, of high quality workmanship, with thin profile red enamel arms, good extremely fine; fitted with a gold riband carrier by Rothe marked FR. Estimate: £10,000-15,000, SOLD FOR £38,400 Purchased by private collector
Lot 281
*Russia, Order of the Red Banner of the RFSFR, type 2, engraved no. 362, variation without mintmark on reverse (not listed by McDaniel), moderate overall wear and without traces of gilding, very fine, with old patina. Awarded to SAVVA ALEXANDROVICH SAVELEV, Commander of 7th Battery of the Horse Artillery Brigade of the 6th Rifle Division for distinguished conduct during the Battle of Little Karolininsgof, 6th January 1919. As noted by McDaniel, this `type 2' badge should strictly be regarded as an official replacement for the original, which would have been a very early issue. The lot is offered with confirmation of the award from the Central Museum of the Armed Forces of the USSR (dated 1992, with an English translation) and related photocopies. After the fall of the German Empire in November 1918 the Bolshevik Government planned invasions of the newly-independent Baltic States. The 6th Rifle Division formed part of the 15th Red Army, working through southern Latvia and northern Belorussia towards Dvinsk. Little Karolininsgof is located south-east of Dvinsk. Estimate: £10,000-15,000 SOLD FOR £33,600 Purchased by agent for private collector
Lot 198
*Russia, Order of St Alexander Nevsky, a privately-made 'black' sash badge, in gold and enamels, unsigned and unmarked, circa 1837-39, in the form of a Maltese cross with dark red enamel gold-framed limbs of flat section, gold broad-winged Imperial eagles in angles, their wing tips almost touching, with central painted enamel portrait of St Alexander Nevsky on horseback right, 52.8mm (including suspension ring) x 48mm, lightly rubbed, good extremely fine .
Provenance: Commissioned by John George Lambton, 1st Earl of Durham (1792-1840) following his award of the Order in 1837 (for further details see Morton and Eden, catalogue of The Durham Orders, 10 June 2010. The present badge is of comparable style and workmanship to the Order of St Anne 'black' badge, lot 11. Presented to the Provincial Grand Lodge of Durham Mark Master Masons by the Rt. Hon. The Earl of Durham in 1929 (Provincial Grand Lodge of Durham Official Gazette, vol XXII, no. 5, May 1929, p.71, where described as "Red enamel Maltese Cross with double eagles between arms and charger in centre (gold)"). A copy of the entry is included with the lot. As part of its extensive collection the Library and Museum of the Province holds the Masonic Jewels and Regalia awarded to the 1st Earl, who was Provincial Grand Master of the Lodge (1818-40), Deputy Grand Master (1834-35) and Pro Grand Master of England (1839-40).
Estimate: £30,000-40,000 SOLD FOR £31,200 Purchased by agent for private collector
Lot 219
*Russia, Order of St Anne, Civil Division, Third Class, Non-Christian issue, breast badge by Julius Keibel, St Petersburg, in gold and enamels, marked beneath enamel on reverse and with 1865-1896 assay office mark on loop; centres on both sides similar, with enamelled Imperial eagles, 39mm (including suspension ring) x 34.5mm, extremely fine, with gold riband carrier. Estimate: £3,000-5,000 SOLD FOR £27,600 Purchased by agent for private collector
Lot 200
*Russia, Order of St Alexander Nevsky, an original case for a full set of insignia, with spaces for sash badge and breast star, and gilt insert to lid compartment containing original sash, in red morocco with gilt legends, probably Great War period, 119 x 173 x 31mm, interior lightly marked in ink and with partial damage to the hinge from wear, in very fine condition overall. Estimate: £6,000-8,000 SOLD FOR £19,200 Purchased by private European collector
Lot 296
*China, Order of the Double Dragon, Type 2, First Class, Third Grade breast star, in silver-gilt, with silver, gilt and light blue enamelled centre, with central smooth coral, incorrect small smooth coral above and eight small pearls around the central border, 82mm, enamel chipped by upper coral, good very fine and rare. Estimate: £2,500-3,000 SOLD FOR £19.200 Purchased by private collector
Lot 300
*China, Order of the Double Dragon, Type 2, Third Class, First Grade neck badge, in silver, with silver, gilt and light blue enamelled centre, with incorrect central coral and small coral above, 78mm, minor chips near upper coral, good very fine £800-1,200. Estimate: £8,000-1,200 SOLD FOR £19,200 Purchased by private collector