[bsa_pro_ad_space id=4]
10-11-2010 – 01-01-1970
Islamic, Ancient, British and World Coins
Top Ten Morton & Eden sale of Islamic, Ancient, British and World Coins
November 11th, 2010 – The sale of Islamic, Ancient, British and World Coins Medals and Memorabilia relating to Edward VIII Historical and Renaissance Medals and Plaquettes, was held at London specialist auctioneers Morton & Eden on Thursday November 11.
The surprise of the sale was the outstanding price paid for the Roman aureus of Maximinus I Thrax (AD 235-238) which tripled the estimate to sell for £195,500 to a European private collector, bidding against telephones and internet interest (lot 272).
Maximinus I, Thrax (235-238), aureus, Rome, April-December 235, 5.37g. RIC 12; BMC 4; C. 30; Calico 3159; Alram 10/1B.
Known as the first of the so called barracks emperors, Gaius Julius Verus Maximinus set end to the Severan dynasty after his predecessor Severus Alexander had been murdered. Maximinus's reign marked the beginning of the so-called Crisis of the Third Century. He never set foot in Rome itself, and his harsh rule was resented by the Senate. He and his son Maximus were assassinated at Aquileia by disaffected soldiers. As the silver coinage of Maximinus is plentiful, but his gold is extremely rare, this coin marked an exceptional offer of Morton & Eden for collecters of ancient Roman coins.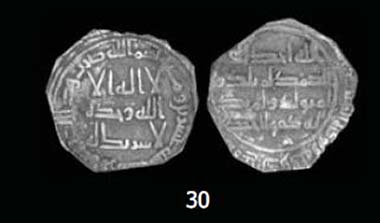 Dirham, Ifriqiya 120h, 1.68g (Klat 107), heavily clipped, otherwise about very fine and extremely rare, only two examples of this date recorded by Klat.
The wide-ranging sale also registered strong interest in Islamic coins where a poorly preserved but extremely rare Umayyad dirham of Ifriqiya dated AH120 also tripled its top estimate to sell for £4,370 (lot 30). The Umayyad Caliphate was the second of the four Islamic caliphates established after the death of Muhammad.
If you want to read more about the Ummayads, click here.
Edward IV, first reign (1461-70), light coinage, half-ryal, London, 3.80g, Blunt & Whitton viiia variant 2; Schneider – cf. 388-9; N. 1554; S. 1959.
English coins were in demand and the Charing Hoard of coins of Edward IV (1461-70), discovered by a metal detectorist in Kent last year sold for a total of £2,300.
Andrea Briosco, called Riccio (1470-1532), The Death of Marcus Curtius, 68 x 63mm (Molinier 416; Bange 365; Kress 213; Planiscig p. 490, 123 and fig. 259
There were strong results for Italian Renaissance plaquettes and medals where a finely preserved plaquette of Marcus Curtius by the famous sculptor Riccio sold to a U.S. collector for £16,100, more than doubled its top estimate (lot 585). The bronze plaquette shows the figure of Marcus Curtius, in armour and with right hand raised, on a rearing horse, about to leap into the chasm and represents a typical workpiece of its artist Andrea Briosco.
If you want to read more about Riccio, click here.
If you want to view the catalogue, please click here.
If you want to see the prices realized, click here.