[bsa_pro_ad_space id=4]
21-04-2013 – 01-01-1970
Important Coins of the Islamic World
Specialist Tom Eden said: "This was an interesting sale with certain pieces selling very well indeed. We were somewhat taken by surprise by the very high price obtained for the gold medal, Lot 125, which easily represents a record auction price for an Ottoman commemorative and demonstrates the strength of the Turkish market. Early coins generally fared well as demonstrated by the price of the previously unknown Umayyad silver dirham struck at Jurjan, Lot 19. We were disappointed that the year 77 dinar, lot 8, did not sell but post-sale negotiations may yet find it sold. Overall, the sale demonstrated the continued serious interest being taken in this academic field.
Prices shown include the Buyer's Premium of 20%
Lot 125: OTTOMAN, ABDÜL HAMID II (1293-1327h).
Large Gold Medal for the Visit of Kaiser Wilhelm II to Constantinople, 1889
DIAMETER: 65mm
WEIGHT: 190.63g
REFERENCES: Erüreten p.260; cf Pere 1114 (small size) CONDITION: Minor marks on reverse and edge, extremely fine and extremely rare
NOTE: This was the first of three state visits that Kaiser Wilhelm II paid to Constantinople, and was celebrated with great ostentation and ceremony. Although the Kaiser himself clearly enjoyed the visit immensely and was himself very popular in the city, his friendship with the Sultan was to cause considerable political difficulties, particularly with Russia.
Estimate: £8,000-10,000 SOLD FOR £120,000 ($185,532) Purchased by private collector.
Lot 19 UMAYYAD, TEMP. 'UMAR (99-101h) Dirham, Jurjan 100h.
WEIGHT: 2.86g
CONDITION: Slight double-striking on obverse, about extremely fine and of the highest rarity
NOTE: THE FIRST RECORDED UMAYYAD DIRHAM FROM THE MINT OF JURJAN
The discovery of a new mint for the post-Reform Umayyad dirham coinage is now a rare event, which can yield important new evidence for our understanding of the numismatic history of the period. In this context the coin of Jurjan offered here is of particular interest.
The province of Jurjan lay at the south-east corner of the Caspian sea. While previously unknown as a mint for Umayyad dirhams, Jurjan (also the name of the chief city of the province) was an active mint in the early centuries of Islam. Almost all coins struck before the mid-third century were copper fulus, but under the 'Alids of Tabaristan, Samanids, Ziyarids and Buwayhids a fairly regular silver coinage was produced. Later the Ilkhanids struck coins in all three metals.
In the year 100h dirham production was heavily centralised at Basra, Kufa and Dimashq. Klat records dirhams from just five other mints, mostly situated either on the frontiers of the Islamic lands or in areas geographically distant from the capital, Damascus. Either of these explanations could equally account for the opening of a dirham mint in Jurjan.
It is also tempting to associate this piece with a parallel issue of post-Refom copper fulus introduced in Iran and the East circa 100h. Dated copper and lead fulus were struck in Jurjan fairly regularly from 101h (and possibly earlier, see Album 202); these will have been intended for local circulation while silver dirhams could and did circulate throughout the Islamic lands. Perhaps striking dirhams at Jurjan was an experiment which was quickly abandoned in favour of a base metal coinage designed to meet a local need.
Estimate: £50,000-80,000 SOLD FOR £105,600 ($163268) Purchased by private collector.
Lot 9 UMAYYAD, TEMP. 'ABD AL-MALIK B. MARWAN to HISHAM II.
A set of 55 post-Reform Umayyad dinars, all with no mint-name, comprising an example of each year from 78hto 132h inclusive.
NOTE: Assembling a complete set of mintless Umayyad dinars has long been viewed as one of the great challenges in collecting and studying Islamic coins. The coins offered here have been carefully chosen for their excellent condition and the overall quality of this set is very high. Particular attention is drawn to the fine examples of the very rare dinars of 107h and 127h.
Estimate: £80,000-100,000 SOLD FOR £96,000 ($148,426) Purchased by private collector.
Lot 6 ARAB-BYZANTINE Gold Solidus, undated (possibly circa 60-72h).
WEIGHT: 4.45g
REFERENCES: Bernardi 1; Miles, EAGC p.207, 1
CONDITION: Minor marks, crudely struck but almost extremely fine, excessively rare and historically important.
Estimate: £50,000-80,000, SOLD FOR £60,000 ($92,766) Purchased by private collector.
Lot 7 ARAB-BYZANTINE Gold solidus, undated (possibly circa 60-72h).
WEIGHT: 4.20g
REFERENCE: cf Bernardi 2 (obverse) / 4 (reverse); cf Miles, EAGC p.208, 3 (obverse) / p.209, 4 (reverse)
CONDITION: Areas of weak striking on both sides, scrapes on reverse and light scratches on obverse, otherwise with minimal wear from circulation and so extremely fine for issue, extremely rare and historically important.
Estimate: £40,000-60,000 SOLD FOR £48,000 ($74,213) Purchased by private collector.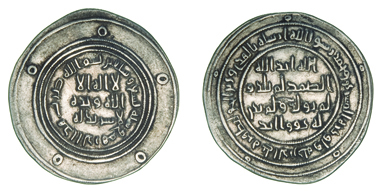 Lot 10 UMAYYAD, TEMP. 'ABD AL-MALIK B. MARWAN (65-86h) Dirham, no mint name, 79h.
WEIGHT: 2.86g
REFERENCE: Klat 1
CONDITION: Almost extremely fine, extremely rare and historically important.
NOTE: After the first purely Islamic gold dinars were issued in 77h (see lot 8), 'Abd al-Malik b. Marwan soon turned his attention to producing a related silver coinage.
The very first examples were struck in 78h at five different mints: Adharbayjan and Armenia in the North, Kufa in southern Iraq, and Shaqq al-Taymara and Jayy (both parts of Isfahan). All are of the highest rarity with fewer than ten 'year 78' dirhams known in total. The reasons why these particular mints should have been the first to strike post-Reform dirhams are not fully understood, but it was probably the result of a combination of local factors rather than an overall central plan.
Production of post-Reform dirhams began in earnest in 79h, with some forty different mints striking the new coinage. Not surprisingly, most of these had previously been striking Arab-Sasanian silver drachms. This had always been a decentralized coinage with dozens of mints active at any one time, and it was an obvious step to include the name of the mint on the new dirhams also. But Damascus, the westernmost of the early dirham mints, was located in the former Byzantine province of Syria where silver coins had been uncommon. Here, the prototype for the silver coinage was not the Arab-Sasanian drachm but the post-Reform gold dinar, which did not need to be explicit about the place of minting because they were struck only in Damascus. This was probably why the very first Damascus dirhams, including the piece offered here, were also struck without a mint-name -perhaps it was to be understood that all dirhams were struck at Damascus unless otherwise stated. If so, this experiment cannot have lasted long as Dimashq 79h dirhams are the most plentiful coins of this Date surviving today. An alternative theory is that this extremely rare mintless type may have been a pattern rather than a currency issue.
Estimate: £20,000-30,000 SOLD FOR £36,000 ($55,660) Purchased by private collector.
Lot 54 ABBASID, AL-RADI (322-329h) Donative dinar, no mint-name, 325h.
WEIGHT: 4.11g
REFERENCES: cf Peus auction 371, lot 811; cf Bernardi 291; cf Ilisch D III 22 (in silver, probably from the same dies)
CONDITION: Extremely fine with some lustre and extremely rare.
NOTE: This beautiful donative appears to have been struck from the same dies as a silver example (Ilisch D III 22 = Artuk 489, a single specimen in Istanbul). The otherwise standard date legend in the reverse margin does not specify the denomination and so the dies would have been equally appropriate for striking donatives in gold or silver.
Estimate: £7,000-10,000 SOLD FOR £26,400 ($40,817) Purchased by private collector.
Lot 14 UMAYYAD, TEMP. MARWAN II (127-132h) Dirham, Ifriqiya 132h.
WEIGHT: 2.72g
REFERENCE: Klat 114, same dies CONDITION: Very fine and extremely rare.
NOTE: Four examples recorded by Klat. Almost all dirhams struck in the year 132h, during which the Umayyads were overthrown by the Abbasids, are extremely rare today.
Estimate: £8,000-12,000 SOLD FOR £16,800 ($25,974) Purchased by private collector.
Lot 55 ABBASID, AL-MUTTAQI (329-333h) Donative dinar, Madinat al-Salam 329h
WEIGHT: 4.26g
REFERENCE: cf Bernardi 309Jh (standard type without broad margins)
CONDITION: Extremely fine and of the highest rarity, apparently unpublished as a donative.
NOTE: Apparently only the second recorded donative dinar for the caliph al-Muttaqi (the other being a coin of alBasra 330h sold in these rooms, May 2005, lot 581).
Estimate: £6,000-8,000 SOLD FOR £16,800 ($25,974) Purchased by private collector.
Lot 21 UMAYYAD, TEMP. 'ABD AL-MALIK B. MARWAN (65-86h) Dirham, Hulwan 81h.
WEIGHT: 2.67g
REFERENCE: Klat 278 var. [unit of date ends with alif maqsura]CONDITION: Cleaned, lightly clipped and on a slightly wavy flan, almost very fine and extremely rare.
NOTE: One example, of a different variety (as noted above), recorded by Klat. This is the earliest known date for the very rare mint of Hulwan.
Estimate: £15,000-20,000 SOLD FOR £14,400 ($21,645) Purchased by private collector.
You may download the catalogue as pdf file from the Morton & Eden website.