[bsa_pro_ad_space id=4]
30-11-2017 – 01-01-1970
Numismatic Auction No. 3
MDC conducts Numismatic Auction No. 3
Numismatic auction house MDC Monnaies de Collection sarl, with the expert Nicolas Gimbert, will hold its Numismatic Auction No. 3 on Friday, December 1, 2017, at the lavish hotel Metropole in the heart of Monte-Carlo close to the casino. This auction brings together 1505 collector coins and medals from Antiquity to the present day.
Lot 37: Bruttium, Rhegium. Tetradrachm. Starting price: 35,000 euros.
The auction will start with a collection of selected Greek coins, exceptional by their rarity, quality and style. For example, a superb Bruttium Rhegium tetradrachm, beautiful style with a starting price of 35,000 euros (lot 37).
Lot 214: Roman Imperial times. Volusianus, 251-253. Aureus, Rome. Starting price: 20,000 euros.
For the Roman era, Empire and Republic coinage will be of high standard, with among others a beautiful Volusian aureus starting at 20,000 euros (lot 214).
Lot 834: France. Napoleon III, 1852-1870. 5 francs 1853, silver proof, Paris. PCGS SP62. Starting price: 20,000 euros.
In the modern coinage section, MDC offers probably the most consummate collection of Napoleon III, gathered during thirty years by a major connoisseur of the period of the nineteenth and twentieth centuries French numismatics. All typologies are offered, some of these coins are unique. Here a CINQ (5) francs 1853, silver proof, Paris by Bouvet, PCGS SP62, superb, starting at 20,000 euros (lot 834).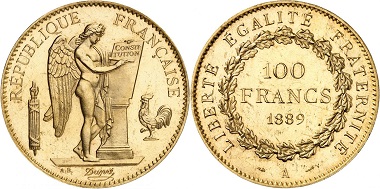 Lot 1088: France. Third Republic, 1870-1914. 100 francs 1889, Paris. PCGS PR65. Starting price: 100,000 euros.
A series of coins dedicated to the Paris World's fair or Exposition Universelle, among which the 100 francs 1889 PCGS PR65 with a 100,000 euros starting price (lot 1088).
Lot 1499: Venezuela. Republic, 1830-date. 100 bolivares 1875, essai, Paris. Starting price: 50,000 euros.
Finally, an essai of the Venezuela 100 bolivares minted in 1875 in Paris, engraved by Barre, an exceptional coin unseen in auction since half a century will close the, starting price: 50,000 euros (lot 1499).
The live-auction will be held on Biddr and DrouotLive. The auction catalog can be seen on MDC, as well as Sixbid and Numisbids. It is available for download on the website of MDC.
To receive the paper catalog, if you wish to come to Monaco for the event, for bids or any further details, you may contact MDC sarl Collection of Coins via mail (27 avenue de la Costa 98000 Monaco), by phone 00377.93.25.00.42 or email.