[bsa_pro_ad_space id=4]
Legendary Mineral Collection at Heritage
A collection of 322 specimens from the estate of one of the most legendary mineral collectors of the last 50 years will be offered in Heritage Auctions' Rock H. Currier Collection of Fine Minerals Auction August 26 in Dallas, Texas.
Currier was a fixture at mineral trading shows who traveled the globe collecting minerals for his business, Jewel Tunnel Imports (JTI), and simultaneously assembling a private collection of his own, a lifelong passion that makes the offered collection almost a debut appearance.
"Rock Currier was a giant, larger-than-life man, known by everyone who seriously collects minerals," Heritage Auctions Nature & Science Director Craig Kissick said. "He was a fixture in the hobby since the early stages of mineral dealing. Minerals weren't a job – they were what he loved. He would go on trips to get inventory for JTI, but at the same time, he was assembling his incredible personal collection. Everyone in the mineral collecting community knew him. He truly was a legendary figure, and this collection really reflects his passion for minerals.
"He put together this collection over a period of more than four decades, ostensibly making the material in this lot fresh to market."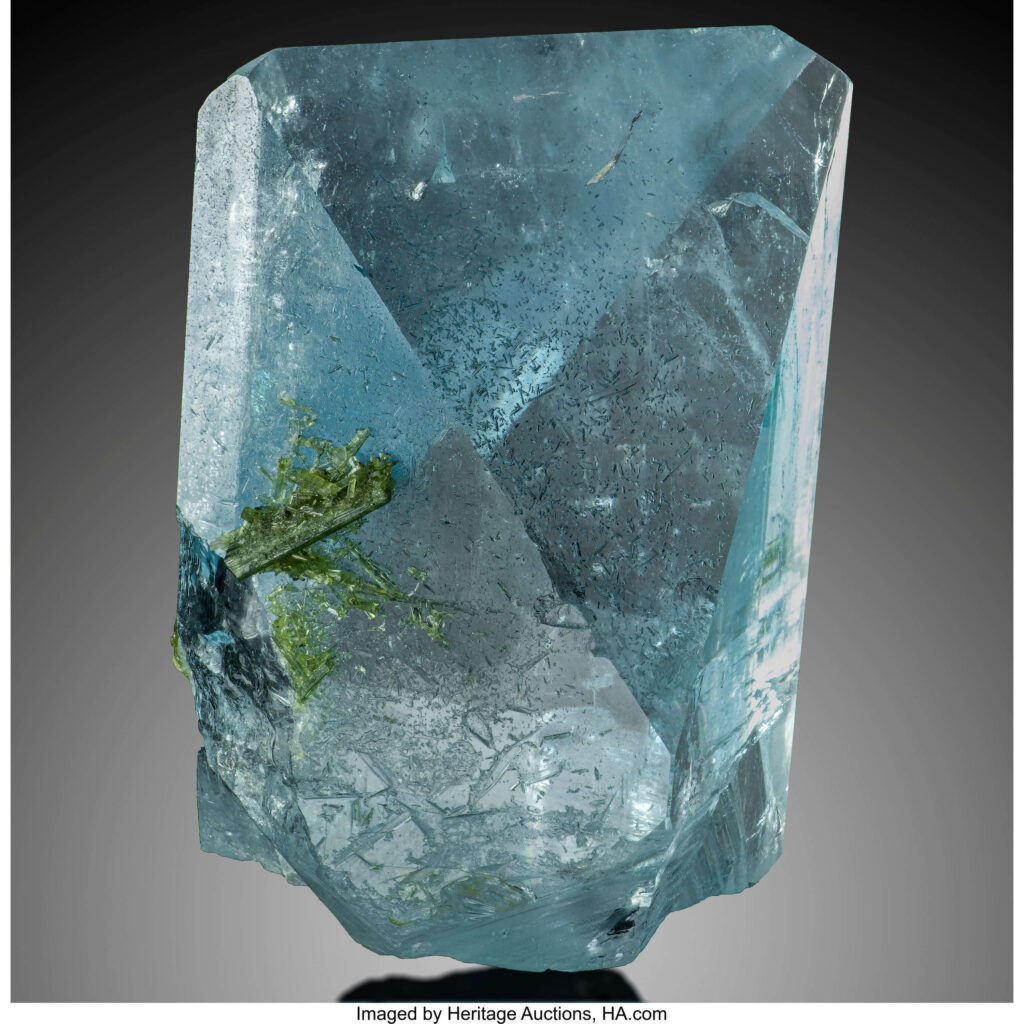 Among the top lots in the upcoming auction is Topaz Xanda Mine, Virgem da Lapa, Minas Gerais, Brazil (estimate: $40,000-60,000), a massive (6.1 by 4.7 by 4.1 inches) specimen that qualifies as world-class by every measurable criteria, including size, color, form, transparency and luster. There might be other topaz specimens of similar size and quality, but none has been offered to the public in recent years. One of the world's finest mineral preparatory labs has cleaned this exceptional specimen and restored the minute damage that occurred when the seven-pound behemoth was pulled from the mine.
Native Silver Michigan (estimate: $20,000-30,000) is another spectacular specimen. The Upper Peninsula of Michigan is one of the few places in which Native Silver appears naturally, although specimens as big as this one, which measures 4.7 inches long, are exceedingly rare and therefore in exceptionally high demand.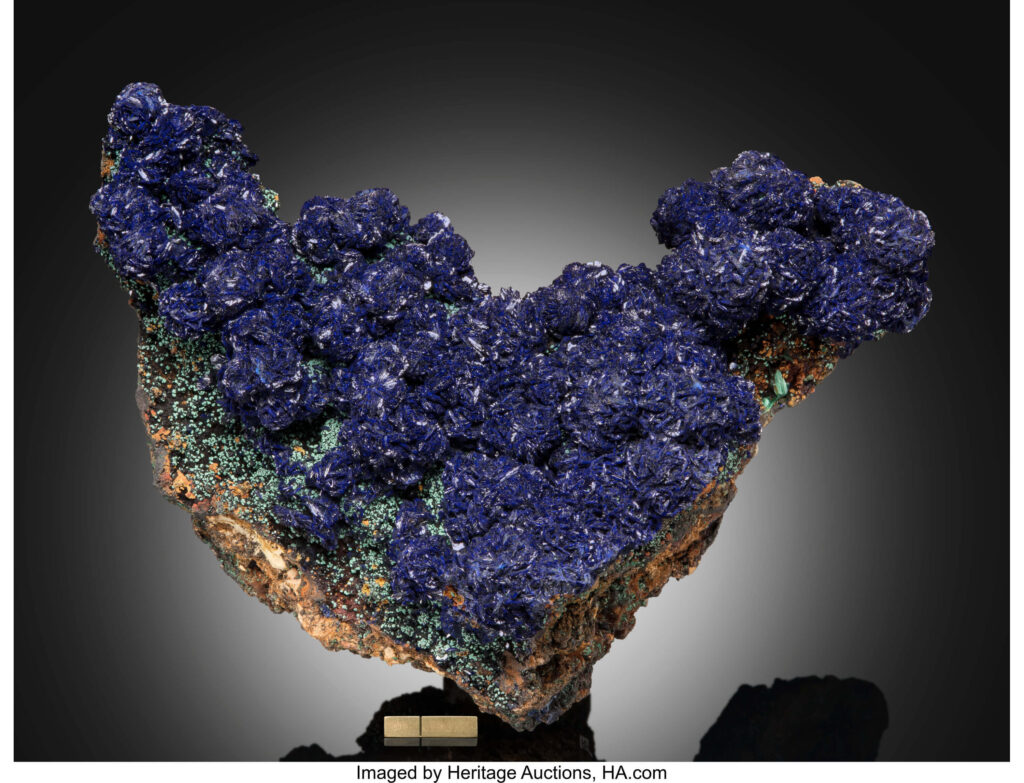 Azurite Copper Queen Mine, Queen Hill, Bisbee, Arizona (estimate: $20,000-30,000) is, in Currier's words, "a wonderful undamaged cluster of sparkling azurite balls on (a) matrix – one of the best specimens collected." Bisbee Azurites sometimes show an orange matrix color; this specimen is exceptional in size and aesthetics.
One of the visually dramatic lots in the auction is a Microcline var. Amazonite & Quartz var. Smoky from the Jack Rabbit Mine, Crystal Creek, Crystal Peak, Colorado (estimate: $15,000-25,000), a colossal specimen that measures nearly 12 inches in both height and length. Currier described this specimen as "a plate of dark-colored amazonite crystals with smoky quartz crystals growing from it." What sets this specimen apart is the Smoky Quartz. Specimens like this are rare, as many were destroyed, and it represents a trophy-caliber specimen that can anchor a collection.
Other top lots include, but are not limited to:
Stephanite & Polybasite Chispas Mine, Arizpe, Mun. de Arizpe, Sonora, Mexico (estimate: $12,000-18,000)
Native Gold on Quartz Eagle's Nest Mine, Sage Hill, Michigan Bluff District, Placer Co., California (estimate: $12,000-18,000)
Quartz var. Amethyst with Epitaxial Amethyst & Goethite on Calcite "Skunk" Andre Jachetti Mine, Artigas, Artigas Department, Uruguay (estimate: $12,000-18,000)
Native Silver & Native Copper Michigan ($12,000-18,000)
Calcite with Epitaxial Quartz var. Amethyst & Goethite "Skunk" Andre Jachetti Mine, Artigas, Artigas Department, Uruguay (estimate: $10,000-15,000)
On the Heritage Auctions website you can browse the online catalogue.