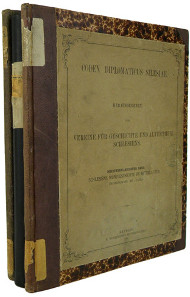 [bsa_pro_ad_space id=4]
06-11-2015 – 01-01-1970
Auction Sale 140
Numismatic books from the library of Stephen Epstein
Kolbe & Fanning's latest catalogue has been published: Sale 140, featuring selections from the library of Stephen Epstein, among other properties. The sale features numismatic literature from around the world, and will be held beginning at noon eastern time on Saturday, November 7.
Some highlights from the sale include: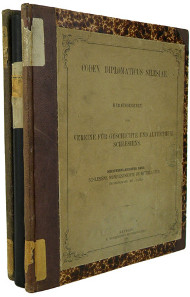 Lot 70: Friedensburg's rare three-volume publication on medieval Silesian coins
Lot 142: Medina on European medals relating to the Americas
Lots 157 and 158: Niggl's first and second volumes on musical medals
Lot 174: Rodolfo Ratto's 1928 sale of the Sydenham aes grave and Roman Republican coins
Lot 266: a complete hardcover set of the Akers sales of the Pittman collection
Lot 273: an original copy of Attinelli's Numisgraphics, ex Ferguson Haines
Lot 314: a framed handbill for an 1861 numismatic lottery scheme by John K. Curtis
Lot 15: Beaupré's rare work on the medallist Ferdinand de Saint-Urbain
Lot 339: a massive 1863 broadside by S.G. Hubbard, being the first Cincinnati coin auction
Lot 416: a 21-volume hardcover set of John J. Ford, Jr. coin sales (2003-07).
A PDF of the printed version has been posted on the main Kolbe & Fanning website for anyone wishing to browse the sale or search by keywords. In addition, the sale has been posted to Kolbe & Fanning's custom online biding platform, where every lot is illustrated in color and where absentee bids can be placed at any time prior to the sale.