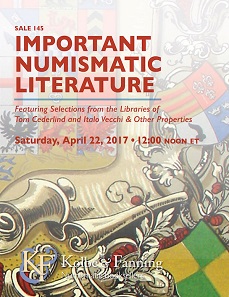 [bsa_pro_ad_space id=4]
21-04-2017 – 01-01-1970
Sale 145 of numismatic books
Kolbe & Fanning announce auction of numismatic books
Kolbe & Fanning Numismatic Booksellers have announced that their Sale 145 will be held on April 22, 2017. The 443-lot sale features selections from the libraries of Tom Cederlind and Italo Vecchi, as well as interesting and important material from other consignors on ancient, foreign and U.S. numismatics.
Some highlights of the sale include: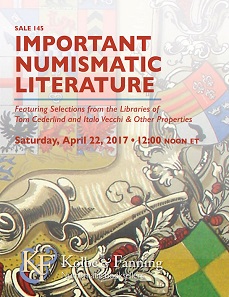 Catalogue Cover "Important Numismatic Literature".
Lot 78: Jacob Hirsch's famous auction catalogue of the Consul Weber collection of ancient Greek coins, bound in red half morocco (the sale features several other Hirsch catalogues in similar bindings)
Lot 92.
Lot 92: Joel Malter's set of the Collection R. Jameson of ancient Greek & Roman coins
Lot 112: a set of Mazzini's magnificent Monete Imperiale Romane
Lot 227: a beautifully bound complete set of Denton & Prattent's Virtuoso's Companion to 18th-century British tokens
Lot 262.
Lot 262: an original copy of Maurice Prou's very scarce but foundational work on Carolingian coins, still a standard reference after more than 120 years
Lot 320: an original annotated typescript of Walter Breen's highly important work on U.S. half cents, with original correspondence laid in
Lot 335.
Lot 335: Tom Elder's catalogue of the George Alfred Lawrence collection, with the complete complement of 22 outstanding photographic plates
Lot 369: Abe Kosoff's original files for revising the J. Hewitt Judd pattern book, including original annotated pages, photographs, carbon-copy typescripts, correspondence and other materials
Lot 378: a nearly complete set of "Error Trends Magazine", of one several lots offering comprehensive runs of publications on error coins, some of them very obscure and rare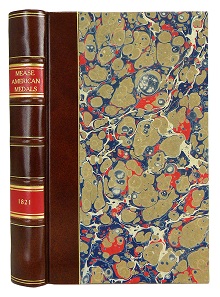 Lot 381.
Lot 381: the 1821 edition of James Mease's foundational article on North American medals, the first substantial numismatic work published in the United States and only the second copy to be offered at auction in the numismatic marketplace.
Starting with this auction, Kolbe & Fanning will be using Auction Mobility as their third-party online bidding platform. Auction Mobility is an app-based platform allowing users the ability to participate in the sale through phones, tablets and computers (though bids placed via post, email, fax or phone will continue to be accepted). To register for the sale, bidders must go to bid.numislit.com and sign up.
We believe that once our clients have set up their accounts, they will recognize that the new platform is an improvement and is easy to use to browse lots, place bids, or participate in the live sale online. Those wishing to participate on their devices can download the new Kolbe & Fanning app through the Apple or Google Play Store.
The printed catalogue of Sale 145 has been mailed to active customers. A PDF of the printed catalogue has been posted to the firm's website at numislit.com for those who prefer that format (the online catalogue is truncated). Bids may be placed via post, email, fax or phone prior to the sale. Advance absentee bids may also be placed through the online catalogue here; live internet bidding will be available during the sale itself through the same platform.
Kolbe & Fanning Numismatic Booksellers LLC is a licensed and bonded auction firm in the State of Ohio. For more information, please see the Kolbe & Fanning website here or email David Fanning.
To register for the sale, go to bid.numislit.com. We look forward to your participation.