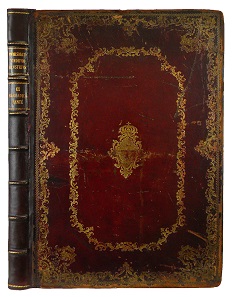 [bsa_pro_ad_space id=4]
23-06-2016 – 24-06-2016
Sale 142 of numismatic literature
Kolbe & Fanning announce Sale 142
Kolbe & Fanning announce that their 142nd sale of important numismatic literature will be held on June 24 and 25, 2016. The two-part sale will feature a number of rare and desirable works on ancient, medieval and modern coins from several consignors.
The sale is arranged in two parts. The first, featuring 380 lots, will be conducted as a live online sale on Friday, June 24. Bidders may participate in this part of the sale in a variety of ways: in advance via mail, phone, fax or email or on the day of the sale through the company's live bidding platform at auction.numislit.com. All lots in the first part are illustrated in the online catalogue. Live bidding will commence at noon eastern time on June 24.
The second part of the sale features over 600 lots of numismatic books, periodicals and catalogues from around the world, and will be conducted as a traditional mail-bid sale (no online component). This second part of the sale will close at 9:00 pm eastern time on Saturday, June 25. Bids may be placed via mail, phone, fax or email; bids will be treated as limits and reduced as competition dictates.
Some highlights include the following: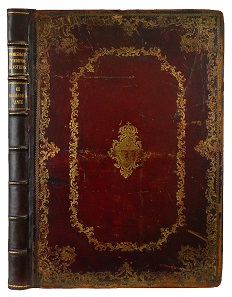 Lot 18: Gianfranceso Barbarigo, Numismata virorum illustrium ex Barbadica gente, bound with 1760 supplement, 1732 & 1760. Start price: $2,500.
Lot 18: Barbarigo's extraordinary 1732 elephant folio Numismata virorum illustrium ex Barbadica gente, in a contemporary armorial full red morocco binding, bound with the rare 1760 supplement.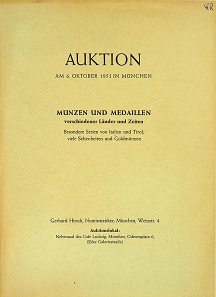 Lot 77: Gerhard Hirsch, Auction Catalogues. Munich, 1953-2015. Start price: $850.
Lot 77: an extensive run of over 250 Gerhard Hirsch sales, including the complete first 160 sales.
Lot 84: F. Imhoof-Blumer, Griechische Münzen. Neue Beiträge und Untersuchungen. Munich, 1890. Start price: $400.
Lot 84: a fine original copy of Imhoof-Blumer's Griechische Münzen.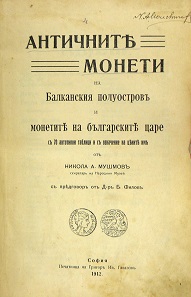 Lot 113: Nikola A. Mouchmov, Ancient Balkan Coinage. Sofia, 1912. Start price: $325.
Lot 113: Mouchmov's rare work on ancient coins of the Balkans.
Lot 139: G. Sangiorgi, Collezione di Monsignore Pier Vitaliano sossi di Asti. Monete Romane Consolari e Imperiali, Aes Grave, Monete Bizantine, del Medio evo e Moderne. Medaglie. Rome, 1894. Start price: $225.
Lot 139: the rare 1894 Sangiorgi sale of the Sossi Roman coins, with plates.
Lot 201: Dalton & Hamer, The provincial token-coinage of the 18th century. Cold Spring, 1990. Start price: $525.
Lot 201: one of 26 copies of the 1990 Davisson edition of Dalton & Hamer bound in levant quarter morocco.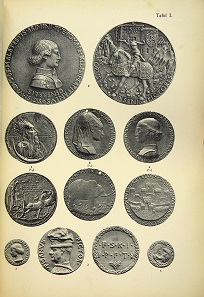 Lot 220: Jacob Hirsch, Sammlung Arthur Löbbecke, Braunschweig. Kunstmedaillen und Plaketten des XV. bis XVII Jahrhunderts. Munich: No. XXIII., November 26, 1908 and the following days. Start price: $225.
Lot 220: Jacob Hirsch's very scarce folio catalogue of the Arthur Löbbecke collection of medals.
Lot 374: Superior Stamp & Coin, The Robinson S. Brown Jr. Collection of Large Cents 1793-1839. Beverly Hills, January 27, 1996. Start price: $1,000.
Lot 374: a deluxe leatherbound 1996 Robinson S. Brown large cent sale, one of five copies produced.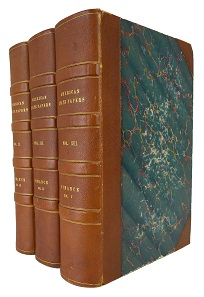 Lot 376: United States Government, American State Papers, volumes III-V. Washington, 1834-59. Ex Harvard's Baker Library. Start price: $425.
Lot 376: three original volumes of the American State Papers on finance, containing much numismatic information.
The sale also offers, split between both sections of the sale, an extraordinary run of George F. Kolbe catalogues in hardcover format, including nearly every hardcover Kolbe sale.
Printed catalogues are mailed to established clients; a PDF of the catalogue has been posted to the main numislit.com website. In addition, prospective bidders are able to access the live online catalogue and register to bid in Part I of the sale.
If you want to know more about the interesting life of a numismatic book dealer, you should read George Kolbe's reminiscences. Within the latest part of the series he narrates about a journey to Minas Gerais in Brazil which was not really free of hazards… Click here to read more.