[bsa_pro_ad_space id=4]
Highlights of the Morton & Eden Auction Sale 109
Morton & Eden held their auction of Coins, Medals, Plaquettes and Banknotes on 4th and 5th November 2020 in London. The two day sale made an overall total of £1,940,040. Here are some highlights: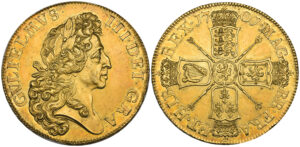 An exceptionally fine William III (1694-1701) gold five-guinea coin dating from 1701 sold for an outstanding £156,000 at auctioneers Morton & Eden. It had been expected to fetch up to £50,000. It was bought by an anonymous bidder (lot 527). Auctioneer James Morton said: "It is a particularly beautiful and superbly preserved coin of the celebrated "Fine Work" style, with a bold portrait of William III in high relief. It was last sold at auction in 1986 when it made £8,250."
In the same sale a proof gold five pound coin of "Una and the Lion" showing the young Queen Victoria as Una guiding the British Lion also sold above estimate for £156,000. The coin is considered one of the most noteworthy of British coins and was designed by William Wyon in 1839 to commemorate the beginning of Victoria's reign (lot 489).
Another highlight of the sale was a rare Austrian gold coin dating from 1631, issued by Albrecht von Wallenstein, Duke of Mecklenburg (1625-34) in the Austrian States of Friedland and Sagan, which sold way above estimate for £192,000 (lot 301).  Equally notable was a rare gold coin of 6 ducats struck in Nuremberg in Germany, in 1698, to commemorate the Peace of Ryswick, which exceeded expectations selling for £90,000 (lot 329).
In the banknote section a set of complete 11 First Series unissued banknotes from The Imperial Bank of Persia, in what was then the Kingdom of Persia (now Iran), dating from 1892 sold for £94,800. Auctioneers Morton & Eden described the notes as an "exceptional and beautiful set of extreme rarity". The Imperial Bank of Persia was established in 1889 and was principally funded in London by three banking and trading companies of which David Sassoon & Co. was one. This complete set of early notes, engraved and printed by Bradbury, Wilkinson & Co. Ltd., London, must have been supplied either as proofs or possibly as a presentation, being unnumbered and unsigned (it may be noted that the Bank's very first issued notes were prepared for hand-signature on issue and did not have printed signatures). The rare banknotes were consigned for sale from the Sassoon family archives (lot 297).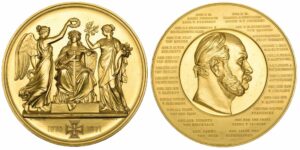 Notable among the historical commemorative medal was a spectacular and extremely rare large gold medal of 120 ducats weight, produced for Wilhelm I (1861-88) of Prussia to celebrate Victory in the Franco-Prussian War, 1870-71, sold above an estimate of £30-40,000 for £84,000. A total of 25 examples were struck in gold for presentation to the 24 individuals named – 22 Generals, Bismarck and von Roon – while the remaining specimen was reserved for the Emperor himself. The medal was bought by a German dealer (lot 55).
Among the plaquettes, a very fine contemporary circular bronze cast by Galeazzo Mondella, called Moderno (c. 1467-1529) depicting the dramatic scene of The Fall of Phaeton or Death of Hippolytus attracted competitive bidding. Estimated to fetch £5-7,000 it finally sold to a private collector for £48,000 (lot 7).
Also in the sale was a collection of nearly 800 English silver coins dating from the reigns of Edward VI (1547-1553) through to Charles I (1629-1649), which was discovered in a broken pot in a field near the village of Ewerby, Lincolnshire by a metal detectorist back in 2016. The Ewerby Hoard is typical of many comparable Civil War deposits, mainly comprising sixpences and shillings of Elizabeth, James I and Charles I, with a few Charles I halfcrowns. The hoard was divided into 17 lots and sold for a total of £42,144 (lots 573-589).
Auctioneer James Morton said: "We were delighted with the outcome of the auction which showed that the market for good collectors' coins and medals remains strong despite Covid-19. And the fact that we had to conduct the second day of the sale "behind closed doors" following the introduction of a new lockdown in England didn't deter anyone from bidding either."
Morton & Eden's catalogue of the sale is available online as well as all realised prices.
More information can be found on the website of Morton & Eden.