[bsa_pro_ad_space id=4]
Highlights of Stephen Album Rare Coins' Auction 39
Stephen Album Rare Coins held its Auction 39 from 21st to 25th January 2021 in its offices in Santa Rosa, California. The bidding totaled $1.94 million (including buyer's fees) on a pre-sale estimate of $1.08 million with a sell-through rate of 95.2%. CEO Joseph Lang noted that there was strength across the board in all areas including Ancients, Islamic, Chinese, Indian, World Coins, and Numismatic Literature. Following are a few highlights from the auction: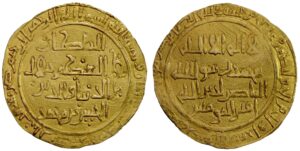 Lot 558: Islamic. Assassins at Alamut (Batinid). al-Hasan III (1210-1221). Dinar, Kursi al-Daylam, AH608, A-C1920, Vardanyan. Both the obverse and reverse calligraphic style is similar to contemporary Ghorid and Khwarizmshah gold coinage. The obverse has the royal titles, al-sultan / al-mu'azzam jalal / al-dunya wa'l-din / al-hasan bin muhammad, with the mint/date formula in the margin. The reverse is traditionally Sunni, la ilah illa Allah / muhammad rasul Allah / al-nasir li-din Allah / amir al-mu'minin, with bism Allah al-rahman al-rahim followed by part of the Qur'an verse 9:33 in the margin. This example is exquisitely struck and is likely the finest known Batinid coin of any of the six rulers who issued coins. Extremely rare. Extremely fine. Estimate: $18,000-20,000. Realized: $24,000.
Lot 1182: China, Chihli. Kuang Hsu (1875-1908). Dollar, Peiyang Arsenal mint, Tientsin, year 24 (1898). Y-65.2, L&M-449, dragon eyes in relief, a superb quality example with bright white original mint luster, a gorgeous example. PCGS graded MS63+. Estimate: $18,000-22,000. Realized: $39,000.
Lot 914: India, Mysore. Tipu Sultan (1782-1799). Double rupee, Nagar, AH1200 year 4. KM-107. Persian legends; huwa al-sultan al-waheed al-adil suyeem bahari sal dalaw sanah 4 julus // ahmad deen dar jahan ast roshan za rateh haidar (letter he) zarb nagar sal dalaw sanah 1200 hijri. Extremely rare mint for all silver coinage of Mysore, especially the double rupee. NGC graded AU55. Estimate: $10,000-12,000. Realized: $15,600.
Lot 1466: Nguyen Dynasty (Dai Nam). Thieu Tri (1841-1848). 5 tien. KM-286, Schroeder-261. A lovely toned high grade mint state example of this large Annamese silver type. PCGS graded MS64. Ex Gustaf Melin Collection. Estimate: $12,000-14,000. Realized: $28,800.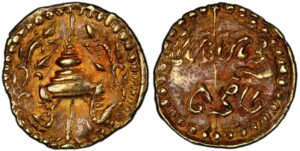 Lot 1450: Thailand: Rama IV (1851-1868). Fuang, ND (1856). Cr-175, toned lustrous fields. PCGS graded AU55. Very rare. Ex Don Erickson Collection. Estimate: $4,000-6,000. Realized: $31,200.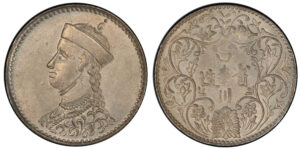 Lot 1241: China, Tibet. ¼ rupee, ND (1904-12), Chengdu mint. Y-1, L&M-362. Szechuan-Tibet trade issue. Portrait of the Chinese emperor Guang Xu derived from the British Indian rupee of Queen Victoria // vertical rosette at center, Chinese inscription, si chuan sheng zao ("made in Sichuan"), branches with cusps and flowers around, a feature also derived from the reverse of British Indian rupees, a superb quality example. PCGS graded MS63. Estimate: $1,000-1,200. Realized: $20,400.
On Stephen Album's website you will find all results of the auction.
The company is currently accepting consignments through March 1 for its Auction 40, which will take place 13th-15th May 2021. For further information, please visit their website or contact them via email.