[bsa_pro_ad_space id=4]
23-04-2017 – 05-05-2017
74th Auction
Spring Auction of Hermann Historica
With a new internet presence, the specialised auction house now presents its 74th auction with imperial seals from an aristocratic collection, a fascinating array of objects from antiquity and the Middle Ages, and phaleristic sensations that are second to none.
This year's Spring Auction at Hermann Historica oHG in Munich will open on 24 April with the usual wide range of high quality precious objects from all eras and originating from all over the world. Until 6 May, over 6,000 collector's pieces, some of them unique, from all specialist areas represented by the auction house will come under the hammer.
A Roman marble portrait head of the Emperor Hadrian (reigned 117-138 AD). Estimate: 75,000 EUR.
Antiquities
Opening at 75,000 euros, one of the highlights of the antiquities catalogue is an expressive marble portrait of Emperor Hadrian (who reigned between 117-138 AD). Crafted during the early years of his reign, the larger-than-life portrait reveals a slight inclination of the head towards the left, as is characteristic of most busts of Hadrian. Equally typical is the arrangement of the magnificent head of hair, with the wavy locks combed forward onto the forehead, the moustache and the slightly curly beard. The antique marble portrait of the important emperor, spectacular both in terms of its craftsmanship and outstanding condition, is mounted on a cubic marble pedestal, with a total height of 54 centimetres; boasting a documented provenance over many years, it is now being offered for sale.
Works of art
Once again, among the works of art in the Spring Auction are a number of precious, exquisitely wrought wunderkammer objects.
A German Romanic bronze dish, 12th century. Estimate: 12,000 EUR.
Collectors will be interested to note an engraved, Romanesque bronze dish or Hanseatic bowl, which was produced in Germany during the twelfth century. Based on the assumption, which has since been rebutted, that this group of dishes was primarily disseminated within the sphere of influence of the Hanseatic League, the general term became established in 1905. A mere 250 examples are known to exist, of which eighty percent are underwater or archaeological finds, depicting a wide variety of motifs. Engraved with a continuous border featuring warring knights in full chain mail, each armed with a shield and sword, this rare bowl – an underwater find – will doubtless take pride of place in a new collection for 12,000 euros.
Arms and Armour
Once again, this spring promises a captivating array of high quality mediaeval and modern edged weapons. Also coming under the hammer is a splendid, rare knightly sword from Italy circa 1430/40, with a broad, double-edged blade and a heavy, flat disc pommel. The example of an unusual, Gothic sword type, with a finger rest on one side, is now open to bids from 12,000 euros. Lavishly embellished in sheet brass chased with decorative bosses, the 17th century Hussar cuirass from Poland is of heavy construction with a pronounced medial ridge, the lower third sliding on three lames. The extremely rare breastplate was made for a Polish Winged Hussar; the angular flanges of the neck opening and arm holes are struck outwards, a crucial defence in withstanding attacks, while the shoulders and sides are furnished with slits to insert the straps. Bidding starts at 15,000 euros for the remarkable cuirass.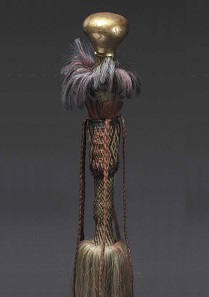 An Ottoman horse-hair standard (Tug), 17th century. Estimate: 15,000 EUR.
Asia, Orient and Africa
Bids are invited from 15,000 euros for an absolute rarity, such as are seldom found on the market, if at all: an Ottoman bunchuk or tug, dating from the 17th/18th century, the period of the Turkish Wars. Tugs of this type, here a wooden shaft covered with a dense woven mesh of dyed horsehair and four baluster-shaped protrusions, with five braided strands of horsehair attached and topped with a tombac ball, were carried as ceremonial insignia. The number of horsehair braids that the dignitary was permitted to display depended on his position in the hierarchy. Where a sultan was permitted to carry six braids, or up to nine in case of war, a grand vizier was granted five and a vizier three.
Military history and historical objects
Significant collectors' items from the courts of European and international ruling houses are being offered for auction once again, including numerous pieces from the private collection of Prince Joseph Clemens of Bavaria (1902-1990). One of the highlights is a presentation snuffbox, beautifully wrought in gold, belonging to Maximilian I, Emperor of Mexico (1832-1867). Set in diamonds and mounted in high relief on the lid, the monogram "N" above the intertwined monogram "E", above which, the imperial crown with flowing ribbons are a clear indication that the gift was presented by Emperor Napoleon III (1808-1873) and his wife, Empress Eugénie (1826-1920). A veritable piece of history, crafted by the Paris jeweller and purveyor to the court, Alexandre-Gabriel Lemonnier (1808-1884), this exquisite bijou has a reserve of 15,000 euros.
George S. Patton Jr. (1885-1945) – A model 1913 Cavalry Sword. Estimate: 12,500 EUR.
A beguiling lot from the US is the significant deluxe cavalry sword that was presented to General George S. Patton jr. (1885-1945), the commander of the Third Army at the Invasion of Normandy, on the occasion of his promotion to four-star general on 14 April 1945. The Model 1913 cavalry sword, referred to as the 'Patton Saber', with its double-edged, nickel-plated and fullered blade, was designed by the passionate sportsman and Olympian himself, who travelled throughout Europe to meet the best swordsmen of his time. Offered for auction for 12,500 euros, the deluxe model boasts a gilt inscription of the owner's name on both sides, flanked by four general's stars and framed by a chequered border, a solid silver hilt and ivory grips.
Orders and Insignia
Once again, it is our great pleasure to present at the Spring Auction an exclusive variety of orders and insignia, some of which are unique and may be regarded as museum quality. Moreover, the approximately 320 lots in this section include complete orders estates and groups with a number of unparalleled pieces. A veritable phaleristic sensation – an extensive collection originating from a noble house, namely the estate of Prince Alfons of Bavaria (1862-1933) and his son, Prince Joseph Clemens – is being put up for auction. Among them are such rarities as the Grand Cross orders set with swords of the Bavarian Military Order of Merit, awarded in 1915 and finely worked in gold and enamel by the Hemmerle brothers of Munich, here offered for sale for the first time as a complete military set for 15,000 euros.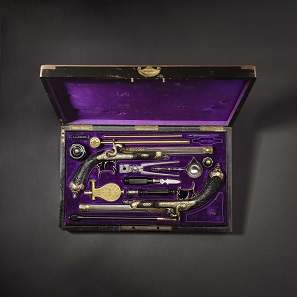 A pair of gold-inlaid deluxe percussion pistols by A. De Lezaack of Liège, manufactured circa 1860. Estimate: 28,000 EUR.
Fine antique and modern firearms
Buyers will also be interested in the antique firearms on sale. The pistol cases in the Spring Auction boast a sensational rarity and quality that are otherwise difficult to obtain on the market. Among the pièces de résistance is a pair of gold-inlaid deluxe percussion pistols by A. De Lezaack of Liège, which were manufactured circa 1860. The ornamental gold inlays on a chased background on the locks and furniture, the ebony stocks carved with tendrils and the iron furniture with gold inlays accentuate the significance of these superb examples of the gun maker's craft; the pistols may be acquired for 28,000 euros. For exactly the same price, collectors may also snap up a pair of deluxe cased percussion pistols for two shots from Anton Vinzent Lebeda's renowned workshop in Prague. Just as elaborately wrought, these spectacular, probably untouched cased pistols are bound to be well received with their delicate iron chiselling and gold inlays.
All objects of the auction you may find on the website of Hermann Historica.