[bsa_pro_ad_space id=4]
17-04-2016 – 28-04-2016
Auction 7272
Hermann Historica concludes its Spring Auction with one of the best results in its history
Approximately 6,300 lots from all specialist areas represented by the auction house came under the hammer in the 72nd Auction of Hermann Historica oHG in Munich. Included among the lots were three complete collections, which found buyers for almost every item and achieved excellent results; scarcely a single object was left for the post-auction sale and the overall estimates were exceeded by far, with some lots showing a three-fold increase of their starting price.
Lot 4554: A Greek bronze kalpis with votive inscription, 4th century B.C. Sold at 25,000 Euros.
Antiquities
Again this spring, the interest in the exquisite highlights of the archaic metal artefacts, their matchless beauty superbly crafted and, in some cases, their provenance in prestigious collections fully documented over many years, showed no signs of waning. The early bronze helmets included a veritable rarity, namely an intact Illyrian helmet, dating from the late sixth to the fifth century B.C. This impressive object, the original material in impeccable condition, finally sold for 21,000 euros, almost tripling its limit of 8,000 euros. Next, in all its glory and in remarkable condition, was a Greek bronze kalpis from the fourth century B.C., bearing a votive inscription. Bids had been invited from 25,000 euros for this rare kalpis, which now takes pride of place in a new collection for precisely this amount. From a different era and a different culture, the Colombian sculptures made of gold alloy during the ninth to the fifteenth centuries caused a flurry of excitement and lively participation, going on to achieve particularly gratifying final prices. While the ritual vessel from the Zenú culture, carved with a reclining female figure, opened at 3,000 euros and sold for 10,500 euros, the hammer only fell at 13,000 euros, almost seven times the estimate of 2,000 euros, for the singularly beautiful, large sculpture of an alligator.
Lot 3001: A Scythian bow, equestrian nomadic settlement area, 5th to 3rd century B.C. Sold at 14,000 euros.
Bows and crossbows
Even during the run-up to the auction of the unrivalled collection of bows, crossbows and superbly crafted archer's rings, which was amassed by Karl Zeilinger (1944-2014) of Nuremberg, there was no mistaking the enormous international interest it generated among museums and collectors. Without a doubt, the fact that the collection went on to achieve a sales quota of almost one hundred percent, tripling the overall valuation price with increases of up to fifteen times their starting prices for individual lots, may truly be considered a sensational success. Spirited bidding contests broke out for archer's rings crafted in precious materials, like the eight archer's rings made of light-coloured jade, which changed hands for 26,000 euros, dwarfing their starting price of 1,800 euros. The legendary Scythian bow complete with a fragment of a quiver from the equestrian nomadic settlement areas of Eurasia of the third to fifth centuries B.C. and here offered for auction from 9,000 euros, found a new owner for 14,000 euros.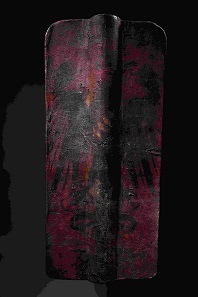 Hand pavise, Free Imperial City of Schongau, Bavaria, late 15th century. Sold at 14,500 euros.
Arms and Armour
The usual arms and armour section also rolled out a captivating array of elaborately crafted rarities, some of which are known to have been commissioned for aristocratic armouries. For example, an extremely rare set of Spanish armour, replete with religious symbols and dating from the early period of the conquistadors, did not escape buyers' notice. Forged circa 1500 and opening at 8,000 euros, the suit finally sold for 12,000 euros. Moderately estimated at 12,500 euros, a hand pavise from the Free Imperial City of Schongau in Bavaria was made in the late 15th century; keen bidding raised the starting price to 14,500 euros. Also appealing was the no less superbly wrought stonebow, produced circa 1600, lavishly adorned with fine floral ornaments etched on all surfaces and inlaid in gold and bone, which now adorns a new collection for its reserve of 13,000 euros.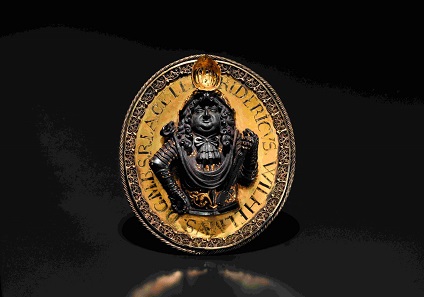 1677 medal of honour, Frederick William, Great Elector of Brandenburg. Sold at 9,500 euros.
Works of art
According to tradition, the arms and armour catalogue also includes works of art. These included a 1677 medal of honour, wrought in iron plated in gold, on behalf of Frederick William, the Great Elector of Brandenburg (1620-1688) – an exceedingly beautiful, rare cabinet piece of Prussian history, commemorating the Great Elector and his victories. Bids had been invited from 8,000 euros for this contemporary and impressive piece, wrought with great workmanship; the hammer subsequently fell at 9,500 euros. An exquisite, late Romanesque metalwork object from France or Italy, the openwork, enamelled fitting in fire-gilt bronze featuring a partially sculptured depiction of Samson wrestling with the lion, unleashed a flurry of bids that saw the price soar from 1,200 euros to 6,400 euros in no time at all.
Lot 5448: Silver-mounted flintlock pistols, Ivan Permiak, St. Petersburg, 1770. Sold at 80,000 euros.
Military history and historical objects
The military history and historical objects section revealed a dazzling range of significant and splendid edged weapons, like the sabre that was presented to Generalmajor Georg Freiherr von Krauchenberg (1776-1843) by the officer corps of his division to commemorate his 50 years of service. Although this incomparable piece had been valued at 25,000 euros, the sabre inspired such enthusiasm among collectors that the sale was only completed for 52,000 euros. Featuring a gilt lion in high relief and bearskin crest the imposing M 1832 helmet for officers of the Bavarian Cuirassiers was an absolute rarity, thereby justifying the final price of 19,000 euros, despite its minimum bid of 12,500 euros. One of the highlights of the auction, a nonpareil pair of silver-mounted flintlock pistols, made by the supremely skilful Ivan Permiak. For 70,000 euros, prospective buyers were offered the opportunity to purchase the singularly detailed pair of deluxe flintlock pistols, made in St. Petersburg in 1770, which finally changed hands for 80,000 euros.
Generalmajor Wilhelm von Groddeck, an Order pour le mérite. Sold at 17,000 euros.
Orders and Insignia
Stealing the show in the orders section were a number of outstanding decorations from Russia, including the group of Orders of St. Vladimir belonging to an officer in the Hanseatic Legion. Up for sale was the large cross of the order in 4th class until 1816 well as the eight-rayed breast star of the 1st class of the same order, with both medals attracting their share of admiration. Thus, the distinguished decorations from the time of the Napoleonic and Wars of Liberation each found a buyer for their estimates of 20,000 euros and 15,000 euros respectively. A Pour le Mérite order cross was offered for sale from the complete estate of the orders and documents awarded to a divisional general during World War I, Generalmajor Wilhelm von Groddeck (1861 – 1937) and sold for its asking price of 17,000 euros.
A pair of deluxe percussion pistols, Brun, Paris, circa 1840, cased. Sold at 22,000 euros.
Fine antique and modern firearms
Two wheellock rifles with rich bone inlays from Cieszyn, both produced circa 1650, certainly appealed to the private and institutional collectors. The delicately engraved inlays of the tschinke, lot number 1034, were embellished with hunting scenes and grotesque masks; valued at 11,000 euros, it sold for 15,000. Meanwhile, lavishly adorned with brass and green coloured bone inlays and chiselled brass furniture with floral engravings, the second rifle found a new owner for its reserve of 13,500 euros. The true pièces de résistance in this section, a pair of deluxe percussion pistols made circa 1840 by the skilful hands of the renowned gunsmith J. C. A. Brun, were bound to meet with the approval of the international collectors. The exquisitely fine silver inlays engraved with graphic and floral ornaments, gold-inlaid signatures, elaborate tendril decoration chiselled on the percussion locks and arrestingly beautiful, grained half stocks all accentuated the significance of these superb examples of the gun maker's craft, in untouched condition; with bids opening at 15,000 euros, a connoisseur finally parted with 22,000 euros.
Please find more information and the complete results lists on the Hermann Historica website.