[bsa_pro_ad_space id=4]
26-10-2015 – 06-11-2015
71. Auction
Autumn Auction of Hermann Historica
Approximately 7,300 lots from all specialist areas represented by the auction house – antiquities, arms and armour, works of art, hunting antiques, orders and collectibles from all fields of history and military history – came under the hammer in the 71st Auction of Hermann Historica oHG from 27 October to 7 November in Munich.
Torso of a granite statue, dating from the second millennium B.C. HP: 25,000 Euros. Copyright Hermann Historica oHG 2015.
Antiquities
The highlights of the antiquities section proved to be the powerful artefacts crafted by ancient Egyptian sculptors. The announcement of the starting price of 5,000 euros triggered a veritable bidding frenzy with offers being placed in the room, on the telephones and in the internet for the torso of a granite statue, dating from the second millennium B.C. The body and gaze turning to face the beholder, the arms held firmly by its sides, the 23.5 centimetre tall statue boasted the characteristic contemporary beard braided beneath the chin and wig perched on the head, draped in two lengths over its shoulders. The hammer finally fell at 25,000 euros for this wonderful piece of archaic work. The head of a pharaoh from the same era sold for 8,500 euros, almost five times its estimate of 1,800 euros. Hewn from hard, sienna-brown rock, it also wore the plaited chin beard, together with a headdress featuring the rearing Uraeus serpent, the symbolic Egyptian cobra.
Chalcidian bronze helmet dating from the fourth century B.C. HP: 18,000 Euros. Copyright Hermann Historica oHG 2015.
The demand for masterpieces created by the skilful hands of antique armourers and blacksmiths has remained at a gratifyingly high level for many years. No wonder, then, that the unique and beautifully crafted edged weapons and helmets on offer in this auction, their provenance in prestigious collections fully documented over many years in some cases, did not disappoint the international specialist buyers. With its high, green patinated skull, cheek pieces, short nasal bar and the typical repoussé borders around the edges of the eye openings, a Chalcidian bronze helmet dating from the fourth century B.C. changed hands for its starting bid of 18,000 euros. Moreover, the lots with their documented provenance in the famous Axel Guttmann Collection of Berlin were well received by private and institutional collectors alike. Listed at 14,000 and 8,000 euros respectively, a Pseudo-Corinthian bronze helmet, forged in Apulia during the fifth to the fourth century B.C. and an extremely rare Nordic Bronze Age sword, dating from the ninth century B.C., both found buyers for their estimated price. The objects had two characteristics in common: their outstanding condition and eye-catching herringbone embellishments.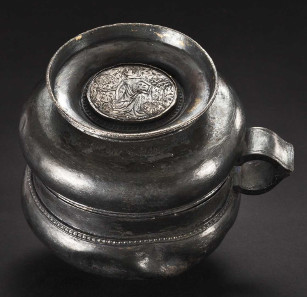 A German silver double cup, 1st half of the 14th century. HP: 19,000 Euros. Copyright Hermann Historica oHG 2015.
Works of art
One outstanding example a of precious wunderkammer object, dating from the first half of the 14th century, was a double receptacle made of silver, consisting of two perfectly interlocking drinking bowls that formed a closed handle when fitted together. Decorated with engraved plaques and a beaded frieze, similar examples of this very early Gothic double cup, also known as a doppelscheuer, can be found in the Metropolitan Museum of Art in New York, for example. Although only moderately valued at 4,500 euros, spirited pre-sale bidding pushed the starting price for this decorative and highly interesting piece to over ten thousand euros. The hammer only fell at a gratifying final price of 19,000 euros in favour of the European trade. An engraved and lavishly gilded miniature casket by Michel Mann, stamped with the master's signature, prompted a connoisseur of the flawless craftsmanship of these incomparable, significant works to part with 10,000 euros, its reserve of 7,500 euros notwithstanding.
Arms and Armour
In terms of variety and significance, the range of medieval edged weapons on offer in this Autumn Auction left nothing to be desired. In this regard, the sale of a splendid Gothic sword from the Battle of Castillon (1453) took centre stage. Over the past ten years, weapons originating from a group of approximately 80 medieval swords documented at the site of Lidoire, near the battlefield at Castillon-la-Bataille, have repeatedly come up for auction by Hermann Historica with great success. By virtue of its very wide, remarkably powerful and evenly tapering blade, the striking double-edged sword now being offered for sale was generally considered one of the most magnificent in the entire group. Of momentous historical significance, this unrivalled weapon has taken pride of place in a new collection for its limit of 35,000 euros ever since.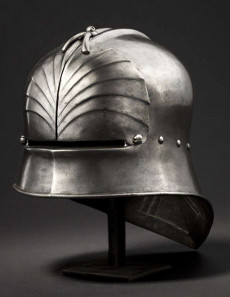 A Southern German late Gothic sallet, Innsbruck, circa 1490. HP: 18,000 Euros. Copyright Hermann Historica oHG 2015.
Equally worthy of note among the pole arms was an intricately etched halberd made for the trabant guard serving under Paris Count of Lodron, Prince Bishop of Salzburg (1619 – 1653). Both sides of the leaf presented the coat of arms of the highly regarded Prince Bishop, whose judicious politics preserved the Archbishopric Salzburg from the devastation of the Thirty Years' War, surrounded by interlaced strapwork, floral tendrils and warriors' heads. The decorative weapon from the armoury of the "Pater Patriae" fetched 13,000 euros, nearly tripling its estimate of 4,800 euros. Medieval armour worn by combatants and their steeds was not designed merely for their safety and comfort but also served as adornment. The exceptional elegance of a late Gothic sallet, forged in one piece circa 1490, presumably in Innsbruck, certainly excited widespread admiration. Made especially for jousting in the lists, the rare tournament helmet could not fail to impress owing to its heavy, massive construction, which caused lance points to be deflected back, thereby diminishing the force of the blows. Despite opening at 15,000 euros, this sum was quickly outbid and the rare helmet was finally snapped up for 18,000 euros. The buyers were no less fascinated by the superb workmanship of a 17th century Spanish blacksmith. In acknowledgement of the unique character of the pair of deluxe stirrups and rowel spurs, made of wrought iron with chiselled openwork and embellished with silver inlays and silver double-headed eagles in high relief, bids soon jumped from 6,500 euros to the hammer price of 17,000 euros.
A silver-mounted Daghestanian deluxe shashka, dated 1913. HP: 22,000 Euros. Copyright Hermann Historica oHG 2015.
Asia, Orient and Africa
The quality and diversity of the lots from Africa, the Ottoman Empire, India, Japan and China remained as compelling as ever. Bids were invited from 9,000 euros for one particularly exquisite highlight, a spectacular deluxe shashka dated 1913, which attested to the outstanding artisanal and creative potential of the oriental armourers of yesteryear. Finished with superlative craftsmanship throughout, the Daghestanian work of inimitable beauty, its pommel fully sculpted as a horse's head and its grip in heavy, partly gilt silver with a lavishly carved and nielloed décor, was sold to a collector for 22,000 euros. However, the highest increase – more than 53 times the opening bid of 300 euros – was recorded for a three-legged Chinese incense burner in bronze, which fetched 16,000 euros. The base of the small receptacle, which sported handles on each side, was cast with the mark of the Hsuan Te dynasty reign (1426-35).
Military history and historical objects
The first day of the military history auction was entirely dominated by the Russian double-headed eagle.
An extremely rare Soviet shashka with applied Red Banner Order, dated 1932. HP: 90,000 Euros. Copyright Hermann Historica oHG 2015.
A Russian enthusiast was so taken with an extremely rare shashka for officers, dated 1932, that he paid the sensational price of 90,000 euros. Forged in the prestigious bladesmith workshops of Zlatoust, the weapon of honour was truly awe-inspiring, with a solid silver, enamelled miniature of the Soviet Red Banner Order appliquéd on the pommel, inviting bids from 35,000 euros. This decoration for heroic military feats was awarded to some of the most distinguished Soviet commanders. Dating from the tsarist period and equally rare was a dagger for officers, the blade adorned with the etched tsarist cipher "NII" and the Russian double-headed eagle, with an enamelled Order of St. George on the pommel. It found a new owner for 16,500 euros, its reserve of 3,500 euros notwithstanding.
As in previous years, significant collectors' items from the courts of Europe's ruling houses were offered for auction. Once again this autumn, the interest in lots from the personal possessions of King Ludwig II of Bavaria (1845 – 1886) remained unabated. With its long, ebonised wooden handle, his large personal magnifying glass had survived intact since it was well protected in its black leather, two-piece case, embossed with a crowned cipher "L" in gold. Still in immaculate condition, therefore, it was offered to international buyers for 2,500 euros and now graces the collection of its new owner for 9,000 euros.
A helmet M1852 for enlisted men of the Royal Bavarian Hartschiere Life Guards. HP: 9,000 Euros. Copyright Hermann Historica oHG 2015.
Some exceptional pieces reflecting military history and splendour from the Kingdom of Bavaria also attracted much attention, including a helmet M 1852 for enlisted men and non-commissioned officers of the Royal Bavarian Hartschiere Life Guards, which sold for its starting price of 9,000 euros. The imposing helmet – the large parade issue – featured a nickel-silver skull crowned with a statant lion and bore the Bavarian coat of arms surmounted by a crown. No less rare was a complete, white and blue full-dress uniform of the same Guards, the front panel embroidered with the grand star of the Bavarian House Order of St. Hubert in gold and silver bullion; the sale was completed at a respectable 10,000 euros, more than double its estimate of 4,500 euros.
Orders and Insignia
A number of magnificent decorations from Russia stood out particularly in the orders section; having changed hands, with few exceptions, they are set to return to their country of origin.
Order of St. Anna – an Order Cross 2nd Class, dated 1797. HP: 40,000 Euros. Copyright Hermann Historica oHG 2015.
For example, the elaborate, red enamelled, gold Cross 1st Class with Swords of the Order of St. Anna, opening at 18,000 euros, which achieved a very respectable 40,000 euros. Specialist buyers and collectors had been eagerly awaiting the sale of an Imperial and Royal Order of the White Eagle, dated 1863, which was offered for auction from 18,000 euros. In his day, the St Petersburg jeweller Johann Wilhelm Keibel (1788 – 1862) was the sole supplier authorised to produce the solid gold order with the cross of the White Eagle Order of Poland in translucent red and white enamel, mounted on the black enamelled Russian double-headed eagle. Probably one of the most beautiful of the 19th century, the outstanding order decoration – this exemplar presumed to be the last one created by the master – went on to fetch 27,000 euros.
Order Pour le Mérite – a Cross with Oak Leaves 1870/71. HP: 33,000 Euros. Copyright Hermann Historica oHG 2015.
A cross of the highest Prussian order for military achievements, the Pour le Mérite, which may be considered unique, also found a buyer in the land of the double-headed eagle for 33,000 euros. The order cross of the legendary decoration for bravery, was offered for sale in the typical production method of 1870/71. A mere 38 orders are known to have been awarded for outstanding achievements in the Franco-Prussian War of 1870/71; as a result of the strict return obligation, very few examples are still in private ownership. Open to bids from 28,000 euros, the price reflected the absolute rarity and condition of this hollow-cast order cross, exquisitely wrought in gold.
From now on, the Breast Star to the Order of the Black Eagle, 1842, of historical significance as it was the personal decoration belonging to Prince Albert of Saxe-Coburg and Gotha (1819 – 1861), the husband of Queen Victoria of Great Britain (1819 – 1901), will take pride of place in a German collection. On 30 January 1842, Prince Albert was admitted to the former knightly order by King Friedrich Wilhelm IV of Prussia and awarded Prussia's highest decoration. This phaleristic sensation was open to bids from 10,000 euros, ultimately changing hands for 13,500 euros.
Fine antique Firearms
Once again, the fine antique and modern firearms section reported extremely encouraging results. Even during the run-up to the auction, the rare pistol cases of premium quality had attracted considerable interest.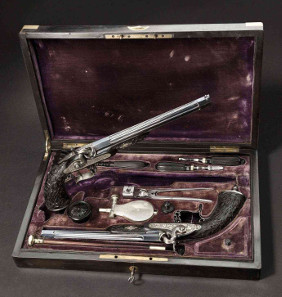 Deluxe pair of cased target pistols, Carl Daniel Tanner in Hanover, 1840/50. HP: 52,000 Euros. Copyright Hermann Historica oHG 2015.
The pièces de résistance included a deluxe pair of cased target pistols, dating from 1840/50, made by the supremely skilful court gun maker, Carl Daniel Tanner of Hanover. The profuse inlays were intricately engraved with gold-inlaid decorative tendrils on the locks and furniture, accentuating the significance of this superb example of the gun maker's craft. Despite being valued at 21,000 euros, a flurry of bids saw the price soar to 52,000 euros in no time at all.
Please find all results online here.