[bsa_pro_ad_space id=4]
26-10-2015 – 06-11-2015
71st Auction
From the personal jewellery box of Empress Elisabeth of Austria
This year's Autumn Auction at Hermann Historica oHG in Munich will open on 27 October with the usual wide range of high quality precious objects from all eras and originating from all over the world. Until 7 November, approximately 7300 collector's pieces, some of them unique, from all specialist areas represented by the auction house will come under the hammer – antiquities, arms and armour, works of art, hunting antiques, orders and collectibles from all fields of history and military history.
A Roman gravestone of a venator in marble, 3rd century A.D. Starting price: 35,000 Euros.
Antiquities
Bids are invited starting from 35,000 euros for one of the highlights of the antiquities catalogue: a completely preserved, Roman gravestone in marble with a detailed depiction of a man-at-arms, dating from the third century A.D. His dress, hair and style suggest that the monument originates from the provinces of the Mediterranean region of Asia Minor, while the epitaph, inscribed in Greek, hints at the identity of the deceased and his benefactor. Although, at first glance, the relief includes a number of military elements in the man's attire and weaponry, other sumptuous and exalted features indicate nevertheless that he is obviously not a soldier. It is reasonable, then, to presume that this is the gravestone of a "venator", a professional hunter who took part in spectacles in the arena involving animal fights. Highly revered and yet ostracised, the deceased was probably given an air of military honour to enhance his prestige for posterity.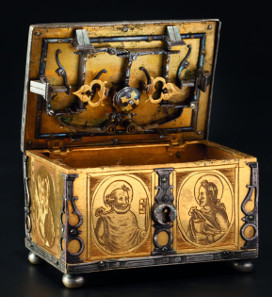 A significant miniature casket, Michel Mann, Nuremberg circa 1600. Starting price: 7,500 Euros.
Works of art
Once again, among the works of art in the Autumn Auction are a number of precious, exquisitely wrought wunderkammer objects, including a signed, lavishly gilded and engraved miniature casket, with its exquisite contemporary décor, which was made circa 1600 by Michel Mann of Nuremberg. In immaculate condition, the imposing casket features a depiction of Jesus and Mary on the lid, and portraits of the apostles on the body. Measuring a mere 4.5 x 7.2 x 5 cm, boasting the highest quality and made with outstanding craftsmanship, this dainty bijou is to come under the hammer for 7,500 euros.
Arms and Armour
Once again, this autumn promises a magnificent variety of mediaeval edged weapons.
Rare late Gothic chamfron with distinctive Nuremberg mark, circa 1480/90. Starting price: 20,000 Euros.
But protecting human combatants was evidently not the armourer's only priority during the Middle Ages, as demonstrated by a rare, late-Gothic chamfron. Forged in several pieces with decorative flutes, an imposing spike and finely turned flanges, the chamfron is stamped with the Nuremberg acceptance marks, where it was produced circa 1480/90. This exceptionally beautiful piece of armour may be acquired for 20,000 euros.
A Southern German late Gothic sallet, presumably Innsbruck, circa 1490. Starting price: 15,000 Euros.
Collectors will also be interested in a late Gothic sallet with a limit of 15,000 euros, forged in one piece circa 1490, presumably in Innsbruck. Made especially for jousting in the lists, the rare tournament helmet cannot fail to impress owing to its heavy, massive construction, which caused lance points to be deflected back, thereby diminishing the force of the blows.
Asia, Orient and Africa
Once again this autumn, the quality and diversity of the lots from Africa, the Ottoman Empire, India, Japan and China remain as compelling as ever.
A silver-mounted Daghestanian deluxe shashka, dated 1913. Starting price: 9,000 Euros.
A further highlight is a deluxe shashka, wrought with superb workmanship, the grip of heavy, partly gilt silver with a richly carved and nielloed decor, dating from 1913. An object of singular beauty, with its fully sculpted pommel shaped like a horse's head, the Daghestanian sword has a starting price of 9,000 euros. Elaborately crafted edged weapons from the Ottoman Empire and India have long enjoyed an ever-growing enthusiasm among international collectors.
A pair of Persian gold-inlaid armour plates (char aina), dated 1783. Starting price: 8,500 Euros.
A further highlight is a pair of Persian gold-inlaid armour plates, char aina, dated 1783, which are offered for auction from 8,500 euros. Embellished with continuous gold inlays, the breast- and corresponding back-plate feature two gold-inlaid cartouches inscribed with the date and the name of the owner. It would be difficult to conceive a more worthy testimony to the dignity and status of the bearer.
Military history and historical objects
In addition, significant collectors' items from the courts of Europe's ruling houses are offered for auction once again.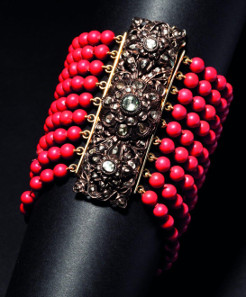 Empress Elisabeth of Austria – diamond-studded coral bracelet. Starting price: 25,000 Euros.
The pièce de résistance comes from the personal jewellery box of Empress Elisabeth of Austria (1837 – 1898): a diamond-studded coral bracelet. Nine rows of knotted decorative corals are held together with an openworked clasp in red gold, which is decorated with large and small diamond roses. The corresponding letter of congratulations, dated 1913, attests to the fact that the bracelet, which may be acquired for 25,000 euros, was presented to Princess Alfons (Louise) of Bavaria (1869 – 1952), on the birth of her daughter Elisabeth, by the Empress's youngest daughter, Archduchess Marie Valerie (1868 – 1924). The recipient was already familiar with the bracelet, as she had always much admired it on previous occasions when worn by the Empress, after whom her daughter was named. Originating from the same ruling house – a gift from Archduchess Marie Valerie of Austria to her niece, Princess Elisabeth of Bavaria – are handwritten envelopes from Empress Elisabeth addressed to the Kaiser during the 1860s and 70s. On offer for 1,000 euros. The original signature of her husband, Kaiser Franz Joseph I (1830 – 1916), in Hungarian, which is particularly uncommon, graces the patent of nobility issued to the renowned Hungarian journalist, Moriz Gans von Lúdassy (1825 – 1885). In beautiful condition, the colours still vibrant, the parchment and matching casket are to come under the hammer for 2,500 euros.
Abraham Lincoln – larger-than-life bronze bust, circa 1939 by Joseph Kapfenberger. Starting price: 12,000 Euros.
Equally worthy of note is a larger-than-life bust of the 16th President of the United States, Abraham Lincoln (1809 – 1865) from the USA. Professor Joseph Kapfenberger (1882 – 1974), a sculptor of German descent, completed the work in 1939, only a few years after emigrating to New York. Abraham Lincoln is portrayed with dignified grandeur, his eyes closed, in meditation or at prayer. A quotation from his speech on the occasion of his second inauguration, "with malice towards none, with charity for all" and the artist's signature are engraved on the base of the bronze bust, which has a limit of 12,000 euros.
Silver tankard – present 100th anniversary of the 67th Tarutinsky Infantry. Starting price: 28,000 Euros.
Among the exquisite silverware on offer are two unparalleled silver tankards, crafted with outstanding workmanship and of formidable provenance. While the presentation tankard with its gilt interior, a gift from the Grand Duchess Elena Pavlovna Romanova and bearing her engraved dedication flanked by nielloed views of the Kremlin on the front, is to come under the hammer for 15,000 euros, bids are invited from 28,000 euros for the tankard shaped like a wooden barrel, which was presented to the Royal Prussian Oldenburg Infantry Regiment no. 91 by its brothers-in-arms of the Russian Imperial 67th Tarutinsky Infantry Regiment on the occasion of its centenary.
Orders and Insignia
Stealing the show in the orders section are a number of outstanding decorations from Russia, among them the red enamelled, gold Cross 1st Class with Swords of the Order of St. Anna, valued at 18,000 euros, and a set of the 1st Class of the Order of St. Stanislaus from the workshop of the renowned St Petersburg jeweller, Wilhelm Keibel, dated 1857, which is offered for sale from 11,000 euros.
Prince Albert of Saxe-Coburg and Gotha – Order of the Black Eagle 1842. Starting price: 10,000 Euros.
A Breast Star to the Order of the Black Eagle, 1842, the personal decoration belonging to Prince Albert of Saxe-Coburg and Gotha (1819 – 1861), the husband of Queen Victoria of Great Britain (1819 – 1901), heads the parade of exceptional lots, which would grace any museum collection. On 30 January 1842, Prince Albert was admitted to the former knightly order by King Friedrich Wilhelm IV of Prussia and awarded Prussia's highest decoration. The eight-rayed, faceted silver star bears the eagle surrounded by the order motto "SUUM CUIQUE" – To each his own – and the double laurel branch engraved in gold on white enamel. Manufactured by the orders jewellers Rundell, Bridge & Rundell of London, who were in business only until 1842, and engraved with his personal insignia, this phaleristic sensation is open to bids from 10,000 euros.
Order Pour le Mérite – a Cross with Oak Leaves 1870/71. Starting price: 28,000 Euros.
Likewise worthy of note are the crosses of the highest Prussian order for military achievements, the Pour le Mérite, which are to come under the hammer. Offered for auction is a magnificent, museum-quality piece of cultural and historical significance, the cross with oak leaves in the typical production method of 1870/71, which is unlikely to be available again in this condition. The Pour le Mérite order is known to have been awarded a mere 38 times for outstanding achievements in the Franco-Prussian War of 1870/71. As a result of the strict return obligation, very few examples are still in private ownership; therefore, the new owner will have to part with a minimum of 28,000 euros for this absolute rarity, a hollow-cast order cross, exquisitely wrought in gold.
Deluxe pair of cased target pistols, Carl Daniel Tanner in Hanover, circa 1840/50. Starting price: 21,000 Euros.
Fine antique and modern firearms
The pistol cases in the Autumn Auction boast a sensational rarity and quality that are otherwise difficult to obtain on the market. Among the pièces de résistance are a deluxe pair of cased target pistols, manufactured by the court gun maker, Carl Daniel Tanner of Hanover, circa 1840/50. The profuse inlays intricately engraved with gold-inlaid decorative tendrils on the locks and furniture accentuate the significance of this superb example of the gun maker's craft, valued at 21,000 euros.
All prices are net prices and are to be understood plus 23 percent surcharge.
More information on all objects offered you may find on the website of Hermann Historica.