[bsa_pro_ad_space id=4]
17-04-2016 – 28-04-2016
Auction 72
Spring Auction of Hermann Historica oHG
This year's Spring Auction at Hermann Historica oHG in Munich will open on 18 April with the usual wide range of high quality precious objects from all eras and originating from all over the world, including three complete collections. Until 29 April, over 6,200 collector's pieces, some of them unique, from all specialist areas represented by the auction house will come under the hammer.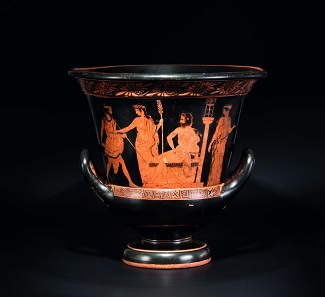 Attic chalice krater by the Hector Painter, 4th decade of the 5th century B.C. Estimate: 60,000 euros. © Hermann Historica oHG 2016.
First up, with a starting price of 60,000 euros, is the exquisite highlight of the antiquities catalogue: a red-figure, Attic chalice krater by the Hector Painter, dating from the fourth decade of the 5th century B.C. Of characteristic shape, the elegant vessel is mounted on a curving base and furnished with two handles, while the front of the krater features an extremely unusual, vivid mythological scene depicting Telephus and Orestes. Equally worthy of note and in remarkable condition is a Greek bronze kalpis from the fourth century B.C., bearing a votive inscription. Bids are invited from 25,000 euros for this rare kalpis. The auction presents magnificent examples of the consummate workmanship of antique armourers and swordsmiths, from a Chalcidian bronze helmet from the fifth to fourth century B.C., valued at 20,000 euros, whose provenance is documented in the world-famous Axel Guttmann Collection of Berlin, to a rare conical bronze helmet, which was forged in central Europe approximately 500 years earlier during the Late Bronze Age, opening at 10,000 euros, right through to a prehistoric antenna sword from the golden age of the Urnfield culture in the tenth century, with its reserve of 8,500 euros.
Late-Gothic crossbow with horn prod, tiller covered in bone inlays, German, 1500. Estimate: 20,000 euros. © Hermann Historica oHG 2016.
Hermann Historica has now been granted the great honour of offering the Karl Zeilinger (1944-2014) Collection – this unrivalled collection of bows, crossbows and superbly crafted archer's rings to collectors and museums around the world. Among them are sensational artefacts, like a legendary Scythian bow, here offered for auction from 9,000, from the equestrian nomadic settlement areas of Eurasia of the third to fifth centuries B.C., and a highly distinguished late-Gothic crossbow with a horn prod, the tiller entirely covered in bone inlays, made circa 1500, which is listed at 20,000 euros.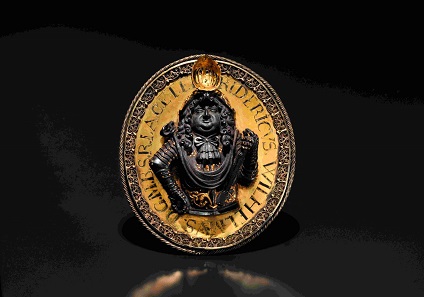 A 1677 medal of honour on behalf of Frederick William, Great Elector of Brandenburg. Estimate: 8,000 euros. © Hermann Historica oHG 2016.
Once again, the works of art in the Spring Auction comprise precious, exquisitely wrought wunderkammer objects, including a 1677 medal of honour, wrought in iron plated in gold, on behalf of Frederick William, the Great Elector of Brandenburg (1620-1688) – an exceedingly beautiful, rare cabinet piece of Prussian history, commemorating the Great Elector and his victories. This impressive piece is now open to bids from 8,000 euros. Also on offer is a work by the master watchmaker Johann Jacob Serner: a verge watch fashioned with outstanding craftsmanship. Made in Lübeck circa 1710/20, surely any connoisseur of the fine art of watchmaking will want to add this masterpiece to his collection for 5,000 euros.
Hand pavise from the Free Imperial City of Schongau in Bavaria, late 15th century. Estimate: 12,500 euros. © Hermann Historica oHG 2016.
Elaborately crafted rarities, some of which are known to have been commissioned for aristocratic armouries, are sure to delight buyers in the arms and armour section. These include a splendid selection of crossbows, like the high-quality Renaissance crossbow from the Collection of the Royal House of Hanover, dating from the end of the 16th century, embellished with engraved bone inlays and a rich ornamentation of scrollwork, which is expected to fetch 12,000 euros. Objects made of delicate materials like wood and leather rarely stand the test of time. The state of preservation of the hand pavise from the Free Imperial City of Schongau in Bavaria is thus all the more gratifying, considering it was made in the late 15th century; it is moderately estimated at 12,500 euros. A highlight of the armour on offer is a German close helmet, which was produced circa 1600 and is particularly striking in the characteristic style of its design. The new owner will have to part with a minimum of 10,000 euros.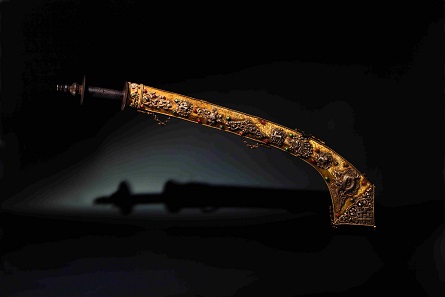 Sino-Tibetan ritual khora + gilt presentation scabbard, 15th/16th + 18th/19th cent. Estimate: 18,000 euros. © Hermann Historica oHG 2016.
Once again this spring, the quality and diversity of the lots from Africa, the Ottoman Empire, India, Japan and China remain as compelling as ever. Moreover, matching an early Nepalese/Tibetan khora from the 15th/16th century, the 18th/19th century presentation scabbard is wrought with magnificent workmanship in fire-gilt bronze and embellished with finely etched tendrils, the Eight Auspicious Symbols of Buddhism mounted in high relief on the front and lavishly set with gemstones. The single-edged blade is characteristically curved. The interesting sword, of both cultural and historical significance, is open to bids from 18,000 euros.
M 1832 helmet for officers Bavarian Cuirassiers with gilt lion and bearskin crest. Estimate: 12,500 euros. © Hermann Historica oHG 2016.
The rare helmets of German provenance hold some truly exceptional pieces in store, for example, an M 1832 helmet for officers of the Bavarian Cuirassiers. With its gilt lions in high relief and bearskin crest, this piece is an absolute rarity, thereby justifying the minimum bid of 12,500 euros. Ever sought-after, precious objects, as regards both materials and workmanship, from the personal possessions of King Ludwig II of Bavaria (1845-1886) continue to enjoy great popularity. On offer here is the King's personal seal, a figurative representation of the saint he so revered, Joan of Arc, has a listed price of 6,500 euros.
Stealing the show in the orders section are a number of outstanding decorations from Russia, including the group of Orders of St. Vladimir belonging to an officer in the Hanseatic Legion. Worked in gold, the large order cross in 4th class until 1816 will certainly be of particular interest, with the cross arms enamelled in black and translucent red. The distinguished Russian orders group from the time of the Napoleonic and Wars of Liberation may be acquired for 20,000 euros.
Generalmajor Wilhelm von Groddeck – an Order pour le mérite. Estimate: 17,000 euros. Copyright Hermann Historica oHG 2016.
The demand for the Prussian decoration for military achievements, the Pour le Mérite order, has remained unabated for many years. At the Spring Auction the complete estate of the orders and documents awarded to a divisional general and Pour le Mérite bearer during World War I – Generalmajor Wilhelm von Groddeck (1861-1937) can be offered. As Example: the order cross of the legendary decoration for bravery, opening at 17,000 euros. Avid collectors are eagerly anticipating the auction of an order badge that has not been documented hitherto in specialist phaleristic literature. Gracefully wrought in gold with blue enamelled blossoms and laurel branches, the badge of honour for a court lady of Empress Carlota of Mexico (1840-1927) has previously only been verified as part of the Corbin collection in the 1980s; bids from 3,000 euros are welcome.
A wheellock puffer with rich bone inlays, probably Augsburg, circa 1580. Estimate: 28,000 euros. Copyright Hermann Historica oHG 2016.
This spring sees another exclusive selection of antique firearms, for example an exceptionally fine wheellock puffer, valued at 28,000 euros, probably produced circa 1580 in Augsburg; the splendidly ornate walnut full stock is embellished with engraved and blackened bone. The profuse decoration of dainty flower tendrils with acanthus leaf borders and braided décor is exceptionally enchanting. Among the pièces de résistance in this section are a pair of deluxe percussion pistols made by the skilful hands of the renowned gunsmith J. C. A. Brun of Paris, circa 1840. The gold-inlaid signatures, exquisitely fine silver inlays engraved with graphic and floral ornaments, elaborate tendril decoration chiselled on the percussion locks and arrestingly beautiful, grained half stocks accentuate the significance of these superb examples of the gun maker's craft, in untouched condition, with a limit of 15,000 euros.
All lots on offer can be viewed online here.
For further information please contact the auction house:
Hermann Historica oHG
Linprunstraße 16
D-80335 München
+49 (0)89 547 26 490
+49 (0)89 547 26 4999
email