[bsa_pro_ad_space id=4]
27-04-2015 – 11-05-2015
70th Auction
Excellent results at the Spring Auction of Hermann Historica
All specialist areas represented by Hermann Historica – antiquities, arms and armour, works of art, hunting antiques, orders and collectibles from all fields of history and military history – reported excellent results, with some lots fetching many multiples of their estimated price. A total of approximately 6,000 collectors' items came under the hammer at the Spring Auction from 28 April to 12 May 2015.

Antiquities
The demand for well preserved early bronze helmets has remained unabated for many years; here again, the antiquities section, held several veritable rarities in store.
A Roman Hagenau-type bronze helmet, 1st half of the 1st century. Hammer Price: 30,000 Euros.
One particular highlight, in outstanding condition and dating from the second to the early first century B.C, was an extremely rare bronze Roman helmet of the Hagenau type. With its characteristic mushroom-shaped finial and the neck guard sloping slightly downwards, the hemispherical skull was hammered from a single sheet; particularly striking was the fabulous condition of the metal substance. Listed at 25,000 euros, the helmet, which would grace even the most prestigious collection, changed hands for 30,000 euros. Originating from Greece and of slightly earlier date, from the fifth to fourth century B.C., an Illyrian helmet attracted a great deal of attention among the specialist buyers with its characteristic, heavy bronze skull and continuous punched outer border. Hardly was the lot called at 6,500 euros before it sold for 13,500 euros, more than doubling its estimate.
A Roman marble sculpture of a boy, first – second century. Hammer Price: 20,000 Euros.
Wonderful early sculptures attested to the extraordinary skill of antique craftsmen, like the Roman marble sculpture of an exquisitely carved torso of a young boy, his hair falling in soft curls, dating from the first to second century A.D., which was acquired for its starting price of 20,000 euros.
Four embellished discs of sheet gold, Middle Bronze Age, 15th – 14th cent. B.C. Hammer Price: 16,000 Euros.
Equally appealing were the works of early gold and silversmiths, like four embellished discs of sheet gold from the 15th to 14th century B.C, which were true masterpieces of fine workmanship. Bids were invited from 7,500 euros for the remarkably well preserved set of Bronze Age cult objects, with their complex ornamental patterns, which may have been used as interpretations of sun symbols, comparable to the 'Moordorf solar disc'. However, the hammer did not fall until 16,000 euros.

Arms and armour, arts and crafts
According to tradition, the arms and armour catalogue opened with hunting antiques, works of art and rare wunderkammer objects.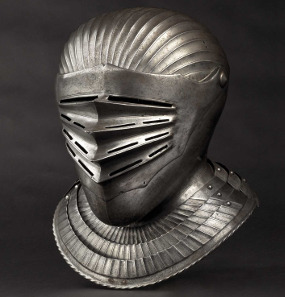 South German Maximilian style close helmet for a fluted suit of armour 1530. Hammer Price: 30,000 Euros.
Exceptional collectors' items were among the antique arms and armour on offer. Of particular interest was a striking, Maximilian close helmet for a fluted suit of armour, which was forged in South Germany circa 1530. Wrought in one piece and still retaining the original leather lining, the skull featured the characteristic, flat flutes of this type extending from front to back. The large, matching gorget, also fluted and sliding on three lames, was embellished with turned and finely roped flanges. Documented for the collection of the retired Consul Hans C. Leiden in Cologne since 1934, this magnificent example of early armourer's artistry will doubtless take pride of place in a new collection for its starting price of 30,000 euros.
A German light cavalry armour, 1550/1570 with heavy combat burgonet. Hammer Price: 24,000 Euros.
The impressive appearance of a German light cavalry armour, circa 1550/1570 certainly succeeded in delighting bidders. Sliding on multiple lames to ensure maximum mobility in the joints, the suit of armour was complete in all parts, including the heavy combat burgonet with its high roped comb and the rare adjustable nasal bar; although the armour opened to bids from 9,000 euros, the hammer only fell at 24,000 euros. Equally fascinating was a South German tournament helmet, extremely heavy by reason of its function and probably forged in Augsburg in 1580, which fetched 12,500 euros, with a limit of 12,000 euros; exactly the same price was obtained for a German pair of Gothic gauntlets, circa 1470/80. The exceptionally rare pair of gauntlets in complete, well preserved, original condition and of a quality that is seldom available on the market, had been listed at 7,000 euros.

Asia, Orient and Africa
The quality and diversity of the lots from Africa, the Ottoman Empire, India, Japan and China remained as compelling as ever. Good examples for this were the weapons of the Ottoman Empire.
Magnificent Georgian qama, silver-mounted and set with corals, 1812. Hammer Price: 11,500 Euros.
They are invariably crafted in precious materials and with the most elaborate workmanship; therefore it is no surprise that this field of collectibles is steadily gaining in popularity. A magnificent Georgian qama, silver-mounted and set with cut corals, with a scabbard made entirely of silver, dated 1812, was a wonderful example of the special appeal exerted by such objects. Its limit of 4,000 euros notwithstanding, it gave rise to a spate of spirited bidding and the sale was completed at 11,500 euros.
Dated 1806, the silver-mounted deluxe miquelet-lock gun was no less superbly wrought by a Balkan Turkish gunsmith. Listed at 6,500 euros and selling for 8,500 euros, the ornamentation of the firearm – the gold, partly engraved inlays, the iron miquelet lock with its lavish gold-inlaid décor and the butt with circle bands, flowers and leafy vines – bore witness to the high standard of the workmanship.

Military history and historical objects
Once again, the military history and historical objects section was a veritable treasure trove of collectors'items of great historical significance from all over the world. These included a document on the strategies of the Napoleonic era: a letter from Napoleon I (1769 – 1821) to one of his closest confidants, General Bertrand (1773 – 1844), dated 1809. Dictated in Schönbrunn between the Battle of Aspern-Essling (21/22 May 1809) and the Battle of Wagram (5/6 June 1809), and bearing his original signature, Napoleon I commands Betrand to take certain measures to prepare for the attack on the bridges of Pressburg and capture the city. The ineffective siege was subsequently abandoned after roughly one month. Opening at 1,500 euros, the extremely interesting letter unleashed an immediate flurry of bids, culminating in the sensational sum of 19,000 euros.
A magnificent Royal Bavarian presentation sabre. Hammer Price: 17,000 Euros.
Of German provenance and of museum quality, a magnificent Royal Bavarian presentation sabre, awarded for bravery, was particularly imposing; dating from the reign of Maximilian I Joseph (1806 – 1825), the sabre was etched on both sides with gilt foliage and trophies against a blued background. Forged in Solingen, the sabre's gilt brass knuckle-bow hilt was richly decorated in relief with a Medusa's head and foliage, while the quillons was adorned with the profile of Maximilian I Joseph of Bavaria between laurel branches and the crowned Bavarian lion bearing a sword and escutcheon. Expected to fetch 15,000 euros, the exceptionally high quality insignia, reserved exclusively for those bearing the rank of general, was purchased for 17,000 euros.
An artefact from recent German military history, an expertly restored Messerschmitt Bf 109 was an impressive testimony to the diversity of objects offered by the auction house; the aircraft was both the largest and most valuable object in the 70th auction. The single-seated fighter, here in the non-flying version, was designed in the early 1930s under the direction of Willy Messerschmitt for the Bayerische Flugzeugwerke, underwent numerous modifications over the following decade and was produced after this period in continuously changing configurations. The Messerschmitt, which found a buyer for its opening bid of 150,000 euros, was salvaged during the mid-1990s as part of a private initiative, then meticulously analysed by a specialist team of aircraft restorers and reconstructed from 2007 onwards.
Russian helmet for the Life Guard Cuirassier Regiment, 1910. Hammer Price: 18,500 Euros.
The reign of Empress Catherine I (1684 – 1727), who held sway over Russia after the demise of her husband, Tsar Peter the Great, lasted a mere two years until her own death. Accordingly, the significant ceremonial sword for Russian officers of the Guards Infantry, with its blade dating from this period, was an absolute rarity. Estimated at 25,000 euros, an exchange of bids flared immediately until the sale of the sword was completed at 29,000 euros. A shashka M 1909 for officers of the Russian dragoons was unusual by virtue of its unexpected, heavy, appropriated Japanese blade with gilt copper habaki, the obverse deeply carved with Japanese inscriptions. With an appliquéd miniature of the Order of St. Anne, awarded for bravery, the extremely rare shashka was valued at 14,500 euros, yet changed hands for 18,500 euros. A distinguished Russian helmet for enlisted men of the Life Guard H.I.M. Cuirassier Regiment from 1910, with its silver-plated helmet eagle, cost its new owner exactly the same amount, its limit of 15,000 euros notwithstanding.
Orders and Insignia
First-class artefacts from the Tsarist Empire set enthusiasts' pulses racing in the orders and insignia section. No sooner were the main showpieces of this section called than an exchange of bids flared up in the room, online and by telephone, lasting several minutes. One of the highlights on offer was a set of the 1st Class with Swords of the Order of St. Stanislaus, circa 1910, worked in gold, silver and enamel. The formidable ensemble was able to command its price; almost doubling its estimate of 14,000 euros, the hammer fell at 26,000 euros. The Russian double-headed eagle also dominated the other top results, like the winning bid of 22,000 euros, despite its limit of 4,000 euros, for a decorative, exquisitely enamelled gold Order of St. Vladimir, a magnificent example made circa 1870 by the supremely talented Julius Keibel of St. Petersburg, and 12,000 euros for the Order of St. George of 1916, which had been offered for auction from 5,000 euros.
Order pour la Vertu Militaire 1769 and miniature portrait – F.C. von Jungkenn. Hammer Price: 40,000 Euros.
"The prices for top-quality, selected pieces in the orders and insignia section have remained gratifyingly high for some years", Sascha Zimmermann, Head of Department for International Orders and Medals at Hermann Historica, summed up the successful orders auction. "Moreover, once again in this year's Spring Auction, it was our very great pleasure to be able to offer our customers phaleristic sensations, objects that did not disappoint, neither in respect of their rarity and quality nor by virtue of their verifiable provenance." This also augured well for the Ordre Pour la Vertu Militaire of 1769, a museum-quality piece, which was estimated at 10,000 euros. Only one other order cross in this condition was known to exist, namely in the State Hermitage Museum in St. Petersburg. Of superb quality, in excellent condition, with a fully documented award and ownership history, and a miniature portrait of the bearer, the order cross from Hesse-Kassel quadrupled expectations by fetching 40,000 euros and now takes pride of place in a new collection.
Fine antique firearms
Once again, the antique firearms section included pieces of sensational rarity that enraptured buyers, like a late Gothic stone cannon from the second half of the 15th century. Cast in one piece, the iron bombard was moderately valued at 8,000 euros and changed hands for precisely this sum. The extremely high quality wheellock puffer for enlisted men of the Saxon Electorate Palace Life Guard was produced several decades later, circa 1580/90. Bids were invited from 12,000 euros for the beautiful puffer in pristine condition from the collection of the armoury in Dresden, lavishly embellished with intricately engraved bone inlays, which cost its new owner 14,500 euros.
Pair of deluxe percussion pistols, Lebeda in Prague, circa 1840/50. Hammer Price: 18,000 Euros.
Other masterpieces from the finest gunsmiths also met with collectors' approval, like a deluxe Austrian wheellock rifle, made circa 1650 by the 'master of the animal-head scroll', with a starting price of 12,500 euros and its winning bid of 13,500 euros; a heavy deluxe percussion target rifle, circa 1840, by Moritz of Leipzig, which was snapped up for its limit of 25,000 euros or a pair of deluxe percussion pistols, circa 1840/50, from Lebeda's renowned workshop in Prague, valued at 7,500 euros, yet fetching a very gratifying 18,000 euros.
All prices are net prices and are to be understood plus 23 percent surcharge.
All results of the auction you may find here on the website of Hermann Historica.