[bsa_pro_ad_space id=4]
Heritages' Long Beach Expo Auctions Realize $13 Million
Only 100 business-strike Liberty eagles were struck in 1875, making it the lowest mintage regular-issue U.S. gold coin and the premier rarity of the series. Collectors know a rare opportunity when they see one and Heritage Auctions' presentation of an 1875 $10, AU50, pushed the auction price to $360,000. The piece took top lot honors during the Long Beach Expo U.S. Coins Auction held Feb. 20-23.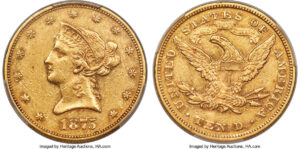 "The 1875 $10 was a leader from the stellar Harvey B. Jacobson Collection of Liberty Eagles," said Jim Halperin, Co-Founder of Heritage Auctions. "We were extremely proud to present this collection and collectors responded in kind."
Jacobson's collection brought a combined $3,220,896 and also offered the auction's second-rarest Liberty Head Eagle, the 1864-S Liberty Eagle, XF45, which found a buyer at $126,000. The 1864-S is the rarest eagle from San Francisco with no other year claiming a smaller mintage than 1864, when just 2,500 examples were struck. There are an estimated 25-30 pieces known, and at least half of these grade lower than XF40, with some survivors as low as VG8.
Another low-mintage coin from the Jacobson Collection to cross the block was an 1883-0 $10, AU50, Gold CAC Label, one of just 800 coins struck, which sold for $90,000. The 1883-O is the rarest New Orleans eagle of both No Motto and With Motto design types. In addition, a highlight of the collection, a 1839/8 Type of 1838 Ten Dollar, MS63, ended at $114,000. The coin is one of the finest known to exist, as problem-free pieces are not as easy to locate as they were a decade ago. In Uncirculated, Jacobson's piece is a rare coin with an estimated 10 known.
Outside of the Jacobson Collection, a stunning, 1893-S Morgan Dollar, MS62, a series key, survived in wonderful condition from the low circulation strike mintage of 100,000 pieces, to sell for $150,000. The pleasing specimen displays sharply defined design elements and minimally marked surfaces. Liberty's cheek and neck are unmarked. The fields are partially reflective and almost as unblemished as Liberty's cheek.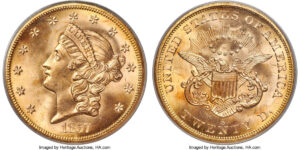 From The Kodiak Collection, a 1857-S Double Eagle, PCGS MS67, sold for $114,000. The piece is from one of the most important numismatic events of the last quarter-century: the was discovery of the S.S. Central America treasure that was lost when that ship sunk in a hurricane in September 1857. The 1857-S double eagles were marketed in special presentation binders and custom boxes, including a certificate of authenticity. All of that material was included with the present lot that featured a CAC-approved Superb Gem grading, displaying frosty yellow luster and incredible eye appeal.
From a collection called The Stunning 1908 Proof Set, a 1908 Motto Double Eagle, PR66+, a first matte proof issue of the classic 20th century rarity, sold for $180,000. The collection's Indian Half Eagle, PR66, CAC, a rare sandblast proof, finished at $84,000.
Additional highlights included, but were not limited to:
An elusive late-series issue of an 1931 Saint-Gaudens $20, MS66, which brought $120,000
A 1797 $10 Small Eagle, BD-1, R.5, AU55 PCGS, which sold for $102,000
A scarce 1795 $1 Flowing Hair, Two Leaves, B-2, BB-20, R.3, MS62 PCGS, which sold for $75,000
For all further information on forthcoming auctions and results go to the Heritage website.
Here you can see the Auction highlights in a video.