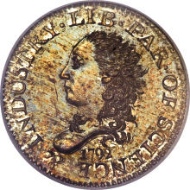 [bsa_pro_ad_space id=4]
08-01-2013 – 13-01-2013
U.S. Coin Florida United Numismatists (FUN) Signature® Auction
1792 Half Disme sold for $1.41 million
A unique and historic 1792 Half Disme realized $1.41 million dollars on Jan. 10 as part of Heritage Auctions' U.S. Coin Florida United Numismatists (FUN) Signature® Auction in Orlando, FL. The price realized, which includes 17.5% Buyer's Premium, is a record for a Half Disme.
5570: 1792 H10C Judd-7, Pollock-7, R.4 as a Business Strike SP67 PCGS. Realized: $1.41 million.
The coin, previously owned by Floyd Starr, is graded Specimen-67 PCGS. It was the lead lot of the Heritage rare coin auction at FUN, which realized more than $44.9 million, and is among the best of all surviving examples of the issue.
The mintage of these coins is variously estimated at 1,500 to 2,000 coins, based on documentary evidence left by Thomas Jefferson, though only an estimated 250 or so of them survive to this day, and none of them in better shape than the coin sold by Heritage Auctions on Jan. 10 in Orlando.
The results join the more than $13.4 million realized by the Heritage Currency Auction at FUN, Jan. 9-14, in Orlando, and the more than $14 million Heritage realized at the Waldorf-Astoria in New York, where the company held its Jan. 6-7 Ancient & World Coin Signature® Auction, making for a $72+ million week overall for Heritage, the world's third largest auction house.
"Quality material continues to show up on the market and collectors continue to respond, across all areas of numismatics," said Greg Rohan, President of Heritage Auctions. "This week in January normally sets the tone for the year and, if this is any indication of collector engagement, 2013 is going to be solid."
5723: 1803 $1 PR66 PCGS. B-7, BB-303, High R.7. Realized: $851,875.
An 1803 $1 PR66 PCGS, one of just four known and also known as novodels to present-day collectors, realized $851,875 amongst spirited bidding, while an 1838-O Reeded Edge Half Dollar, PR64BM PCGS, among the most famous coins of all American coinage issues, was the subject of much collector buzz on its way to realizing $734,375.
Further highlights of Heritage's FUN auction include a 1792 Half Disme, MS64 PCGS, Ex: Liberty Collection, which realized $528,750, an 1880 $4 Flowing Hair, PR66 NGC – one of just 15-20 examples of this type of Stella known – brought $440,625 and a unique 1838 25C No Drapery PR63 PCGS, the Dupont-West PR63 Specimen, which proved quite popular with collectors to the tune of $381,975.
You can browse through the complete online auction catalog here.