[bsa_pro_ad_space id=4]
Heritage in January: $68.8 Million in Two Numismatic Auctions
Heritage Auctions announced that its numismatic sales through the month of January totaled a combined $68,811,129 from its Signature Auctions held during the Florida United Numismatic Convention and the New York International Numismatic Convention conventions.
Sales spanned U.S. Coins, U.S. Currency, World Paper Money and World & Ancient Coins only offered during the conventions. The sale total does not include January's weekly, monthly or private numismatic sales.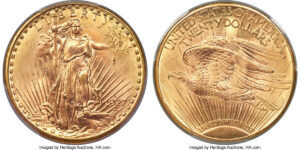 U.S. Coins
"We were especially pleased about the house and world records achieved across U.S. and World coins," said Greg Rohan, President of Heritage Auctions. "These two events are among the largest of the year and we're delighted to deliver powerhouse results to our clients."
The world's largest numismatic auctioneer garnered $41,777,374 in U.S. coins sales, which were led by a $2,160,000 bid for a 1927-D Double Eagle, the rarest regular-issue of a 20th century American coin. One of likely seven examples publicly available, the sale of the $20 MS65+ PCGS. CAC, marks the first time in five years Heritage has offered a 1927-D double eagle, which last sold for $1,292,500.
An exquisite specimen of an 1855 G$1 PR66★ Ultra Cameo NGC, the finest of only seven confirmed examples, realized $336,000. The coin displays smooth, mirrored looking-glass fields and thick frost on the devices, with superlative black-on-gold contrast.
Additional U.S. Coin highlights offered during the Florida United Numismatic Convention (FUN) include:
A 1927-S Saint-Gaudens $20 MS66+ PCGS. CAC, an elusive branch mint issue and the second-finest certified at PCGS ended at $312,000. The coin's rarity only enhanced its sale price: The large mintage of 3.1 million pieces was almost totally destroyed after the Gold Recall of 1933, and only a small number of examples surfaced in European holdings in the 1950s.
Among the finest known of this one-year type, a 1796 No Stars Quarter Eagle, MS63 NGC, sold for $300,000. The 1796 No Stars quarter eagle shares a reputation with its later sibling, the 1808 quarter eagle, as among the most significant and rarest gold type coins of any denomination due to low mintages.
A 1794 Flowing Hair Dollar, VF35 PCGS, garnered 45 bids before it sold for $288,000. The key piece offered as part of The Watermark Collection.

U.S. Currency
Several special collections and a hoard of notes from the notorious gangster Baby Face Nelson lead $9,992,733 in total sales of U.S. Currency.
Top lot currency honors during the FUN auction were claimed by a $228,000 winning bid for the finer of two known 1863 $100 Compound Interest Treasury Note, PMG, Very Fine, 30 EPQ. The note's colorful bronze overprint is bright and completely intact, the red overprint vivid and the note displays an eye appeal that is absolutely mesmerizing.
An extremely rare, 1882 $5 Brown Back, PMG Choice Extremely Fine, sold for $144,000. The standout note featured Serial No. 1 – unique for both the bank and the rare location of The First National Bank in Guernsey, Wyoming. Few notes generated more buzz among collectors than this newly discovered note. The fascinating tale behind the note proved irresistible among collectors: The First National Bank of Guernsey was the shortest-lived note issuing national bank in Wyoming, lasting less than 13 months between its organization in April of 1900 and the closing of its doors forever on May 1, 1901. During its short tenure, a minuscule 400 sheets of $5 Brown Backs and 362 sheets of $10 and $20 Brown Backs were printed, with none reported to date until this serial No. 1 note was discovered.
Additional highlights among the sale of U.S. Currency include:
From the Gilmore Sem Collection, Part II, a unique Minnesota $5 Black Charter Note, PMG, Choice Fine 15, sold for $108,000. It was the highlight of a wonderful selection of Minnesota nationals offered during FUN, and is considered one of the greatest notes from Minnesota to ever cross the auction block.
A dazzling, 1880 $100 Silver Certificate, PMG Very Fine 30, ended at $60,000. One of just two dozen known to exist, the auction offered collectors a rare opportunity to own a bank note of which one quarter of the known examples currently reside in museum or other institutional holdings.
A newly discovered collection tied to a 1930s crime spree and money laundering effort by gangster Baby Face Nelson, recently discovered in Texas, sold for a combined $19,200. The collection was offered along with a cash hoard tied to Hyman S. Lebman, a gunsmith from San Antonio known to launder money for Nelson. The most expensive lot in the Lebman collection was a 1928 $50 Dallas Federal Reserve Replacement Note, which sold for $10,200.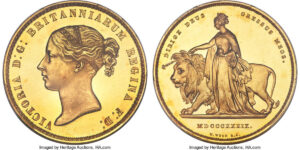 World & Ancient Coins
A 1839 5 Pound Victoria Gold Proof from Great Britain, PR64 Deep Cameo PCGS, popularly referred to as the "Una and the Lion," set a world auction record for the type when it sold for $690,000, capping total January sales of World & Ancient Coins at $17,041,022.
"The sale of the 5 pound 'Una and the Lion' bested the previous world record by more than $100,000," said Cristiano Bierrenbach, Executive Vice President of International Numismatics. "We are extremely pleased with the sale results across both world and ancient offerings and many exceeded high expectations."
The truly stellar example of one of Britain's most iconic and beautiful coins, the 1839 5 Pound Victoria Gold Proof is one of a number of varieties of the "Una and the Lion" 5 pounds coins produced over the years. However, the example on offer, with its sublime cameo contrast and minimal handling, represented a peak-quality selection of this exceedingly popular type, tying for the absolute finest of any of the varieties seen by PCGS, and with mere two examples seen finer by NGC.
A second specimen of an 1839 Victoria gold Proof "Una and the Lion" 5 Pounds 1839, PR61 Ultra Cameo NGC, realized $300,000.
A Dutch, Willem I Proof 25 Cents 1818-U, PR62 PCGS, ended at an impressive $156,000. The entire mintage of this proof issue is estimated to be limited to simply a few test pieces, presuming that only a handful of examples survive today. Seldom seen at auction, the specimen exhibits a glossy, reflective surface, which has developed a handsome, aurous patina with charcoal elements at the peripheries.
An especially exceptional 1817 "Three Graces" George III silver Proof Pattern Crown, PR65 NGC, sold for $156,000. Alongside the famous 1839 Una and the Lion 5 Pounds, the 1817 Three Graces Crown represents artist William Wyon's most celebrated piece of medallic art. "The portrait of King George is far finer on this issue and is now a key piece in one collector's cabinet," Bierrenbach said.
An example of a 1916 Oaxaca Revolutionary 60 Gold Pesos, an astounding representative of the Revolution's largest gold coin, sold well above expectations for $102,000. A standout during NYINC, the specimen is of Mexico's most iconic gold coinages and one whose popularity makes it almost impossible to obtain for the majority of collectors. In exquisite condition, bordering on gem, the surfaces of the example appear a perfect buttercup-yellow with velvety tone and little evidence of handling.
Additional highlights of World Coin offerings include:
A Danish, 1704 Frederik IV gold 5 Ducat, MS62 NGC, sold for $120,000.
A Spanish, 1708 Philip V gold 8 Escudos (Aqueduct)-Y, AU58 NGC, ended at $114,000.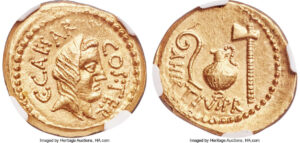 Julius Caesar Aureus Highlights Ancients
Of the more than 278 ancient coins offered during NYINC, top-lot honors were claimed by a Sicily Syracuse, Time of Dionysis I decadrachm, circa 405-367 BC, which sold for $132,200.
The legendary year 77 Dinar – the first "Islamic" Coin – an Islamic Dynasties: Umayyad., circa 685-705 AD, AU53 NGC, sold for $96,000. It is likely the only certified example and nearly perfectly centered. The example showed only slight circulation wear, creating an extremely appealing example of this rare and historic coin.
Collectors were anxious to vie for a choice mint state "Star" Julius Caesar Aureus, NGC Choice MS★ 5/5 – 5/5, from the former Lexington Collection of Jonathan K. Kern. The coin's crisp depiction of Caesar on the obverse, the piece is considered a simply a magnificent aureus, with perfect strike, centering, and lustrous surfaces. Well deserving of the star designation received and tied with one other for finest graded, the coin sold for $66,000.
Heritage Auctions' largest upcoming offering of World & Ancient Coins takes place April 22-27 during the Central States World Coin Convention, live in Chicago and on HA.com. During the months of February and March, private collections will be on offer, including a Special Collection of Frankfurt Coins, Feb. 9 and The El Don Diego Luna Collection, with bidding beginning approximately February 23.
For all further information on forthcoming auctions and results go to the Heritage website.