[bsa_pro_ad_space id=4]
22-01-2017 – 01-01-1970
Total results 2016
Heritage Auctions' Reports $850+ Million Year
Heritage Auctions announced sales of more than $850 million for 2016, the firm's third-best year ever, and nearly equal to its 2015 sales of $860 million. The results are a signal of the company's continuing dominance in the collectibles realm while other major auction houses recorded significantly lower sales volume for the same period.
Heritage's fine art category recorded a 28 percent leap in 2016 – in stark contrast to sales at its two largest competitors, both of which saw sales decline by approximately 30 percent.
"Through diversity, transparency and ardent attention to our clients, Heritage solidified and increased its commanding lead as the largest auction house founded in America," said Heritage Co-Chairman James Halperin. "And we're anticipating an even better 2017."
U.S. Coins remains Heritage's largest category, with 2016 auction totals exceeding $192 million, outselling all other numismatic auction houses combined by a wide margin according to the Professional Numismatists Guild annual survey, which shows Heritage maintaining its 56 percent market share. 2016 saw significant activity in online auctions, with Heritage's Tuesday and Sunday Internet Auctions garnering $14.2 million.
1894-S Barber Dime.
The numismatic highlight of the year was undoubtedly the January sale of the fabled, famed and elusive 1894-S Barber Dime. Just 24 were struck, with fewer than 10 thought to survive to this day. It is a classic American rarity that has eluded collectors for generations. Graded PR66, it is the finest PCGS specimen recorded. Sixteen bidders vied for the coin before it hammered at $1,997,500 million – making it the highest price for any US Coin sold at auction in 2016.
Judd-9 1792 P10C Silver Dismes.
Ten-cent pieces filled Heritage's top three spots for 2016 sales. A pair of early American Dismes follows the Barber Dime on the sales chart. The finest of three known Judd-9 1792 P10C Silver Dismes was offered for public sale for only the second time in two centuries. The coin was graded AU50 by PCGS and sold for $998,750.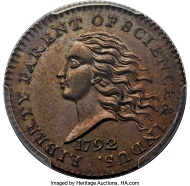 1792 Judd-10 Copper Disme.
A 1792 Judd-10 Copper Disme, also the finest known of its type, gave collectors the opportunity to purchase two of the rarest American patterns in existence – in the same sale. Twelve bidders vied for the PCGS SP64 pattern before it sold for an auction record $705,000.
1849-C Open Wreath Dollar.
An 1849-C Open Wreath Dollar was the highest-selling gold issue in 2016. Just 125 are thought to have been struck at the Charlotte Mint, making it one of the rarest gold issues in the history of Unite States coinage. Graded MS62 by PCGS, it is the only uncirculated example graded. The coin sold for $528,750, an auction record for the type.
1792 Silver Center Cent.
Two 1792 cents made national headlines in August at Heritage's ANA Signature Auction in Anaheim, California. A 1792 Silver Center Cent, believed to be the first coin produced inside the first U.S. Mint, was on offer for the first time in the United States.
1792 Birch Cent.
An even scarcer 1792 Birch Cent, the finer of two known pieces, was in high demand as well. The two coins sold for a combined $869,500, a staggering 43 million times their face value.
1920-S Saint-Gaudens Double Eagle.
One of the most melted American gold issues brought over $500,000 in November. A 1920-S Saint-Gaudens Double Eagle, graded MS65 by PCGS with sharp details and deep luster, attracted offers from a baker's dozen bidders. It was unquestionably worth every penny of its $517,000 hammer price.
1804 Quarter Eagle 13 Stars Reverse AU55 PCGS.
Another scarce, high-grade gold issue passed the half-million-dollar mark in 2016: an 1804 Quarter Eagle 13 Stars Reverse AU55 PCGS was one of the highlights of January's FUN sale. The piece is the second-finest known and sold for $505,250.
Heritage sold more than 65 coins for over $100,000, 23 of which sold for $250,000 or more. With strong sales already recorded over the first few weeks of the year, 2017 is sure to be another market-leading year for Heritage.
Other auction highlights include, but are not limited to:
1870-S Seated Dollar, XF40 NGC.
1870-S Seated Dollar, XF40 NGC: One of nine confirmed examples – realized $423,000
1856-O Liberty Double Eagle, AU55 PCGS.
1856-O Liberty Double Eagle, AU55 PCGS: Fourth-finest of 23 known – realized $364,250
1792 Judd-2 Alloy Cent Pattern, VF35 PCGS.
1792 Judd-2 Alloy Cent Pattern, VF35 PCGS: One of nine thought to survive – realized $352,500
1880 Flowing Hair Stella, PR65 NGC.
1880 Flowing Hair Stella, PR65 NGC: One of 15 struck – realized $352,500
World & Ancient Coins at Heritage realized about $47 million, while Currency posted over $29 million auction sales. Both categories also showed early signs of increased market strength at major Heritage auctions in Florida and New York which realized almost $70 million during the first 10 days of January 2017.
"Based on late 2016 and early 2017 auction results, the U.S. Coin Market remains upbeat, with prices now already 10 to 12 percent above the previous years' prices, on average," Halperin said. "We are already seeing extremely positive results from the first coin auctions of the year. Meanwhile, our plans to expand into other markets and geographic regions are on track."
Several of Heritage's other categories set records:
Heritage's Sports auctions grew from $42 million in 2015 – already more than double any other auction firm's Sports Collectibles sales – to an incredible $57.4 million in 2016.
Heritage's already-dominant Comics and Comic & Animation Art Auction category was another juggernaut, with total realized auction prices realized jumping from $34 million to a record $43 million, again outselling all other auction competitors combined.
Fine Jewelry, Timepieces and Luxury Accessories at Heritage combined for a solid year as well, with more than $41.7 million in auction totals (more than $30 million in Jewelry and Watches and more than $10.7 million in Luxury Accessories), versus more than $26 million ($15 million in Jewelry and Watches & $11 million in Luxury Accessories) in 2015.
Movie Posters posted sales of $7.95+ million vs. $7.4+ million in 2015.
Luxury Real Estate saw sales increase to $19 million vs. $11.2 million for 2014 and 2015 combined.
Wine recorded auction totals of $10.8 million in 2016 vs. $7.55 million in 2015.
Strategic growth continued as:
The company expanded its national footprint, opening an office in Palm Beach, Florida, and a full-service showroom in Chicago, Illinois.
For the first time, Heritage's clientele now includes more than 1 million online registered bidder-members, with nearly 90,000 new members added in 2016.
The firm also maintained its online lead, with the total number of unique visitors to HA.com holding steady at nearly twice the combined total number of unique visits the websites of Heritage Auctions' five closest competing web sites.
Online sales (reported in early 2016 for 2015) were $344 million – surpassing all other auction houses; 2016 online sales figures are now being compiled and will be released soon.
Heritage Auctions is the largest auction house founded in the United States and the world's third largest, with annual sales of more than $850million, and over one million online bidder members. For more information about Heritage Auctions please visit the company's website.
You can also follow Heritage Auctions on Facebook and Twitter.