[bsa_pro_ad_space id=4]
Heritage Auctions' FUN US Coins and Currency Auctions
From 5th to 7th January 2022 Heritage Auctions will hold their FUN US Coins and Currency Signature auctions. The sale includes many well-known collections and highly sought-after coins and banknotes. Here are some of the more important highlights of the sale:

Ultra-Rare 1882 $1,000 Gold Certificate
One of just four examples of a rare 1882 Gold Certificate, only two of which are available to the public, could bring $500,000 or more when it crosses the block in the FUN Currency Auction. The other two examples of the Fr. 1218g $1,000 1882 Gold Certificate PCGS Extremely Fine 40 are in the holdings of the Federal Reserve Bank of San Francisco and the Smithsonian Institution.
"This note represents an extraordinary opportunity for collectors of U.S. banknotes," Heritage Auctions Numismatics Vice President Dustin Johnston said. "Only two examples of this Lyons-Treat signed note are known in collector hands, and the one offered in this auction is by far the nicer of the two." This $1,000 Gold last appeared at auction in 2018 and realized $576,000, a sum that very well could be exceeded in this sale.
One of only eight known examples of a Fr. 150a $50 1863 Legal Tender PMG Choice About Unc 58 EPQ (estimate: $200,000+), one of which is housed in the holdings of the Federal Reserve Bank of San Francisco, includes the Second Obligation back with the 1863. The offered example is easily the finest of that group of eight notes; none of the others in the group is graded above an impaired Very Fine. The offered note is the finest of approximately 50 in the subgroup for all 1862 and 1863 $50 Legals combined. Old-time auction records indicate that this piece was twice called Choice New by another auction house over 20 years ago.
From the BREA Collection, a Fr. 2231-A $10,000 1934 Federal Reserve Note. PMG Choice Uncirculated 63 (estimate: $200,000+) represents one of the most coveted pieces of collectible U.S. currency. With a serial number that until now had not been captured by census takers, this note's high face value precluded it from being set aside as a souvenir. About a dozen Series 1928 notes and around 200 of the Series 1934 notes are known in all grades and districts combined for this denomination, and of that total, roughly half of the 1934 notes are from the New York district, thanks to the famous Binion hoard, with the remaining survivors scattered over the other 11 Federal Reserve districts.
Also from the BREA Collection, an original Fr. 2221-K $5,000 1934 Federal Reserve Note. PMG Choice Uncirculated 64 EPQ (estimate: $175,000+) is from just 2,400 notes that were printed and issued through the Federal Reserve Bank in Dallas, each of which includes the lime green overprint. This note is new to the census and boasts a low serial number of 67, which earns a spot among a small group of exceptional examples from the district with similar serial numbers. Among the $5,000 notes graded in all districts, few have earned higher marks; in the last two decades, only one Gem example has made it to public auction.
A Kansas City District Fr. 1132-J $500 1918 Federal Reserve Note PMG Choice About Unc 58 (estimate: $60,000+) of roughly a dozen reported to the census is the finest-graded example of this Friedberg number. Demand remains high for large size high denomination examples that captivate the interest of even the most discerning collector. High denomination notes always have an impressive face value. Still, the buying power was much more significant when this note was printed more than a century ago – for context, consider that when this note was issued, a brand-new Ford Model T was around $500. That any of these notes remains is extraordinary, considering there never was a concerted effort to preserve them.
Other highlights include, but are not limited to:
A Fr. 127 $20 1869 Legal Tender PCGS Banknote Gem Unc 66 PPQ (estimate: $60,000+)
A Fr. 367 $10 1890 Treasury Note PMG Gem Uncirculated 65 EPQ (estimate: $50,000+)
A Fr. 1700 $10 1933 Silver Certificate. PMG Gem Uncirculated 66 EPQ (estimate: $50,000+)
A Fr. 179 $100 1880 Legal Tender PMG About Uncirculated 55 (estimate: $50,000+)
A New York, NY – $100 Original Fr. 454 The National Bank of Commerce Ch. # 733 PMG Very Fine 20 (estimate: $40,000+)
A Serial Number 1 Key West, FL – $5 1882 Brown Back Fr. 472 The First National Bank Ch. # 4672 PMG Very Fine 30 (estimate: $40,000+)
A Fr. 230 $1 1899 Silver Certificate PCGS Banknote Superb Gem Uncirculated 69 PPQ (estimate: $40,000+)
Gold Quintuple Stella
An exceptionally rare gold quintuple stella could top $2 million. The event also features the seventh selection of coins from the Collection of Bob R. Simpson, a treasure trove that made its debut at Heritage when the Important Selections from The Bob R. Simpson Collection crossed the block in September 2020. To date, the spectacular items in the Simpson Collection have brought more than $77 million. Those seeking big treasure also will be drawn to the largest Justh & Hunter gold brick found aboard the sunken "Ship of Gold," a 54-pound Gold Rush ingot that disappeared at sea in 1857.
The 1879 Liberty Head Quintuple Stella, Judd-1643, Pollock-1843, High R.7, PR63 Cameo PCGS is an extremely rare gold pattern that is especially popular with collectors because of its close relationship to the famous 1879 and 1880 stellas. These coins were early attempts to establish an international coinage, much like the present-day euro. There are five examples known, but one of those is in the National Numismatic Collection at the Smithsonian Institution, forever out of reach of eager collectors. The coin offered here has an unbroken pedigree all the way back to the Mint in 1879 and has been a highlight of many famous collections over the years, including the Garrett Collection and Ed Trompeter's fabulous collection of proof gold coins. Heritage Auctions has not sold a quintuple stella since 2007.
"This is an extraordinary coin, one of only five known," Heritage Auctions President Greg Rohan said. "Patterns were struck in minuscule numbers to show what a proposed design or denomination would look like, how well it could be produced by the dies, and to test new alloys, but were never mass produced for circulation. Examples of the 1879 quintuple stella are known in copper and gold, the latter variant being the rarer of the two and by far the most sought after. This is the kind of coin people spend years trying to find."
An 1839/8 Liberty Eagle, Type of 1838, PR62 PCGS. JD-1, R.8 is a landmark rarity among early U.S. proof gold issues. This coin, which could approach or exceed $1 million, is one of just three examples known. One of the other known specimens is in the National Numismatic Collection at the Smithsonian Institution and the third is held in extremely strong hands in the Tyrant Collection, making this example the only one available to collectors. This coin was discovered by Heritage Auctions Director of European Operations Marc Emory as part of an original three-piece gold proof set in 1981. It is unlikely that any other example will become available for many years once this coin passes the auction block.
A beautiful 1821 Capped Head Left Quarter Eagle (BD-1, JD-1, R.8 as a proof), PR65 Cameo NGC, one of the earliest proof gold coins ever struck at the United States Mint, also could reach $1 million or more. Heritage Auctions experts believe only three examples are extant, but one of those is included in the National Numismatic Collection and never will be available to collectors. This coin has an illustrious pedigree going back to 1890, having graced such famous collections as those of Lorin G. Parmelee, Virgil Brand and James A. Stack. It has been off the market for 16 years and it may be that long again before a comparable example becomes available.
A 1792 Disme Judd-10, Pollock-11, High R.6, MS64 Brown PCGS, one of the finest certified examples of the coin. Only 65 pieces of 1792 coinage were struck in all denominations. Today a mere 18 individual pieces are known of the 1792 copper disme with a reeded edge; population figures dictate that each variety is a significant rarity. (The count does not include the 1792 silver half dismes, Judd-7, that are almost certainly regular issue coins.) The list of the first coins struck inside the Philadelphia Mint included 1792 dismes (as well as pattern cents and quarters); 1792 pattern coinage combined technical experimentation with differing representations of Liberty.
The 1879 and 1880 Coiled Hair stellas and the 1880 Flowing Hair stella are among the rarest of American gold coins, far more than their 1879 Flowing Hair counterpart, and the 1880 Coiled Hair is easily the rarest of all. An 1880 Coiled Hair Stella, Judd-1660, Pollock-1860, JD-1, Low R.7, PR61 NGC in this auction is one of no more than 10 known gold examples (a population that includes one that resides in the National Numismatic Collection at the Smithsonian Institution). Stellas were produced as patterns for a proposed international goloid coinage, and were included in three-piece goloid sets offered to favored collectors.
Rarely seen outside the highest-profile auction settings, an 1856-O – Double Eagle – Surfaces Smoothed – PCGS Genuine. XF Details. Variety 1 is "without doubt … one of the rarest, most desirable and most popular of all U.S. gold coins," according to the late, renowned numismatist David Akers. Its rarity within the Liberty double eagle series is comparable only to that of the 1854-O and the 1861 Paquet Reverse; the Paquet is largely uncollectible.
Another ultra-rare offering in the sale, once in the collection of King Farouk of Egypt, is an 1838 Gobrecht Dollar Name Omitted, Judd-88 Restrike, Pollock-98, R.8, PR64 PCGS, one of three known examples (all from the same die state), only two of which have been made available to the public. During his tenure as Mint Director, Henry R. Linderman created or allowed others to create many exotic numismatic rarities, including the Judd-88 Gobrecht dollar. This Starry Reverse Gobrecht Dollar, struck in April 1869 during the final days of his first term as Director, is among those rarities.
The finest known example of an 1861 Half Eagle PR66 Cameo NGC. JD-1, R.7 – by two full grade points – comes from what many experts consider the rarest issue of the series after 1859. From a mintage of 66 pieces, the coin that is just as rare in proof format as many gold proof issues of the 1860s, which had much smaller production totals. At least 10 examples reportedly were melted in January 1862 after going unsold the year before, and it is possible that others never were distributed, leading numismatic authors Jeff Garrett and Ron Guth to suggest that fewer than 10 from this issue survived.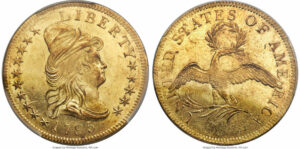 Finest 1795 Capped Bust Right Small Eagle 10
There is an adage in the oil and gas business about "going back to the well." Simply put, as long as a well remains productive, why would anyone pack up and look elsewhere for oil?
That concept has served Bob R. Simpson and his clients well over the years. Long before he became part owner of the Texas Rangers baseball club, Simpson owned XTO, previously Cross Timbers Oil Co. If anyone understands the idea of going back to the well, it's Simpson, who has assembled a coin collection ranked by Professional Coin Grading Service as one of the best ever amassed.
Also familiar with the concept of going back to a productive source are collectors of elite coins at Heritage Auctions, who will have a chance to acquire prizes from Simpson's collection.
"The same shrewd decision-making and savvy that made Bob such a successful businessman went into the years he spent assembling his exceptional collection," Heritage Auctions President Greg Rohan said. "In business and in his passion for collecting numismatics, he made sound decisions based on extensive information and experience, which led him to build one of the finest collections ever assembled."
The Simpson Collection produced nearly 130 lots in the auction. Highlights include, but are not limited to:
The 1795 Nine Leaves Ten Dollar, BD-3, R.6, MS63+ PCGS. CAC is the rarest and most popular of all the Capped Bust Right, Small Eagle tens. John Dannreuther calls this issue "the king of the Small Eagle type." Heritage Auctions is privileged to present the finest certified example of this important early gold rarity in this landmark offering. Whether the decision to have nine leaves on the branch on the reverse was an experiment or a die-cutting error is unknown; the fact that the branch had 11 leaves in the two subsequent years suggests it was, indeed, an experiment. The offered coin was acquired in 1989 by Mack and Brent Pogue, who made it the cornerstone of their collection of early eagles; at the time, the cataloger called it "a coin that towers head and shoulders above its competition." The Pogues sold it at auction in 2015 for just over $1 million, shortly before it was sold to Simpson.
An 1863 Quarter Eagle PR66 Deep Cameo PCGS. CAC. JD-1, R.6 is from a classic issue with a reputation that reaches beyond collectors of prized 19th-century gold proof coinage. The quarter eagle was only struck in proof format in 1863, to the extent of just 30 pieces. Of that miniscule total, the offered example is among the finest survivors, certified at the PR66 Deep Cameo level by PCGS – a grade reached by only one other submission.
Struck from perfect dies that were engraved by Robert Scot, a 1796 Quarter B-2, R.3, MS66 PCGS is one of a total mintage of 6,146 pieces that was spread out over four deliveries from April 1796 to February 1797. This extraordinary Premium Gem example was one of the early strikes from the B-2 die pair, and appeared first in the 1796 quarter dollar emission sequence. This example ranks third-finest in the Rea-Koenings-Haroutunian Condition Census, and it matches the plate in the 1956 New Netherlands catalog, which says this piece is from the B. Max Mehl sale of the Ten Eyck Collection in 1922. The same has been said about another coin; it is impossible to declare with certainty which was from the Ten Eyck Collection.
Once a part of the collection of King Farouk of Egypt, an 1838 Gobrecht Dollar Name Omitted, Judd-88 Restrike, Pollock-98, R.8, PR64 PCGS is one of just three known examples, all of which come from the same die state. Henry R. Lindeman was a Mint Director whose collection was offered at auction after he died in 1878. What was not known until much later was the fact that he created, or allowed others to create, exotic numismatic rarities during his tenure as Director – a list that included the Judd-88 Gobrecht dollar, which was struck in April 1869, during the final days of his first term. Of the three known examples, one is the Dr. Korein coin now permanently housed in the ANS, making this offered example one of just two available to the public.
The finest known example – by two full points – of the 1861 Half Eagle PR66 Cameo NGC. JD-1, R.7 is from the rare issue of which Jeff Garrett and Ron Guth suggest fewer than 10 survivors remain. Despite the reported mintage of 66 pieces, the 1861 Liberty half eagle is just as rare in proof format as many gold proof issues of the 1860s with even smaller production totals. Of the six coins known to Heritage Auctions experts, one is in the National Numismatic Collection at the Smithsonian Institution, and another is in the collection of the American Numismatic Society.
The 1796 Quarter Eagle No Stars on Obverse, BD-2, R.4, MS62+ PCGS. CAC is one of the most sought-after U.S. gold types ever struck, and the only Draped Bust issue in the U.S. gold series without obverse border stars. Why border stars were omitted is not entirely clear, although many numismatic scholars suggest the decision was influenced by the Mint's transition from punching one star for each state in the Union to punching just 13 stars, representing the original 13 colonies. Whatever the reason, the 1796 No Stars quarter eagle is arguably the most distinctive early gold issue in U.S. numismatics.
An 1874 Bickford Ten Dollar, Judd-1373, Pollock-1518, R.8, PR65+ Cameo PCGS. Ex: Simpson is one of only two known examples of the coin that is among the rarest, most valuable and mysterious issues in all of numismatics. The coins were unknown to the numismatic community until they were listed in United States Pattern, Trial, and Experimental Pieces, by Edgar Adams and William Woodin, in 1913, and even after they were discovered, the coin's origins remained shrouded in mystery. Neither of the coins was offered publicly until 1979, so the issue remained out of sight, out of mind for even the most dedicated pattern collectors until recently.
An 1879 Washlady Quarter Dollar, Judd-1596, Pollock-1786, R.8, PR63 PCGS reportedly has traded privately several times over the last century; the most famous transaction landed it in the possession of Waldo Newcomer and exhibited at the ANS by pattern expert William H. Woodin in 1914. It later was owned by Major Lenox Lohr and offered in 1960-61 for $475, and has been unavailable since it was last offered through Heritage Auctions 16 years ago.
An 1839 Gobrecht Dollar Name Omitted, Judd-108 Restrike, Pollock-121, R.8 PR64 PCGS is believed to be one of just three known examples of the coin struck in April 1869 at the end of Henry Linderman's first term as Mint Director. Examination of the Starry Reverse Cabinet Coins suggests that the Judd-108 was struck closer to the end of the striking period than the previously mentioned Judd-88.
The Arizona Collection of U.S. Large Cents
A discerning eye taking advantage of important opportunities led to the formation of The Arizona Collection of United States Large Cents, a special collection named after the home state of the shrewd collectors who assembled it. The trove features more than 150 coins, mostly within the Condition Census for their individual varieties. These coins carry the provenance of many collectors including Boka, Eliasberg, Holmes, Husak, Koshkarian, Naftzger, Pogue, Reiver, Starr, Twin Leaf and several others.
This Arizona collector chose some of the best examples out of those past collections. The collection spans from 1793 to 1857, including exceptional quality and historically important examples of all types that will be offered without reserve during Heritage Auctions' Florida United Numismatic Convention U.S. Coins Auction in January 2022. The FUN Convention is slated for the Orange County Convention Center in Orlando, Florida from January 5-9, 2022.
Rarities and Condition Census large cents abound, showing what a dedicated collector can accomplish. Nearly every coin in The Arizona Collection of United States Large Cents would be a highlight of most any other collection:
The Floyd Starr 1793 S-2 Chain America Cent grades MS64 Brown PCGS
The Naftzger 1793 S-10 Wreath Cent is certified MS64 Brown PCGS CAC
A single 1793 Liberty Cap Cent that grades VF35 is from the rare S-16 dies
One of the Finest known 1794 S-48 Starred Reverse Cents grades VF35 PCGS
A 1796 S-92 Draped Bust Cent that grades MS65 Brown PCGS, marks the beginning of the Draped Bust series. More than 20 Draped Bust cents in the collection grade better than MS60
The Eliasberg 1799/8 S-188 Cent grades VF25 PCGS
The Haig Koshkarian 1801 S-219 Three Errors Cent grades MS62 Brown PCGS
One of the Finest 1804 S-266 Cents from the Koshkarian Collection grades AU55 PCGS
Classic Head large cents feature no less than 10 Mint State examples, including an 1809 S-280 cent that grades MS64 Brown PCGS
An 1821 N-2 Cent pedigreed to the Mills, Jackman, and Beckwith Collections, grades MS64 Red and Brown PCGS. This piece is just one of more than 40 Mint State Middle Date large cents
Ted Naftzger's 1824 N-2 Cent grades MS64 Brown PCGS
An amazing 1831 N-3 Cent from the Helfenstein, Naftzger, and Pogue Collections grades MS66+ Red and Brown PCGS
A Condition Census 1839/6 N-1 Cent from the Twin Leaf Collection grades AU55 PCGS
The Koshkarian Collection was the source for an 1844/81 N-2 Cent that grades MS64 Red and Brown PCGS. Thirty-six of the 37 Late Date large cents grade MS63 or finer, including seven that are designated Red
For further information and all lots of the auctions, visit the online catalog of the US coin auction and the currency auction.
Here you can visit the website of Heritage Auctions.