[bsa_pro_ad_space id=4]
Collections and Rarities at Heidelberger Münzhandlung
Auction 76 of Heidelberger Münzhandlung offers a total of 4,285 lots. Herbert Grün once again successfully compiled an extensive array of lots which had previously been consigned by numerous loyal collectors. Because Heidelberger Münzhandlung focuses on the customer who collects with enthusiasm, pays attention to the best possible quality, but does not necessarily own a fortune which can be spent on coins. Hence, estimates range from two-digit to five-digit numbers and everyone will find something to their liking among the broad range of pieces offered. As per usual, Herbert Grün is able to present several comprehensive specialized collections, this time including ancient gold coins, French coins and medals, Luxembourgian coins, German talers, coins from Brunswick, Notgeld from 1914/1915 as well as numismatic literature. It is almost needless to say that bidders will, of course, also find material from various German eras, including the 19th century and the German Empire.
Antiquity
A comprehensive collection of ancient gold coins will be sold in Auction 76 of Heidelberger Münzhandlung. It includes everything from rainbow cups to rare Syracusan coins to the octodrachm of Ptolemy II Philadelphus.
The abundance of aurei which were part of this collection is downright spectacular. Most of them are very fine which presents collectors with the opportunity to acquire great rarities of Roman coinage at very affordable prices. They include a large number of rare coin types: whether it is the double portrait of Caligula and Germanicus or of Vitellius and his father, whether it is the travel series of Hadrian, whether it is Sabina, Aelius, Trebonianus Gallus, Valerian I or Gallienus, whether it is Constantius Chlorus or Constantius Gallus – coin experts will discover a wide selection of coins, some of which bespeak exquisite provenances.
Specialized collectors will rejoice over the small series of coins of Postumus, some of which depict rare reverse images. One aureus in particular, whose reverse features the Eternal City of Rome, will attract particular attention.
Let's not forget about the numerous enticing coins with reasonable estimates which are offered alongside the collection of ancient gold coins, including, for example, an almost completely centered stater from Aigina with a banker's mark in the field left of the sea turtle. The piece is listed with a modest estimate of 500 euros.
A total of 31 lots of Celtic coins, 67 lots of Greek coins, 364 lots of Roman coins, 4 lots of Byzantine coins and 2 lots of Oriental coins will be sold in Auction 76.
Specialized France collection
About 90 lots of coins from France are offered in Auction 76. Here, too, the gold coins prevail, but you will also find a wealth of gold, silver and bronze medals.
What Heidelberger Münzhandlung represents becomes particularly evident in the coins of Strasbourg offered in this auction. In this section, the collector will spot an extremely fine half pistole of Bishop Louis Constantin de Rohan-Guéméné, struck in Oberkirch in 1759, as well as a very fine undated Vierer, which had been unpublished until now. The former piece is estimated at 15,000 euros, the latter at 60 euros. Despite the difference in price, both are interesting in terms of numismatics and history.
Specialized Luxembourg collection
The time span covered in a collection of Luxembourgian coins, which encompasses about 90 lots, ranges from the reign of Ermesinde (1196-1247) up to Grand Duke Jean (1964-2000). Its focus lies on the Middle Ages, a time when rulers such as John the Blind, who was the father of the great King Charles IV, and his half-brother Wenceslaus I made world history.
Alongside both of these specialized collections, coins from all over Europe, overseas and the German Empire will, of course, be offered.
Germany
As expected, the largest section of Catalog 76 of Heidelberger Münzhandlung is dedicated to German coins and medals. In this section, an extensive taler collection, which includes numerous 19th century pieces of exceptional quality, will be sold under the headings of their respective regions of origin. One example is a double convention taler of the Bavarian King Ludwig II struck in 1869. It is an extraordinarily fine first strike estimated at 10,000 euros.
Two additional rarities are the so-called Jagdtaler, struck in Lüneburg around 1620, which can neither be found in the Davenport, nor was it ever a part of the Freiherr Wilhelm Knigge Collection auctioned off at Sally Rosenberg in 1929, (estimate: 20,000 euros) as well as the extremely rare taler of John I of Palatine-Zweibrücken-Veldenz featuring a left-facing portrait. The extremely fine gem from Leu Auction 73, which has also been estimated at 20,000 euros, is considerably rarer than the taler of the same count featuring a front-facing portrait that had been offered in Heidelberger Münzhandlung Auction 75. Said piece had been estimated at 10,000 euros and sold for 34,000 euros. The upcoming auction will show how much the rarer taler featuring a left-facing portrait will realize.
Wild men
273 lots of coins of the various different Brunswick lines will be sold in Auction 76. Most of them feature the image of a wild man with a tree trunk and clothing made of leaves on the reverse. This is a reference to the mining city "Wildemann" and the legend about its foundation. In 1529, miners who were sent out to find new ore deposits allegedly discovered a wild man who lived with a wild woman. They captured him by force of arms and he died as a result from his injuries. At the place of his dwelling, large silver ore deposits were discovered.
It is likely that this story makes reference to the wide-spread idea of large treasures being protected by guardians who have to be killed before the treasure can be seized. This idea found numismatic expression in countless talers and gold coins that all depict a wild man in various ways.
Frankfurt am Main
About 140 lots of coins and medals make up a small Frankfurt am Main collection. Along with coins and tokens given to the spectators on the occasion of the coronation of the German kings, experts will find numerous talers depicting the municipal coat of arms as well as an abundance of fractions and coins featuring a view of the city. The 19th century coins in particular are offered in exceptional grades.
We conclude our preview of the German coins with a taler of perfect grade of Silvius Frederick of Württemberg-Oels, struck in 1675. The gem depicts the duke wearing a Baroque full-bottomed wig and has been estimated at 10,000 euros.
Coins of the German Empire
Of course, Auction 76 will also see Heidelberger Münzhandlung's specialty: coins of the German Empire of perfect grade. Some fitting examples are:
Württemberg. 3 marks 1916 marking the 25th anniversary of Charles's reign, frosted, proof (estimate: 5,500 euros)
Mecklenburg-Strelitz. 20 marks 1874. FDC (estimate: 30,000 euros)
and Reuss, Younger Line. 10 marks 1882. FDC (estimate: 30,000 euros)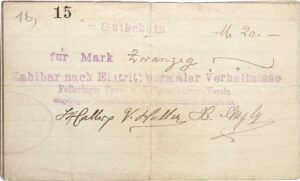 Specialized collection: Notgeld from 1914/1915
Auction 76 of Heidelberger Münzhandlung will also see a 188 lots-strong comprehensive collection of Notgeld banknotes issued in 1914 and 1915. All of the offered pieces are great rarities. They are the top pieces of a much larger collection. If you want to get a sense of how rare these rarities are, suffice it to say that about 70 of them are not even listed in the standard reference catalog of Notgeld banknotes 1914/1915 known as "Keller / Dießner".
If you want to know why the pieces are interesting in terms of monetary history, you just have to look at them in detail. "Gutschein für 20 mark, zahlbar nach Eintritt normaler Verhältnisse" (engl. "coupon worth 20 marks, payable after the restoration of normal circumstances"): this statement can be found on a Notgeld banknote issued by the Spar- und Darlehenskasse of the village of 1,600 souls called Felleringen in the Alsace. The small village, whose history can be traced back to the time of Charlemagne, suffered from a severe lack of cash just as much as other towns and communities in the German Empire during the first months of the War.
The reason for that was mobilization. The Alsace was, just as the German east, one of the army's primary deployment areas. Hence, a large number of men gathered at the expected fronts and naturally they became consumers during their time off. This resulted in a drastic increase of people who required coins for their daily errands. Yet, the local money supply could not keep up with the speed at which this was happening. It comes as no surprise that many of these early Notgeld banknotes originated from the Alsace region and the eastern parts of the German Empire.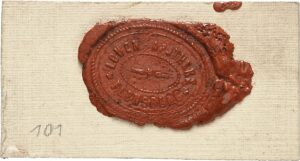 Since coins struck from valuable precious or non-ferrous metal were soon seized as material essential to the war effort all over Germany, the lack of change in particular soon also reached the other German states. There, companies, small businesses, clubs and communities made due with issuing securities as well, such as this beautiful specimen of 50 pfennig issued by the Löwen-Apotheke in Flensburg, which the owner protected from possible forgery with an elaborate seal and his signature.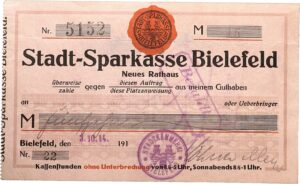 These coupons and payment certificates had no legal basis. Nevertheless, they were widely accepted as this was the only way of maintaining regulated monetary transactions.
Hardly any of those who used the first notes at the time could imagine that soon very different amounts of German Notgeld with very different values printed on them would have to be issued. Hence, they are an important part of German economic history and a record of the effects the First World War had on civilians.
Heidelberger Münzhandlung Auction 76 will close with an extensive selection of literature on ancient numismatics, almost all of which are important for identifying coins.
The corresponding auction catalog can be purchased for 12.50 euros at Heidelberger Münzhandlung Herbert Grün, Gaisbergstr. 40, 69115 Heidelberg, Germany; phone: +49 / 6221 / 65 2970; fax: +49 / 6221 / 65 297-29; email: kontakt@hdmhg.de or online at http://www.hdmhg.de/pgs/Katalog/online/Katalog%2075/Kat75.html
You will also find the catalog on the auction house's website as well as on Sixbid (Part 1 and Part 2) and Numisbids.