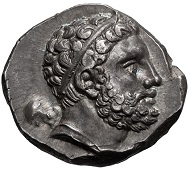 [bsa_pro_ad_space id=4]
26-04-2016 – 01-01-1970
197th Buy or Bid Sale
HJ Berk offers ancient rarities from Byzantium to Southern Italy
The Harlan J. Berk Ltd. 197th Buy or Bid sale will be closing on April 27, 2016 at 4 p.m. (central standard time) featuring 521 ancient coins, 28 world coins, 38 antiquities and 7 antiquarian maps.
Highlights of the remaining lots:
Lot 30: Irene, Syracuse mint, solidus. Coins of Irene were extremely rare to find from Constantinople, even more scarce from the less utilized Syracuse mint during her reign. In more recent times several examples have become available. This has once again started to slow as they become absorbed into the market. Irene was considered a ruthless ruler but certainly a woman of strength and power in her time.
Lucania. Metapontum nomos.
Lot 39: Lucania, Metapontum nomos. A beautifully toned, high relief image of Herakles. The coinage of Metapontum routinely shows wheat on the obverse, which was a staple of their area. This coin is a departure from the typical showing a stunning Herakles. The coin also has a pedigree going back to Bank Leu from 2003, while the company was still strong.
Lot 45: Dekadrachm of Syracuse: Consistently lauded to be one of the most of all the Greek coins, the dekadrachm of Syracuse usually carries a hefty pricetag. This example has noticeable surface irregularities and a scrape on neck of Arethusa, making it available for a heavily reduced price. The coin holds a pedigree from 1977 and the coin will be accompanied by the original invoice for the buyer of this coin.
Lot 51: Philip II of Macedon tetradrachm. Coins of Philip II are considered extremely common. This example is no less so, however, the face of Zeus intimates an almost lifelike, strong portrait of Philip II. The beard is slightly off flan, otherwise, a superb example.
Athens. Tetradrachm.
Lot 88: The Earliest Athens tetradrachm, "Seltman's Civic Mint": The Seltman mint, which never existed is a great class group. This group was misdated by Seltman as a late issue but was in fact the first example of the Athena and Owl type. This class is a trial or experimental type like the earliest Croesus coins. This coin in particular supports that idea. The reverse die struck in extremely high relief has the olive branch rising from the bottom of the right corner of the die rather than the upper left that points towards the center of the die. Another example of this reverse die in Seltman, P-273, is the only other example which is in Berlin. The obverse die is very close to the obverse die on this coin and the die was cut, no doubt, by the same die cutter.
Lot 97: Aegina triobol: A scarce denomination, this small triobol perfectly displays the shell of a sea turtle and is among the earliest of the Greek silver coins.
Lot 99: Corinth stater: Not a rare coin but this example is unusually nice with a well-struck and perfectly centered obverse and reverse.
Lot 117: Aeolis, Cyme tetradrachm: Coins of Cyme are underappreciated. Broad flans with absolutely stunning imagery, these coins are the epitome of why people collect Greek coins. A magnificent coin with a reasonable price.
Lot 119: Islands off Caria, Cos (Plate coin in Requier's study): A compact flan, but otherwise this coin has iridescent toning and striking imagery. The magistrate's name is found on the reverse of these coins. The imagery on both obverse and reverse is artistically steller.
Lot 141: Syria, Demetrios II tetradrachm: An unusually nice example of this type showing the Seleucid ruler with a long, distinguished beard.
Lot 151: Ptolemy II tetradrachm, from the Cyril Lockett collection: A nice example of a coin from a highly respected collection.
Lot 199: Q. Crepereius M.f. Rocus denarius: A lovely toned example,
Julius Caesar. Denarius.
Lot 215: Julius Caesar, Moneyer Q. Voconius Vitulus denarius: Portrait coins of Julius Caesar are highly desirable. This example, minted under one of the moneyers during the Republican time period has a stunning image of Caesar that is rarely obtainable for a decent price.
Lot 216: Sextus Pompey denarius: This coin has some definite detractions, however, the obverse is very nicely struck making it a desirable piece. Legend to the left is sharp, while the right legend is unfortunately off-flan. A noteable historical public figure and important for the collector of imperatorial coinage.
Lot 235: Galba denarius: Galba was the first in a line of four emperors that ruled Rome in 69 AD. This was a tumultuous time for the empire after a period of relative growth and peace which ended when the emperor Nero committed suicide. The elderly ruler Galba is one of the more memorable of the early Roman emperors despite his short 7 months on the throne. This particular piece has cabinet toning and a wonderful strike.
Manlia Scantilla. Denarius.
Lot 292: Manlia Scantilla denarius, wife of Didius Julianus: This coin has a lengthy pedigree going back over 100 years. Ex Berk 72, 4 August 1992, lot 249. Ex Leu 54, 1990, lot 265. Ex Ryan 1951, lot 2206. Ex Laughlin. Ex Vierordt 1923, lot 1790. Ex Imhoof-Blumer lot 1053, J. Hirsch 18, 1907.
Lot 293: Didia Clara denarius, daughter of Manlia Scantilla and Didius Julianus: Another very scarcely acquired coin. This is a pleasant example.
Lot 344: Pupienus denarius: Having reigned only a mere three months, Pupienus remains a popular, yet difficult type to obtain.
Lot 393: Vabalathus as Augustus antoninianus: Vabalathus was a king of the Palmyrene Empire, a splinter state composed of the Roman provinces of Syria Palaestina, Arabia Petraea, Egypt and large parts of Asia Minor, that broke with Rome in the 3rd century AD. Vabalathus served as co-emperor with Aurelian, his western counterpart. Zenobia, the mother of Vabalathus was possibly more famous than her son as a successful empress who led a famous revolt against the Romans. The coinage of Vabalathus is as rare as his time in power short-lived. Eventually Aurelian captured him and his mother and took them as prisoners to Rome where he died either during the journey or shortly after arrival.
Lot 435-442: A small collection of early Spanish bronzes: This small group of high quality, beautifully struck bronzes from ancient Spain is a rare opportunity for collectors.
Olbia AE 69.
Lot 461: Olbia AE 69: The renowned Athenian admiral Pericles promoted the ascendancy of democratic governments in various Black Sea cities, Olbia among them, in conjunction with his expedition to the region. The reverse of the present coin symbolically depicts this transformation, as Zeus's eagle – associated with democracy, dominates and controls the dolphin of Apollo Delphinos, whose cult was popular among the defeated Olbian oligarchy. This coin is one of the largest Greek bronze coins in existence.
Lot 468: Bar Kochba Large Bronze, from the David Hendin collection and a plate coin in his book: This extremely large bronze is known as the "Abu Jara" which translates into "father of the jar" and refers to the size of the coin and the large amphora depicted on its obverse. A historically interesting coin and formerly in the collection of one of the premier authors of Judean numismatics.
Lot 484: Caracalla as Caesar sestertius: This pleasant sestertius boasts a pedigree back to the 1953 Santamaria sale (lot 731) and was part of the Signorelli collection.
Lot 578: Roman Bronze Swimmer Orontes ca. 2nd Century AD. An incredible bronze statuette bust of a young swimmer emerging from waves: he is the personification of the river Orontes, beside which the town of Antioch was founded. Antioch was identified with Tyche, goddess of fortune and protector of the city. A similar Orontes is famously depicted in the Tyche bronze by the Greek painter and sculptor Eutychides of Sikyon from the 3rd century BC. In the much admired, famous Greek composition Tyche is represented graciously seated on a rock, the youthful swimmer at her feet. Orontes rests atop the original bronze circular base, his muscular arms outstretched in an elegant swimmers stroke, his flowing hair and fine facial details carefully indicated. Interestingly, two small horns at the river god's hairline. A truly superb piece. H. 4 5/8″ W. 8 1/4″ (4.6 cm x 21 cm).
To view all lots offered please click here.