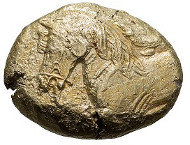 [bsa_pro_ad_space id=4]
28-10-2015 – 01-01-1970
195th Buy or Bid Sale
195th Buy or Bid Sale at Harlan J. Berk
Harlan J. Berk announces its 195th Buy or Bid sale with 560 lots of ancient coins, 20 world coins, 38 antiquities and 10 antique maps.
Here is a list of highlights from this current offering:
Lot 2: Uncertain City in Ionia, Stater. Coinage as we know it began in the 7th century BC in the area of Western Asia Minor (modern day Turkey). No one really knows why coinage began when it did but it was likely introduced to meet a social or economic need. Aristotle wrote a few hundred years after the onset of coinage that "all things that are exchanged must be somehow comparable" and "it is for this end that coinage has been introduced". Lot 2 is an example of one of the earliest coins. This stater was likely considered a high value coinage, presumably for fiduciary purposes and not for casual buys. The imagery on coins from this time is both interesting and lovely. In this case a bridled horse with a flowing mane. The reverse is almost as beautiful despite the fact that it is simply punches in the metal. The decorative punches were already an advance from the rough incuses that came before on early coinage. This lovely piece provides a link to the past that is not available to most collectors.
Lot 10: Sicily, Agathokles, AV Decadrachm or 50 Litrae. Another tyrant of Sicily, Agathokles, continued the battle against the Carthaginian intruders. Agathokles returned to Sicily in c. 317 BCE, after being twice banished for attempting to overthrow the oligarchic regime, with an army of mercenaries to take the city. Also, in c. 311 BCE he was pressured once again by Carthaginian forces. Coins such as this one were minted to support the large army that Agathokles certainly needed to maintain his power. A beautiful piece with lovely artistic detail and sharp strike.
Lot 16: Zeugitania, Carthage, EL Stater. In contrast to the coinage struck by the mainland Greeks, the coinage of their rivals, the Carthaginians, is reflective of the area of northern Africa. The obverse of our coin shows Tanit, the Punic goddess, wearing a wreath of wheat ears. The horse on the reverse is common to the coinage of Carthage and can be seen on the silver coinage from the area as well. This piece is one of the finest specimens that HJB has ever handled. Its stunning strike and high relief makes it a fabulous piece.
Lots 122-128: Various Coins from Crete. Despite a number of Cretan coins coming up in auction, Crete continues to be an unusually rare area for coinage. Cretan coinage is rich in mythology though difficult to find in perfect condition. Of course the most famous of all Cretan myths is the one involving the minotaur and labyrinth, which is depicted on lot 122. Cretan coins deserve a second look for their rarity and wonderful artistry.
Lot 194: Bar Kochba War. Undated Yr. 3 Sela. Of late Judaean coinage is difficult to find on the market. This coin is a lovely iridescent piece and shows the Temple facade in its glory. Moderately priced and extremely desirable.
Lot 307: Manlia Scantilla (wife of Didius Julianus), Denarius. This outstanding piece boasts a pedigree going back to 1907.
Lots 508-511: A nice group of Aes Grave, Various Denominations. Not so often encountered in offerings of late, this group is composed of some wonderful types from the earliest coinage of the Roman Republic.
Lot 560: Valerian I and Gallienus. AE43 Medallion. A beautiful provincial medallion with a reverse showing the alliance between Mytilene, Pergamum and Ephesus. A glorious work of art.
Lot 563: German States, Augsburg, Box Taler: 1600's, Augsburg Ferdinand III Taler. Dav 5039. VF condition. 16 hand painted paper roundels (one in each coin half and 14 outside) in EF condition.
Lot 566-575: a nice selection of early British coinage from 927-1812.
Lot 586: Egyptian Bronze Head of a Cat with Original Gold Earring. Late Period, ca. 715-330 BC. Ex Harlan J. Berk, Ltd. private treaty 1993.
Lot 601: Attic Red-Figure Bell Krater by the Telos Painter. 450 BC. Truly a magnificent vase by a skilled artist of the period with no restoration.
Lot 620: Antique Map of China: This is an authentic, antique map of China, Southeast Asia, the Philippines, Borneo, Korea, Japan, Java, and Beach by Jan Huygen Van Linschoten. The map was published out of Amsterdam as part of Linschoten's Itinerario in 1596.
Harlan, Aaron, Shanna, Sammy & Laura recently created this video to showcase highlights from this 195th sale.
And in this podcast you hear the team of HJB talking about cultural property and many other interesting things.
To go directly to the Buy or Bid Sale please click here.