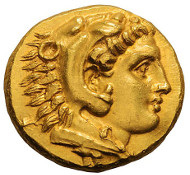 [bsa_pro_ad_space id=4]
24-03-2014 – 01-01-1970
189th Buy or Bid Sale
Harlan J. Berk, Ltd. Launches New 189th Buy or Bid Sale
Celebrating their 50th years in business Harlan J. Berk, Ltd. bring their 189th Buy or Bid Sale. This sale is comprised of 349 ancient coins, 40 world coins, antiquities and antique maps. A few highlights from the ancient coin section are:
Lot 1: A fascinating piece of early electrum, the dawn of coinage, from c. 625-600 BC. This piece is one of the first that begin to show imagery on the surfaces of coins with a lovely horse on the obverse and a decorative three-part incuse on the reverse
Lot(s) 10-16: A stunning selection of Macedonian gold. Sharply struck and beautifully centered pieces
17: Mysia, Pergamum. Stater, c. 334 BC. SNG Paris 1557. Mint State. Estimate: $63,500.
Lot 17: While in recent auctions the Pergamum coinage has come down in price, this is an artificial signal of its rarity. The absolutely lovely Pergamum gold stater with Herakles on the obverse (most definitely based on Alexander the Great) and Athena Palladion on the reverse is a piece of amazement. This coin was owned by Dr. Patrick Tan and was part of the Gemini VII auction (lot 477). While in this auction the price has been lowered significantly to complement the market, this piece is no less valuable than it was before in the auctioneer's opinion. It would be a hallmark to any serious collector's collection
Lot 24: A lovely, well-struck example of Nero in an aureus
67: Macedonia, Alexander I. Octadrachm, c. 492-480 BC. SNG ANS-1. Choice EF. Estimate: $32,500.
Lot 67: Alexander I Octodrachm, a stunning example that was one of the plate coins in Harlan J. Berk's 100 Greatest Ancient Coins
Lot 89: A high relief, iridescent drachm from Larissa, Thessaly. This coin came from the NFA XXX Auction in 1990 (lot 96)
98: Euboea, Eretria. Stater, c. 375-357. Wallace-9. EF. Estimate: $26,500.
Lot 98: The beautiful Eretria stater with the bull on reverse. How fitting that this coin would be featured in the 50 year catalog. This coin was the first coin ever to grace the cover of Harlan J. Berk Ltd's 1974 List 1!!!
Lot 142: The lovely coin of Demeter from Arcadia, Pheneus. While pedigree is getting more important to ancient coin collectors, this coin can brag over a 100 year pedigree going back to the 1906 Egger Auction. It was also part of the Prowe collection, as well as the Garrett collection
Lot 156: The ultra-high relief Satraps of Caria, Hidrieus tetradrachm
Lot 158: The stunning, signed Rhodian tetradrachm that was also a plate coin in Harlan's 100 Greatest Ancient Coins (p. 48 and 123)
Lot 214: A sharp Otho denarius with beautifully sculpted hair
230: Manlia Scantilla. Denarius, 193 AD, Rome. RIC-7A. Toned EF. Estimate: $8,850.
• Lot 230: A heavily pedigreed Manlia Scantilla denarius
• Lot 332: A beautifully patinated Gordian I Africanus sestertius
You can find the complete auction catalog on the Harlan J. Berk, Ltd. website.
If you want to learn more about the company's history don't miss the article among our news!