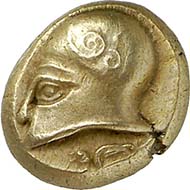 [bsa_pro_ad_space id=4]
06-03-2011 – 10-03-2011
Auction 195-197
Review Gorny & Mosch 195-197: Special collection "Ottoman Empire" contains surprises
Gorny & Mosch is an auction house which initiates market trends. With the impressive publication of the Dogan Collection "Medals on the Turkish History" the numismatic world became aware of this new and most popular collecting field. Now, Gorny & Mosch went one better with the Ede-Uçta Collection. 562,000 Euros*, more than four times the estimate, that was the result achieved by that magnificent collection of Ottoman medals.
Hence, that section surpassed the still impressive average rise of the three auctions 195-197. Started with a total estimate of almost 3 million Euro for 6,200 lots, the auctions produced a turnover of 5.2 million Euro in the end.
No. 233. Phokaia. El-Hekte, 518 B. C. Bodenstedt 30. Extremely fine. Estimate: 1,500 Euros. Final price: 17,250 Euros.
Greek coins remain bestsellers
Roughly half a million Euros – that was the estimate of Gorny & Mosch for its 311 "high-quality" Greek coins of catalogue 195. The result was two times that sum, i.e. 1.1 million Euros. As always, the result was determined by state of preservation and style, although in the previous months the provenance likewise became an increasingly important factor. A case in point is a very fine didrachm from Tarentum, estimated at 750 Euros, which – with only its provenance, dating back to 1890, being of real significance – was sold for 3,450 Euros. A similar piece – without specification of provenance – changed hands for 1,650 Euros. That trend was confirmed by a piece from Elis, admittedly magnificently toned but tightly centered, with a countermark on its reverse, which prided itself on its provenance, the Kunstfreund Collection. Starting from its estimate of 1,000 Euros it yielded 9,200.
The most expensive piece from Magna Graecia became a Punic tetradrachm with the head of Tanit and a pacing lion in front of a date tree. The very fine to extremely fine piece rose from 6,000 to 39,100 Euros. The bestseller of the auction, with a price of 40,250 Euros, was a gold stater from Panticapaeum (estimate: 25,000 Euros), followed up by a splendid Archaic distater from Dikaia in Thrace with 39,100 Euros (estimate: 10,000 Euros).
The small series of electrum staters from Cyzicus naturally attracted wide interest with the connoisseurs. The most expensive piece was a stater displaying a winged female protome on its obverse holding a tuna in her right hand (VF; 12,000 / 21,850 Euros), followed up by a piece with a kneeling archer wearing a Corinthian helmet (EF; 7,500 / 19,550 Euros) and with Orestes, who kneels besides the omphalos (VF; 4,500 / 18,400 Euros).
Speaking of electrum – the incredible sum of 13,800 Euros was achieved by an unpublished 1/24 stater from Lesbos (0.62 g!) with a calf's head on the obverse and an incuse lion head on the reverse (estimate: 1,000 Euros). That result was even surpassed by a hekte from Phokaia which shows a warrior's head with a helmet on its obverse. The incredibly well centered piece in its perfect state of preservation changed hands for 17,250 Euros. The early electrum coins of Valvel yielded good results as well. Two trites, both very fine to extremely fine and estimated at 7,500 Euros, were sold for 17,250 and 16,100 Euros, respectively.
No. 381. Augustus. Aureus, 29 B. C., Rom. RIC 261. Calicó 185. Rare. About extremely fine. Estimate: 6,500 Euros. 36,800 Euros.
After their peak price period the Roman coins have returned again to a collector friendly price level – there were, however, some surprises to be witnessed like the well-earned result of 36,800 Euros for a veristic portrait of Octavian on an aureus from 29 B. C. (estimate: 6,500 Euros). This section's most expensive coin became a brilliant uncirculated and extremely rare aureus of Probus displaying on its reverse the emperor riding on a horse (12,000/ 50,600 Euros).
17,250 Euros were achieved by a brilliant uncirculated and extremely rare argenteus of Severus II as Cesar – prices like this are ordinarily yielded by gold coins only.
Last but not least the Byzantine coins. Here as well the prices for extraordinary pieces are pleasingly steady. Bestseller was a solidus of Irene in extremely fine (7,500 / 14,950 Euros).
The "ordinary" qualities likewise yield steady prices
Auction day no. 2 of Gorny & Mosch, this time auction 196 with roughly 2,300 lots, by tradition contains those coins a collector with an "average" wallet can afford. Intriguing pieces were to be found here as well, albeit not of extraordinary quality. They surely find their admirers as well – like a portrait from Mytilene which was thought to show the Athenian commander Chares. The tightly centered hekte rose from its estimate of 1,000 Euros to 4,140.
It belongs to the numerous pieces whose prices added up to the good result of the second auction. Approximately 700,000 Euros – that had been the total estimate. The total end result almost reached one million.
Remarkable were – as always – the lots Gorny & Mosch is renowned for. The individual estimates added up to roughly 50,000 Euros, the end result was more than twice that sum, 125,000 Euros.

No. 5900. Salzburg. Paris of Lodron, 1619-1653. 10 ducats 1628 on the dedication of the cathedral. Fr. 729. Good very fine. Estimate: 3,500 Euros. Final price: 9,200 Euros.
"Kaiserreich" silver competes with "Kaiserreich" gold
It was rich in content, that catalog 197, which, in cooperation with "pro aurum Numismatik", offered modern coins. Quite remarkable was the steadiness of the buyers' interest in all areas. The estimate of 1.3 million Euros was by far surpassed by the end result of almost 2.5 million Euros.
The bestseller of German coins before 1871 was a very rare 15 ducat piece of Charles Ferdinand Vasa, prince bishop of Wroclaw in good very fine which rose from its estimate of 12,500 Euros to 20,700. Likewise remarkable was a Palatine medal suite on the prince electors of the Palatinate, issued in 1758. The 30 medals in their original leather covered casket brought 11,500 Euros (estimate: 3,500 Euros).
But let us not look exclusively at the top prices but acknowledge as well the healthy state of the market for classical collector items – like the popular historical thalers of Louis I, which admittedly are not very rare but always attractive. As a Munich auction house Gorny & Mosch of course had a nice series on offer. The 77 lots of coins of Louis I were estimated at almost 20,000 Euros and brought almost 35,000 Euros.
After the last auction we noticed a growing interest in "Kaiserreich" gold – now, things have become quite clear: silver has followed as well. Roughly 100 lots with estimates adding up to 22,000 Euros were presented in this section. The result read 39,100 Euros, and only one piece was returned. To single out one representative result: a 5 mark piece 1903 A from Waldeck-Pyrmont, J. 171, in extremely fine cost 2,700 Euros (estimate: 1,000 Euros).
The 420 gold coins of the German Empire were estimated at 230,000 Euros and were auctioned off for 345,000 Euros. The most expensive piece was a 20 mark piece 1875 of the elder line of the House of Reuss, J. 254, with its price of 26,450 Euros (estimate: 20,000 Euros).
Steadiness of bidders and bids continued throughout the auction and all its sections. To mention only a few examples: the Salzburg 10 ducat piece from 1628 on the dedication of the cathedral in good very fine (3,500 / 9,200 Euros), a cast silver medal on Philipp II as ruler of the New World in very fine to extremely fine (200 / 3,900 Euro), a South African penny from 1892 in PP with a portrait of Ohm Kruger (2,000 / 8,000 Euros) or a 20 dollar piece from the USA from 1904 in brilliant uncirculated (1,100 / 5,500 Euros).
Likewise remarkable was a series of three coins from the Mogul Empire including two rupees of Jahangir from his zodiac sign series. The pieces, estimated at 500 Euros, brought 3,910 Euros each, a mint state Nazarana rupee from 1711 rose from 500 to 3,450 Euros.
No. 7152. Turkey. Abd al-Hamid, 1876-1909. Golden Order of Merit, 1882 dedicated as highest decoration of the Ottoman Empire. First class medal awarded in 1883 to William I. Good extremely fine. Estimate: 20,000 Euros. Final price: 161,000 Euros.
Absolutely en vogue: Turkey
In 2008, Gorny & Mosch was hugely successful in auctioning off the Dogan Collection. It contained medals and decorations of the Ottoman and Turkish history. With the Dogan Collection an entirely new collecting field was brought to the attention of numismatics which in the last decades is especially popular with Germans of Turkish origin. With the Ede-Uçta Collection Gorny & Mosch lives up to that success.
360 lots of sometimes unimpressive objects with a total estimate of 135,000 Euros, which makes an average estimate of 375 Euros. That is hardly something an auctioneer gets excited about. The end result, however, was approximately 560,000 Euros with an average result of 1,550 Euros.
A major contribution made the top piece of the auction, the First class medal Golden Order of Merit which 'Abd al-Hamid II had awarded to the German Emperor in 1883. That historically highly significant piece climbed up from its estimate of 20,000 Euros to 161,000 Euros.
But that was not the only surprise. Unfamiliar collecting fields are unpredictable. Only the true connoisseurs know about the rarity of a certain piece – which may cause unbelievable price surges in an auction.
A gilded gnadenpfennig with polished fields in good very fine had a humble pre-sale estimate of 200 Euros and was sold in the end for more than 2,500 Euros. An unimpressive suite medal in honor of Mehmed the Conqueror, like the ones that used to be available for 30 mark each in a lot, exceeded its estimate of 100 Euros with its price of 2,300 Euros. The estimate of an extremely fine and extremely rare tin medal from 1854 on the Three Power Agreement of Turkey, France and England was – and this is an incredible sum to the collector of 19th century medals – 2,500 Euros. That sum, however, was even exceeded by the end result of 9,775 Euros. The bun was taken by a bronze medal from 1909 on the town hall of Istanbul. The extremely fine piece was considered very rare and estimated at 500 Euros but no one would have believed it being sold for nothing less than 17,250 Euros!
Russia: good prices for good goods
It becomes almost boring to write about Russia. Prices continue to languish on high levels. Good goods yield good results. Of course, there were some remarkable results in the previous auction of Gorny & Mosch as well like a mint state rubel of Peter the Great 1723 OK (1,000 / 9,775 Euros), an extremely fine 20 AR kopek piece 1787 TM of Catherine II (5,000 / 12,650 Euros) or a mint state polushka of Alexander II 1867 EM of utmost rarity (500 / 17,250 Euros).

The next auction week of Gorny & Mosch will be held from October 10th to 14th, 2011.
2011. Deadline for consignments is July 22. Please make sure to order your catalogue in time at Gorny & Mosch, Giessener Münzhandlung, Maximiliansplatz 20, D-80333 Munich, phone +49 / (0)89 / 24 22 643-0, fax +49 / (0)89 / 22 85 513.
The results of all auctions can be viewed at
http://www.gmcoinart.de/index.php?area=auctions&content=ergebnis
* All prices include 15 % buyer's premium and are slightly rounded.