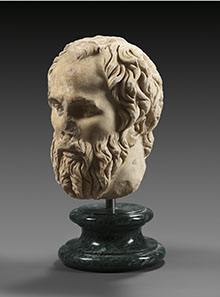 [bsa_pro_ad_space id=4]
18-06-2013 – 01-01-1970
Ancient Art
Philosophy is in vogue
The most expensive item of the auction sale Ancient Art, conducted by Munich auction house Gorny & Mosch, was the slightly larger than life-size head of a bearded philosopher, sold for 129,800 euros*. That, however, was by no means the only exciting result.
On June 19, 2013, Munich auction house Gorny & Mosch conducted its 124th sale featuring Ancient Art. Collectors and dealers had come from all around the world to bid for their favorite items. At Gorny & Mosch, you see, anything can be found: spectacular objects of highest quality at results of high five and six figures as well as small but interesting objects at prices of three digits.
Already the first lot, a philosopher's head that appeared rather ascetical, with sunken cheeks and a bushy beard dating from the second half of the 2nd cent. A. D., rose from its estimate of 65,000 euros to a final price of 129,800 euros. Even bigger was the increase, as a percentage, for lot no. 2, the smaller than life-size head of a youth from classical times, made in Greece between the end of the 5th and the beginning of the 4th century. The attractive piece had been estimated at 10,000 euros. Its proud new owner had to pay 70,800 euros to take it home.
Amongst the "Special Objects" connoisseurs had noticed a 13 cm high, intact sphinx, made of massive bronze. The late archaic artwork, produced around 500 B. C., was worth 70,800 euros to its new owner. The estimate had been 20,000 euros. A naked satyr was probably used as an attachment to a vessel, too. He is shown in the moment he is about to jump. The 9.5 cm high piece, cast massively in bronze, is a marvelous example for the artistic courage with which extensive moves were captured in static art in the second half of the 5th cent. B. C. The piece, estimated at 8,000 euros, might well have been attached to such a gorgeous krater like the Derveni Krater once. The final price for the satyr read 23,600 euros. By the way and for comparison, a complete and only slightly restored kalpis with a siren as decoration could be purchasee for 28,320 euros on the pre-sale estimate of 15,000 euros.
Let's have a look at ancient glass of which auction 214 offered a wide range in highest quality. The unchallenged highlight was a drinking horn with a length of 25.5 cm. The amber-colored vessel from the 3rd/4th cent. had been estimated at 12,000 euros only to change hands for 76,700 euros. Almost as spectacular appeared a small spherical ribbed bowl made of the most delicate blue glass. The modest estimate had been 4,000 euros only. The final price was 11,800 euros. 25,960 euros was the price that had to be paid for a conical cup of 8 cm in height, decorated with a frieze of ears of corn. And with 7,080 euros a Sasanian cut glass doubled its estimate of 3,500 euros. This interesting section came up with more than one bestseller. The collector with a modest budget, on the other hand, was able to participate as well. The most inexpensive object of the section Ancient Glass sold for about 380 euros.
8,000 euros read the estimate of a Roman imperial torso of an Apollo with a height of roughly 30 cm. The end result added up to 49,560 euros. It testified to the meticulousness with which collectors are studying catalogues in order to likewise find the 'special' objects hidden in the pages closer to the end. As a matter of fact, there were several highly interesting and reasonably estimated items listed there, like, for example, the bronze statuette of Telesphoros from the 2nd and 3rd centuries A. D. This little figure clad in a capuchin, bearing the telling name "he who brings the end" (either a good or a bad one) gained an incredible popularity in the Roman Empire when Emperor Caracalla travelled to let himself be treated in Pergamon where the cult of Telesphoros was located. Caracalla felt cured and spread the Pergamene kind of the Askleios cult of in the whole empire with his coinage. The offered bronze Telesphoros had been modestly estimated at 500 euros. Its new owner paid 2,360 euros for it – still a modest price for a little piece of the history of medicine.
More stately was a slightly smaller than life-size, intact, Etruscan votive head made of clay. The youth, which exhibits a slight resemblance to Alexander the Great, had been estimated at 4,000 euros, to change hands for about 20,000 euros.
An interesting selection of Egyptian art was on offer at Gorny & Mosch in June as well. Paintings attracted particular interest. Hence, a painting's fragment from the New Kingdom (1550-1070), estimated at 500 euros, depicting the upper body of an adorned female, obtained more than ten times its estimate. Another fragment, measuring 18.5 x 17.5 cm and thus a bit bigger than the previous one, showing four women in a gesture of praying, rose to 12,980 euros on its pre-sale estimate of 2,000 euros.
Let's conclude this review with a late or post-Byzantine double eagle made of bronze with the impressive height of 27 cm. Eagles like this one acted as model for the German imperial eagle. This piece, with its high historical significance, carried a pre-sale price tag of 5,000 euros but yielded more than twice its estimate. The lucky winner had to pay 12,980 euros for it.
You can find more results on Gorny & Mosch's website. There you can also make your choice amongst the unsold lots as well. One or two items may well be purchased at attractive prices.
If you do not want to miss the upcoming Gorny & Mosch auction, order the sale's catalogue today at Gorny & Mosch Giessener Münzhandlung, Maximiliansplatz 20, D-80333 Munich, phone +49-89/24 22 643-0, fax +49-89/22 85 513.
The next auction sale 'Ancient Art' will be conducted in December 2013. Consignments will be accepted until September 20, 2013.
All prices include 18 % buyer's premium, but exclude VAT.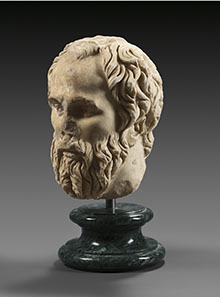 1 Marble head of a philosopher with long beard. Roman Imperial Period, 2nd half 2nd century A.D. Estimate: 65.000 Euro. Final price: 129.800 Euro
2 Marble head of a youth. End 5th to 1st half 4th cent. BC. Estimate: 10.000 Euro. Final Price: 70.800 Euro
10 Archaic bronze figure of a sphinx sitting on a double volute base. Late Archaic period, about 500 BC. Estimate: 20.000 Euro. Final Price: 70.800 Euro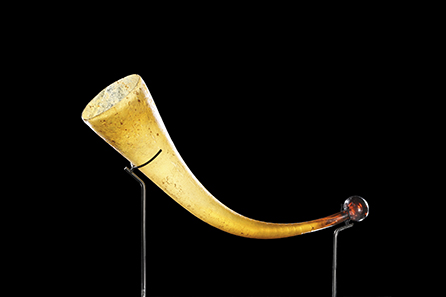 47 Roman drinking horn made of amber-coloured glass. 3rd to 4th cent. AD. Estimate: 12.000 Euro. Final Price: 76.700 Euro
271 Bronze figure of Telesphoros. Roman Imperial Period, 2nd to 3rd cent. AD. Estimate: 500 Euro. Final Price: 2.360 Euro