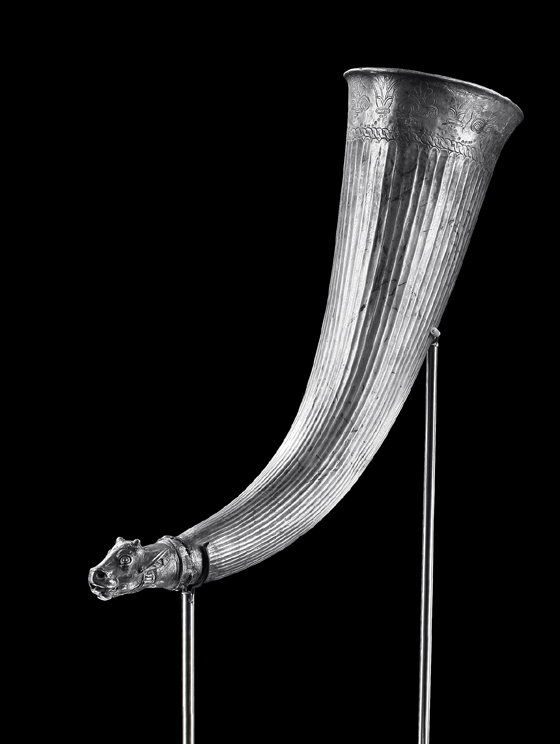 [bsa_pro_ad_space id=4]
22-06-2010 – 01-01-1970
Auction 189 – Antiquities
The room was jammed. Some potential buyers were not even lucky enough to find a seat. The telephone rang continuously, and bids kept coming in via the Internet. In short, many buyers of ancient objects had decided to get involved in auction 189 of Gorny & Mosch in Munich on 23 June 2010. The estimates had added to approximately 1.6 millions. The end result was nothing less than 1.87 millions!
No. 22: SPECIAL OBJECTS. Achaemenid silver rhyton. H 33 cm. 6th-4th cent. B. C. 150,000 / 149,500 Euros
As customary, the auction started with "special objects". Those exquisite objects attracted the buyers' interest which was reflected by the prices: almost half of the auction sales were made in that section! The highlight was undoubtedly an Achaemenid silver rhyton that fascinated not only with its splendid state of preservation but also with its equally unpretentious and impressive design. His new owner willingly paid 149,500 Euros (no. 22 / estimate: 150,000 Euros).
Let's take one thing at a time. Already the first "special object", an impressive marble portrait of an elderly bearded man exceeded its estimate by far (no. 1 / 25,000 / 43,700 Euros). A Hellenistic head of a youth from the 2nd cent. B. C. changed hands for 63,250 Euros (no. 3 / estimate: 35,000 Euros). And so it continued. For a high-quality marble portrait from the time of Gallienus when he was sole emperor (A. D. 259-268) a connoisseur of Roman portraits paid 29,900 Euros (no. 6A / estimate: 20,000 Euros). Two masterpieces of Greek toreutics, a hydria and a handle of a hydria made of bronze with a marvelous plastically sculpted decoration, were sold for 46,000 and 48,300 Euros, respectively (nos. 24-25 / estimate: 15,000 each). A Chalcidian helmet from the 5th cent. B. C. of finest preservation even reached three times its pre-sale estimate (no. 31 / 12,000 / 41,400 Euros).
No. 33: SPECIAL OBJECTS. Big silver procession cross. Partly gilded silver sheet. H 40 cm, w 22 cm. Byzantine, c. 12th century A. D.
45,000 / 63,250 Euros
Not to omit the extraordinary partly gilded silver Byzantine procession cross with a separately added portrait medallion from the 12th century that ranged among the auction's most expensive pieces with its price of 63,250 Euros (no. 33 / estimate: 45.000 Euros).
Another highlight of the auction was the beautiful selection of glass vessels that came in many shapes and decorations. Especially sought-after were pieces from Greco-Roman antiquity. They were sold almost without exception. A late Imperial bottle with geometric patterns reached the highest result when it was sold for 12,650 Euros – that is almost four times its estimate (no. 59 / estimate: 3,500 Euros).
From the jewelry a golden Byzantine dress pin from the 6th century stood out, a gorgeously worked specimen representing a rare type (no. 108 / 7,000 / 10,925 Euros). From the glyptic section an orange carnelian with an extraordinary depiction of Eros, the god of love, deserves mention that was sold for 6,325 Euros (no. 219 / estimate: 3,000 Euros).
Buyers' interest was continuously high in the afternoon. Again and again the ancient sculptures and the Greek vases fascinated with almost nothing left unsold. A hellenistic marble torso from a scholar's possession soon left behind its estimate of 15,000 Euros and found a new admirer for 21,850 Euros (no. 231). Many attendants loved an enchanting statuette of Aphrodite with Eros. Its price read 12,650 Euros, more than three times its estimate of 4,000 Euros (no. 235A). Among the vases an Attic bell krater of the Telos Painter reached the best result (no. 352 / 4,000 / 11,500 Euros). Was it its perfect shape, the rare variety of the legend of Theseus and the Minotaur or simply the Attic vase painting being regarded the embodiment of Antiquity?
Not only Greco-Roman antiquity was present but ancient Egypt as well, with a top-class selection: a wooden statuette of a striding woman in a finely patterned garment leaving the breast bare from the Middle Kingdom was sold for 12,650 Euros (no. 479 / estimate 10.000 Euros), and a black scarab with an abstract from the Book of the Dead in tiny hieroglyphs even brought twice its estimate (no. 490 / 10,000 / 23,000 Euros).
No. 581: PRE-COLUMBIAN ART. Pectoral in the shape of a head. H c. 17 cm. Late pre-Classical period, 400-300 B. C., Contal style, West Mexico. 3,000 / 7,475 Euros
The pre-Columbian section – a novelty with Gorny & Mosch – met high interest.
Virtually no piece was returned. Many an object prompted heavy bidder battles, for example a pectoral in the shape of a head from the pre-Classical period, 400-300 B. C., from West Mexico. The piece with an expertise from Ferdinand Anton achieved 7,475 Euros (no. 581 / 3,000 Euros). A very rare necklace consisting of 22 squatting frogs made of gold sheet from the Tairona culture brought 5,290 Euros (no. 595 / estimate EUR 4.500).
Apart from the mentioned highlights there were many reasonably priced offers which – as always – were very popular. Special attention was devoted to the lots covering all sections. That specialty of Gorny & Mosch is just the thing for beginners as well as for special collectors. Let us take an example: a lot of 25 stone objects from pre-Columbian times therefore brought 2,760 Euros on its estimate of 500 Euros (no. 594).
No. 469: GREECE AND ROME, lamps. Clay lamp with palm tree from Late Antiquity. North Africa, 4th-5th cent. A. D. 300 / 1,265 Euros
The market being healthy especially for affordable objects is proven by the nice series of clay lamps Gorny & Mosch had on offer. The 16 pieces were estimated at 10,000 Euros in total. The end result clearly exceeded that sum. Roughly 22,000 Euros – this is how the result of the not too spectacular but nice pieces read. Hence, the price for a lamp from North Africa from Late Antiquity with a mirror showing a simple palm tree climbed from its estimate of 300 to 1,265 Euros (no. 469).
Those who were not lucky this time will get another chance in December. Consignments can be made until the beginning of October. Please contact Dr Christoph von Mosch or Dr Georg Morawietz, Gorny & Mosch, Giessener Münzhandlung, Maximiliansplatz 20, 80333 Munich, phone: +49 / 89 / 24 22 643-0, info@gmcoinart.de.