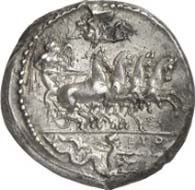 [bsa_pro_ad_space id=4]
09-10-2011 – 13-10-2011
Auctions 199-201
Prices on a continuous roll
On Friday, October 14, 2011, Gorny & Mosch, Giessener Münzhandlung, concluded an extremely successful auction week. It had a turnover of 4.9 million euro.* The offer ranged from "High-quality ancient coins" (auction 199) and "Ancient coins and lots" (auction 200) to "Medieval and World Coins" (auction 201). As usual with Gorny & Mosch, marvelous rarities in the best quality possible, which of course had their price, alternated with moderately estimated pieces. The numerous lots, appealingly put together and collector-friendly estimated, likewise contributed to the major part of the coins having found a new owner at the end of the week.
High-quality ancient coins
The "High-quality ancient coins" of auction 199 again contained the most beautiful from the world of ancient numismatics. A tetradrachm from the South Italian city of Rhegion without doubt ranged amongst the highlights. It was an extremely fine splendid specimen, fully struck in every detail (no. 57, 27,600 euros). However, it didn't take too long for another coin to obtain a higher price: 34,500 euros, that was the amount a collector was willing to pay for an extremely rare tetradrachm from Morgantina, whose depiction closely resembles the famous tetradrachms from Syracuse (no. 75, about extremely fine), of which a few examples were offered a little bit later. A tetradrachm signed by two of the most renowned die cutters, Eumenos and Eukleidas, brought the same price, 34,500 euro (no. 90, extremely fine). That was but an 'appetizer' for the things to come:
No. 91: GREEKS. Syracuse (Sicily). Tetradrachm, c. 415 – 409 B. C. Quadriga galloping r. whose winged rider is crowned by Nike. In the exergue Skylla and the signature EUTH. Rev.: Head of Arethusa surrounded by four dolphins. Below the artist's signature PHRYGILL/OS. Tudeer 47; Franke-Hirmer 37. Extremely fine. Estimated: 80,500 EUR.
Already the next piece, a likewise signed tetradrachm, this time by Euth… and Phrygillos, obtained the highest price of the entire auction week, 80,500 euros, most probably thanks to its charming style (no. 91, extremely fine)!
No. 96: GREEKS. Syracuse (Sicily). Dekadrachm, about 400 B. C. Charioteer in quadriga galloping l., crowned by Nike, in the exergue armour. Rev.: Head of Arethusa surrounded by four dolphins. Below [E]U[AINETOS]. Gallatin C XIV / R VI. Rare. Extremely fine. Estimated: 69,000 EUR.
Even a dekadrachm signed by Euainetos, a name that makes the hearts of the collectors beat faster, "only" brought 69,000 euros (no. 96, extremely fine splendid specimen).
In the Greek mainland a particular rarity generated buzz: a drachm from the early 5th century from the once powerful city of Argos, the sixth example known of this type, was sold for 27,600 euros (no. 284, very fine). A late portrait, full of character, of Seleukos I on a rare Pergamene tetrachdrachm in extremely fine even reached 41,400 euros (no. 356). Another precious object was an extremely fine Ionian hekte from the 6th cent. B. C. with a wonderful head of a horse on its obverse: it is not only the third example known to exist but also the one preserved best of its type (no. 399, 34,500 euros).
Of course, we have a short look on the Roman Empire as well. Nero's famous sestertius with the port of Ostia on the reverse, in every collection a gem in its own right, here in extremely fine and with a splendid black-green patina, obtained 23,000 euros (no. 670), as did an extremely rare tremissis of Aelia Ariadne, who, being the daughter of the Eastern Roman Emperor Leo I, played an important role for 40 years (no. 774, very fine, 23,000 euros).
Ancient coins and lots
When looking at the prices realized only, auction 200 "Ancient coins and lots" seems quite modest. Many a collector, however, had surely looked forward to that moment, for it provided the opportunity for the ones with more modest means to choose from reasonably estimated treasures. And rarities auction 200 included indeed, like a rather rare drachm from the Sicilian city of Naxos (no. 1234, very fine), for which the final price rose up to 5,500 euros. A bronze coin of Claudius Gothicus, probably unedited, from the city of Cyzicus in Asia Minor, impressive with its dark green patina, was sold for 5,000 euros (no. 2139, very fine/extremely fine). Q. Pomponius Musa, Roman mint master in 66 B. C., had ten denarii minted in reference to his name, of which nine show one of the Muses and the tenth Hercules. Hands up anyone who doesn't want to possess the entire series. It comes as no surprise, therefore, that a collector paid 4,600 euros for the extremely rare Hercules type in extremely fine (no. 2358). Likewise extremely fine was a very rare sestertius of young Commodus, rare not only in regard to its type but to its quality, too (no. 2621, 4,100 euros).
The lots of Gorny & Mosch are a good index of the market. They have achieved cult status by now. This time, 161 lots were offered, with an estimate of 73,370 euro. The end price added up at 110,000 euros, which made for a gain of almost 50%!
Medieval and World Coins
With auction 201 we leave the ancient world and direct our attention to the equally thrilling subject "Medieval and World Coins", which Gorny & Mosch presented with many selected rarities. A treasure, for example, was a Friedrichsdor from 1749 of the still young King of Prussia, Frederick II (no. 4193, extremely fine/brilliant uncirculated, 25,300 euros). Even rarer might be a talerklippe, struck in 1586, under George of Küenburg when he was Archbishop of Salzburg for only eight months. It shows the patron saints of the city, Rudbert and Vigilius, on the reverse (no. 5114, good extremely fine, 27,600 euros).
Watching individual collections becoming good sellers was a pleasure as well. The total of the comprehensive series Brandenburg-Frankonia-Bayreuth-Ansbach was 140.000 euros (nos. 4100-4235 / total estimate: 64.000 euros); the Lily Reckmann Collection, Nuremberg sold for 88.000 euros (nos. 4389-4451 / total estimate: 58.000 euros) and the 127 lots Tyrol for 50.000 euros (nos. 4919-5044 / total estimate 36.000 euros). Although the augustalis of Frederick II ranges amongst the most sought-after medieval coins, its "rank" is outstripped by the even rarer half augustalis. A specimen in very fine/extremely fine found a new, proud owner for 25,300 euros (no. 5236). But that was only the prelude for one treasure followed the other from that moment onwards. Like a cavallino d'oro of Charles I, first king of both Sicilies from the House of Anjou, struck in Messina (no. 5242, very fine/extremely fine, 23,000 euros).
No. 5244: EUROPE. Sicily. Frederick III (1296-1337). Reale d'oro n. y., Messina. Spahr 1. Splendid specimen of utmost rarity. Extremely fine. Estimated: 46,000 EUR.
Likewise from Messina came a reale d'oro of Frederick III, who asserted Sicily as his own kingdom against Charles II of Anjou and the Pope: an extremely fine splendid specimen of utmost rarity (no. 5244, 46,000 euros).
Collectors of Russian coins appreciated the broad offer, ranging from the early civic coinages and principalities to the Russian Empire and the USSR to the Russian Federation, including many a sought-after rarity. A case in point is the rare 10 rouble piece of Tsarina Elizabeth from 1756, St. Petersburg, of which two specimens were auctioned at once (nos. 7043-7044, good extremely fine and about extremely fine, 36,800 and 25,300 euros, respectively). A medal for merit of the Imperial Academy of Arts of Catherine II, possibly the only one of this type in gold, obtained 28,750 euros (no. 7059, extremely fine).
No. 7093: RUSSIA. Nicholas I (1825-1855). Gold commemorative medal 1840 of Gube. Diakov 559.1 Of utmost rarity. Extremely fine / brilliant uncirculated. Estimated: 51,750 EUR.
The ultimately most expensive piece of the auction became a commemorative medal of Nicholas I in gold on the bicentennial of the Helsinki University, not only thanks to its great scarcity but also to its outstanding preservation (no. 7093, extremely fine/brilliant uncirculated, 51,750 euros).
All results of the auction can be found at www.gmcoinart.de.
* All prices include 15 % buyer's premium.